What makes the best cycling glasses and how much should they cost? If these are questions you are looking to answer, then you're in the right place!
The best cycling glasses can be tough to pick out sometimes with new sunglass models coming out constantly. It can be a little overwhelming at times.
Do you just pick the most expensive? Do you pick the coolest looking? What do all of those features mean and what you do you really need?
Remember that picking the best cycling glasses is first and foremost about safety for your eyes. Then the second item is looking cool.
Picking the cycling glasses that work best for you really depends on many things such as how much light will be out when you go biking and what environment such as road or dirt that you will bike on.
Sometimes it depends on other things such as what is going to be airborne. Depending on the season, you can have dust, bugs, sticks, acorns, rain, sleet, dirt, or mud that is flying around. The best cycling glasses protect you against that and a whole lot more.
So keep in mind the kind of cycling you do as you read through my guide of the best cycling glasses and why each one makes my top list. Most of these glasses have links to read more full reviews we've done with further information.
Our Choices For The Best Cycling Sunglasses
Specifications:
Lens: Prizm HDO optical lens
Weight: 29 grams
Frame Type: Half frame
Adjustment: Adjustable nose piece and arms
Pros:
Oakley is well-known for their quality so you know it'll be a good set of sunglasses
Blocks UVA, UVB, and UVC sunlight.  Blocking UVC is fairly rare and what I consider one of the shining features of these.
Polarized (well, Oakley's version which is Prizm)
Anti-Scratch and very light
Cons:
Best deals
Oakley has a proven reputation in the industry for making some of the best sunglasses you can get.  The Radar EV are a prime example of their top design and they even have an amazing price that competes with the budget brands.
The Radar EV have what Oakley calls High Definition Optics (HDO) which is a fancy way of saying they have very clear optics so you won't get any blur when looking through them.  They of course provide protection against UVA, UVB, and UVC sun rays.
While Oakley lists these as non-polarized, they have Oakley's version which is the Prizm lenses which will block out intense sunlight reflecting off of surfaces like water or snow.  This is really important no matter which sunglasses you get as there is always the potential for reflections in the bright sun so you need to be able to handle it without the lens flare effect.  Blocking out the visible light transmission like that is a strong point of these glasses.
Beyond that, the Radar EV glasses are plastic and very light so you won't even notice you are wearing them. They are great to wear for a wide range of lighting conditions are excel while doing it. As they wrap around, the eye coverage is impressive. The glasses are very adjustable for a very secure fit.
Read more: Oakley Radar EV Path sunglasses full review
Specifications:
Lens: High-definition contrast HiPER lens / available photochromic lens
Weight: 30 grams
Frame Type: Full frame
Adjustment: Adjustable nose piece and arms, interchangeable nose pad
Pros:
Tall and wide lenses for an unobstructed field of view
Lower vents help prevent fogging
Comfortable and stay in place
Comes with an clear lens also
100% UV protection of UVA and UVB
Available HiPER lens options for high-definition contrast
Cons:
Best deals
These great glasses from 100% have the usual features like blocking UVA and UVB, being made of plastic and being stratch-resistant like many of the other glasses out there.
100% has a strong reputation for making simple and effective designs giving you performance at a great value. They offer a strong design that fits comfortably and natural.
So what makes this one different?
There are three reasons. The first is that the lenses are both hydrophobic and oleophobic so they repel water, dirt, and oil like it's magic.
The other is that these sunglasses come with a spare clear lens and an alternative-fitting nose pad gives you an adjustable nose pad but in a different way.  The clear lens part is what I find the most interesting, as it means you can pop in their clear lenses and these become great eye protection on the cloudy days or when riding your bike at night.
The third reason is that with the large lens the peripheral view is clear and unobstructed. Being able to see without frames getting in the way is very important.
Read more: 100% S2 cycling sunglasses full review
Specifications:
Lens: ChromaPop high-contrast lens, included clear lens
Weight: 36 grams
Frame Type: Full frame
Adjustment: Adjustable nose pads
Pros:
Unobstructed view
Lightweight and comfortable
Comes with bonus clear lens
ChromaPop high-contrast lens comes included standard
100% UV protection from UVA and UVB
Cons:
Large lenses can interfere with some helmets
Best deals
The trend lately is for cycling glasses to get larger so that you have a big wide view of the trails. Smith jumped on board and make the Smith Wildcat sunglasses which are about the same size as many goggles. The wide open view you get with these is outstanding by design.
The Wildcats offer the ChromaPop lens which is a high-contrast color-enhancing lens that lets you block out the UV while being able to see objects on the trail with ease. The clarity with these is excellent and the coverage from the size of the lens keeps the wind out of your eyes.
These sunglasses use the typical TR90 TPU frames and weigh in around 35g which is comparable to other lightweight offers from Oakley and 100%. They are light enough you often forget you are even wearing them.
The adjustable nose pads really make a big difference in getting the sunglasses to fit your face in particular.
A real bonus is that the Wildcat comes with a bonus clear lens for that late-night cycling session and really saves over having to get a night pair.
Read more: Smith Wildcat cycling glasses full review
Specifications:
Lens: Prizm HDO optics lens
Weight: 34 grams
Frame Type: Full frame
Adjustment: Adjustable nosepiece and arms
Pros:
Large lenses for an unobstructed peripheral view
Sharp looking
Very comfortable and they stay in place
Lightweight with hydrophilic rubber nose pads and ear pieces
Oakley Prizm provides enhance view
100% UV Protection (UV400)
Cons:
Depending on face size, the frames may be visible when riding
Best deals
The Oakley Jawbreaker is one of the cycling glasses that started the big lens performance trend. They are still one of the best you can get on the market today.
These glasses offer a great view and large coverage thanks to the large lens and thanks to do the specialized nose pads and ear pads they stay in place no matter how much rain or sweat you get on these things.
They fit great and stay in place no matter how rigorous the path. They are lightweight and they just plain work.
The Jawbreaker is a tried-and-true set of cycling sunglasses that won't let you down!
Read more: Oakley Jawbreaker cycling glasses full review
Specifications:
Lens: Composite rimless one-piece lens
Weight: 36 grams
Frame Type: Full frame (has removable upper and lower bumpers)
Adjustment: Adjustable nosepad and temple tips
Pros:
Full frame design with removable lower bumpers
Wide lens with quick-change system
Adjustable anti-slip nose pads and anti-slip temple tips
Supports prescription lens insert
Sharp looking
Many vents for anti-fogging
Very comfortable and they stay in place
100% UV Protection (UV400)
Cons:
The Prescription lens insert fits on the inside so eyelashes can hit them
Best deals
The Rudy Project Cutline is one of the most customizeable cycling glasses I have ever seen. They are incredible easy to take apart and switch lenses or even change out parts like the arms.
Due to that and the adjustable nose pads, temple tips, and arms, you can really customize it for a secure fit to your face.
These glasses do come with prescription lens inserts which may potentially affect your field of view depending on your prescription. Without the insert these glasses have an excellent view with no distortions.
Now throw in sharp looks, amazing ventilation so anti-fogging, and anti-slip pieces to keep them in place, and you have a real winner.
The Cutline remains one of my top recommendations as they work amazing, have a fit that rivals Oakley, and just plain work. You really can't go wrong with a set of these!
Read more: Rudy Project Cutline cycling sunglasses full review
Specifications:
Lens: Shatterproof polycarbonate lens
Weight: 30 grams
Frame Type: Half frame
Adjustment: adjustable nosepiece and arms
Pros:
Lightweight and comfortable to wear for hours
Fully adjustable hydrophilic nose piece and arms
Extremely capable yet reasonably priced
Comes with additional high-contrast and clear lenses options included
Loads of vents for anti-fogging
They look really good
100% UV Protection (UV400)
Cons:
The nose piece is a little big so it's actually in the corner of your vision
Best deals
The Tifosi Alliant is one of my favorites because it has features and performance like the top of the line cycling glasses have, but the price is so much better. Oakleys are 2 to 3 times as much as these.
The single lens has great coverage and protects your eyes from wind while still allowing enough air through the vents to keep them from fogging up.
As if that wasn't enough, Tifosi offers two bonus lenses with these. In addition to the tinted lens, you get a high-contrast yellow lens, and you also get a clear lens. Between these three lenses these sunglasses can cover a wide range of conditions.
If you do early morning rides, you'll really appreciate the extra lenses so that you can see fine but without darkening your view.
The nose piece and arms have the hydrophilic rubber which repels sweat and water so they stay where you put them!
The only issue that seems to be common with these is that the nose piece is a little bigger than some other glasses and you can just catch it in the edge of your vision. It's not a deal-breaker for many people but it seems to be the only negative about them.
These glasses would be a good deal at almost double the price. At this price level, yet competing with the best brands, these are a real hidden gem and I highly recommend taking a look at them.
Read more: Tifosi Alliant cycling sunglasses full review
Specifications:
Lens: ImpactX photochromic lenses
Weight: 28 grams
Frame Type: Full frame
Adjustment: Adjustable nosepad and temple tips
Pros:
Full frame glasses
Ultralight at 28g
Many vents for anti-fogging
Adjustable anti-slip nose pads and anti-slip temple tips
Interchangeable lenses
Unbreakable lenses
Cons:
Best deals
The Rudy Project Defender is one of the best cycling sunglasses you can get. They have plenty of vents for anti-fogging, and they fit really well and stay put while the large lens provides great coverage.
The adjustable nose piece and temple tips are made of hydrophillic rubber that repels water and sweat so they stay where you put them.
They are among the lightest sunglasses I have seen coming in at only 28g. You can barely notice you are wearing them.
They are full frame glasses that are designed to be unbreakable so if you have a hard crash, they will stay in tact and keep your eyes safe in the process.
These glasses are among the best you can get and I recommend checking them out.
Read more: Rudy Project Defender cycling sunglasses full review
Specifications:
Lens: High-definition contrast HiPER lens / available photochromic lens
Weight: 33 grams
Frame Type: Full frame
Adjustment: Adjustable nose piece and arms
Pros:
Tall and wide lenses for an unobstructed view with excellent coverage
Lower vents for anti-fogging
Adjustable anti-slip nose pads and ear tips to keep them in place
Lightweight and comfortable to wear
Lens treatments repels water, dirt, and oil
TR-90 frames for high durability
Bonus clear lens
100% UV protection (UV400)
Available HiPER lens option for high-definition contrast
Available photochromic lens option for auto-darkening
Cons:
Best deals
100% decided to take the best of their winning glasses and combine them to make an even better model with amazing performance.
They took the frame and the S2 and the massive intake vents from the Speedcraft and built the new S3 from it, all the while retaining the classic 100% look.
These glasses are lightweight, and thanks to the adjustable nose piece and arms, they stay in place and won't slip.
The lens is large like other 100% models, and because of that the view if second to none. You can see in every direction with perfect clarity.
One real bonus is that these come with an extra clear lens you can switch in for those early-morning or later-night cycling runs. If you've ever seen the sun come up while on ride, you'll know how great it is that you get the clear lens to see it all fully while still protecting your eyes fully.
These are definitely worth checking out as 100% makes some amazing glasses and they up the game even more!
Read more: 100% S3 cycling sunglasses full review
Specifications:
Lens: Uv filtering lens / polarized lens / yellow lens all included
Weight: 35 grams
Frame Type: Half frame
Adjustment: Changeable nosepad
Pros:
Reasonably price for this quality design
100% UV Protection
Comes with additional yellow lens for low light biking
Cons:
May not last as long as more expensive brands but these are 1/10 of the price.
Best deals
Torege isn't the most well-known brand, but they are priced like cheap cycling sunglasses, more than 10,000 reviews like they're made of gold, and they come with multiple lenses you can switch out.  This is sign of an amazing set of sunglasses when you're talking under $25!
The day lenses block the usual UVA and UVB rays. If it blocked UVC that would be even better but often you have to get the more expensive Oakleys to get that.
The lens that is for driving (the black lens) is polarized to stop those intense sun glares off of reflective surfaces.
The night lens (the yellow one) is meant for riding at night.  To be honest, the yellow is ok at night, but if you really are biking at night you'll want clear cycling glasses. I have a post here on the site that lists the best night cycling glasses if you're interested.
These have the usual plastic lens and frames and they even are scratch-resistant.  Fairly usual but these do have all the things you would expect and some you wouldn't at a price that is a steal!
Read more: Torege Sport sunglasses full review
Specifications:
Lens: Shatterproof, optically decentered polycarbonate lenses
Weight: 26 grams
Frame Type: Half frame
Adjustment: No
Pros:
Tifosi is a higher-end brand known for a quality design
Anti-slip nose pads
Very light
Cons:
Best deals
Tifosi glasses are more of a high-end brand and usually fairly expensive to pick up.  This is one of their "budget" sunglasses that has all of the bells and whistles of the more expensive brands but at a real deal.
One of the best things about these Tifosi's is how well they fit.  It has the well-known adjustable nose piece, which is an innovation in itself.  The rubber of the adjustable nose pads is actually hydrophilic rubber which is soft, but will not become slippery no matter how much sweat you get on them.  This means they stay put which if you ride like me is a breath of fresh air to have sunglasses that just stay put and don't need to be constantly adjusted.
Aside from that, they really are light sunglasses.  They are made of a type of nylon material Tifosi designed which is both very light but also very durable.  Like I said, these glasses are designed like the best of the ones they make but this pair happens to be really reasonable in price.
I mean, they even come with their own shell case to protect them at this price range!
Read more: Tifosi Jet sunglasses full review
Specifications:
Lens: Photochromic lenses
Weight: 30 grams
Frame Type: Full frame
Adjustment: Adjustable nose pads
Pros:
Very lightweight (only 30g)
Comfortable to wear for hours
Photochromic lenses
Low price
Large lenses for clear view
Adjustable nose pads
Polycarbonate lenses are shatterproof and scratch-resistant
100% UV Protection (UV400)
Full frame glasses
Cons:
No vents for air so they could fog a little in certain environments
Best deals
What I like about these glasses are that they are tinted when you're out cycling during the day, but at night they become clear due to them being photochromic.  At this price point you usually don't see a feature like that. These sunglasses also have very positive reviews around the web and plenty of happy customers.
So if you tend to bike in low light conditions, then these RockBros glasses are perfect as they are clear when there isn't much light. Clear is far better than even yellow lenses since there is no filtering out of the little light there is.
Add to that they weigh only 30 grams so they are extremely light.  They are really great glasses at night and I think even as a spare for your day ones it's a winner.  I like them anytime I'm not sure what the weather is going to do as they always adjust to the lighting.
The big difference in these photochromic glasses is that they are full frame glassses.  This means structurally that these glasses are very sound since they the lens are supported on all sides.
Read more: RockBros Photochromic sunglasses full review
Specifications:
Lens: All-purpose Revo lens / Transparent lens / Polarized Lens / mirrored Revo lens / Night vision lens all included
Weight: 19 grams
Frame Type: Full frame
Adjustment: Adjustable nosepads and interchangeable arms
Pros:
Full frame glasses
Comes with 5 different lenses for all situations
Ultra lightweight at only 19g
TR-90 Frames for strength and durability
Adjustable nose pads and interchangeable arms
Can fit over many prescription glasses
Very comfortable to wear
100% UV Protection (UV400)
Cons:
Best deals
The X-Tiger cycling sunglasses are very adaptable with 5 included lenses to cover every biking situation. They are very adaptable and very reasonably priced.
These polarized sports sunglasses come with the TR-90 frames that are light and durable, and weighing in at only 19g they are about the lightest sunglasses you can buy.
They have an adjustable nose piece and arms that you can switch out for the perfect fit.
If you wear prescription glasses, here is some great news for you. These fit right over most of them so you don't need to get custom-made lenses.
Oh yea, and did I mention these are under $30?
Read more: X-Tiger Sports sunglasses full review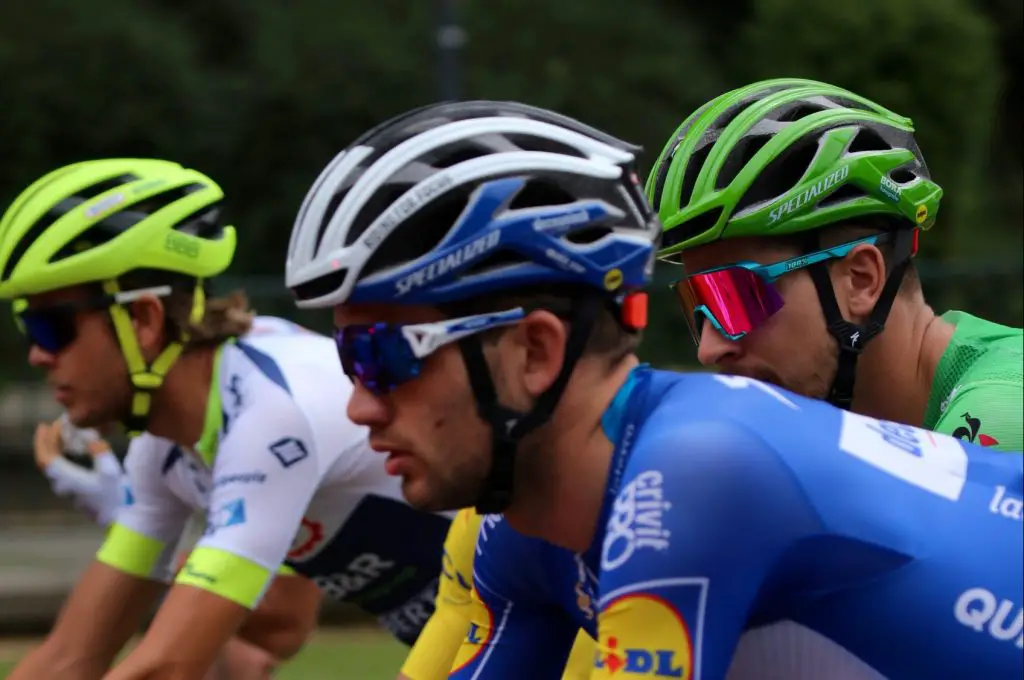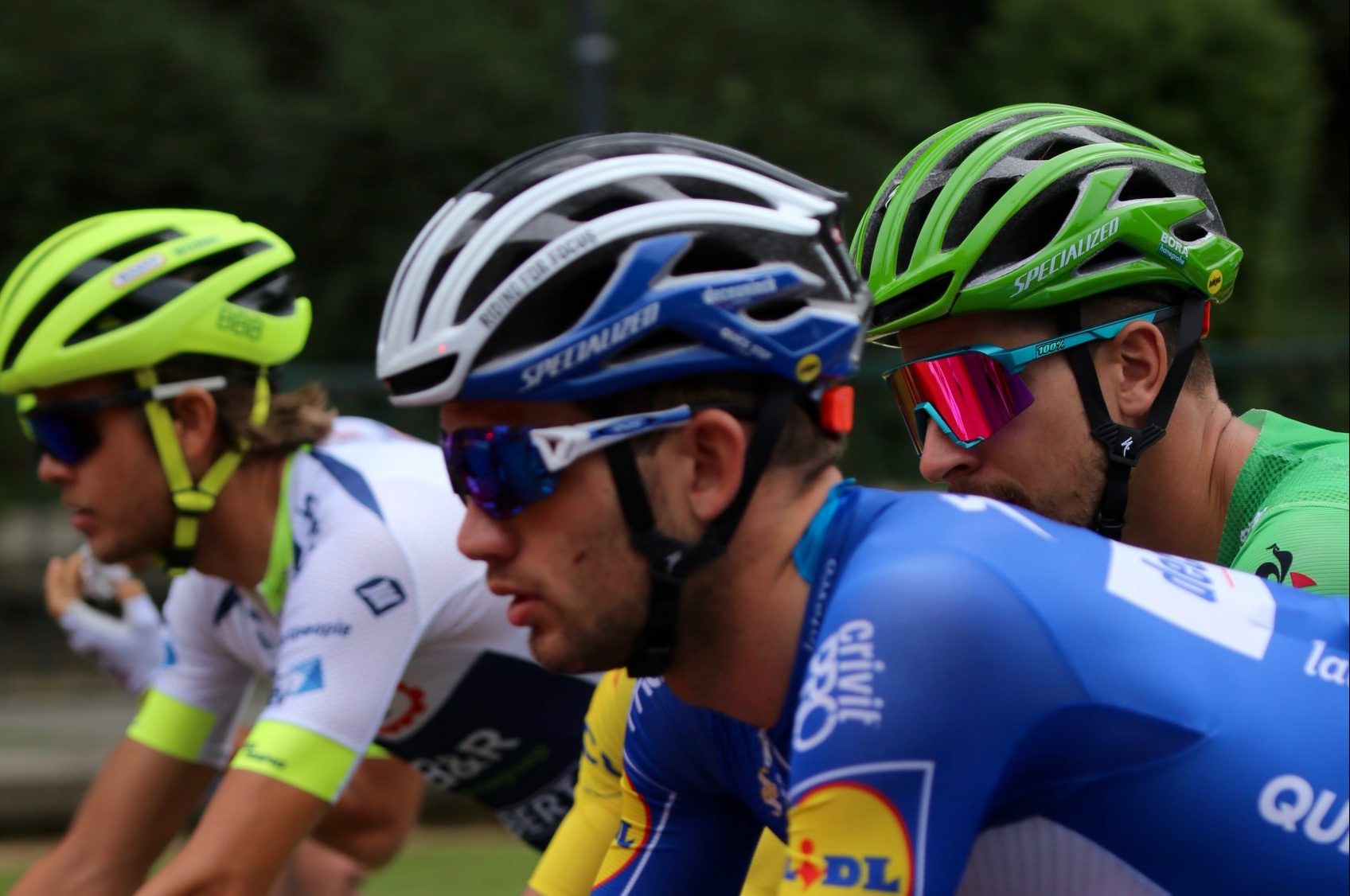 What To Look For In The Best Cycling Glasses?
Finding the right protection glasses is a very important thing for both safety and comfort, and my hope is that this mini guide will help you find the answers you are looking for.
Eye protection is critical when you are cycling. There are harmful UV rays, wind, dust, debris, and more that happen regularly on a ride.
The only thing protecting your eyes is your eyewear which is why I put together this article to help you find the best cycling glasses for you.
Cycling glasses don't have to be the most expensive or have a bunch of nonsense to just do the job. The key is knowing what you are looking for beforehand so you can clearly see the glasses you need.
There are all sorts of features that are available on cycling glasses, so I put together a list of the common questions I get from people to help guide you to make an informed decision and choose the right glasses the first time.
What Are The Best Lenses For Cycling Glasses?
Many people don't realize that the color of your lens can make a big difference in the type of cycling experience you have.
Most cycling glasses will work during a particular part of the day as bright sunlight or low light. The best glasses have different colors lenses that you can switch out.
If you're riding in the bright daylight, you'll want dark lenses that filter out the brighter light and provide you with some UV protection. The best glasses can block out 99.9% of UV light to protect against retina damage. Ideally they'll take the edge off of the brighter sun while still allowing you to see where you are riding and things around with clarity.
For riding during low light such as after dawn or when it's cloudy, you'll want a pair of glasses with yellow lenses that have great contrast so you can see well while still having plenty of eye protection.
Finally, for night riding, you'll want clear lenses. Clear glasses provide you plenty of eye protection while giving you the best possible view of the trail or road.
If you ride in varying light conditions, you'll ideally want a pair of cycling glasses that you can switch out different color lenses as needed.
Many sunglass brands have their own in-house lenses as well that have a mix of UV blocking and color-enhancing contrast lens. Oakley has the Prizm lens, Smith has the Chromapop lens, and 100% has the HiPER lens as examples.
What Are Photochromic Lenses?
If you aren't a fan of switching out different colored lenses depending on how bright the sun is, then photochromic lenses might be better for you.
Photochromic lenses are a type of lens that changes its tint in response to the intensity of light. They are an excellent choice for people who want a single pair of glasses to cover all the possible lighting conditions.
Generally speaking, I don't recommend them for cycling as there are many conditions such as riding through the woods where it goes from bright to dark and back and many times photochromic glasses have a hard time changing back in time to not affect seeing terrain.
The fastest photochromic lenses take about 30 seconds to change from tinting from full light to lighten appreciably for full dark.
If you are riding at 10 mph, then you may ride more than 400 feet before they full transition. Even at half that it still leaves a bit to be desired.
I think given more advancements photochromic can become really useful for cycling, but at this time I think it's not a good idea for most cycling situations.
What Are Polarized Lenses?
Polarized lenses are a type of lens that reduces glare and increases contrast.
These lenses help to eliminate glare from the sun, water, and other reflective surfaces which makes them easier to see through. They also reduce the brightness of light sources, so they can be used in low-light environments.
Polarized lenses work by filtering out polarized light waves which are reflected off shiny surfaces like water or windows. This reduces the glare on our eyes and helps us see better in all kinds of conditions.
Do Cycling Glasses Have Strong UV Protection?
Cycling glasses do not have strong UV protection because they were not designed for it. Cycling glasses were designed to protect the cyclist's eyes from wind, dust, and debris on the road.
Cycling sunglasses are designed to protect against sun and debris, so all of the sunglasses will have some level of UV protection. Cycling glasses that are purely for protection against debris may not always have UV protection.
UV damage to your eyes can lead to cataracts, pterygia (small benign growths on the eye surface), and eye cancer (full article at Johns Hopkins). As you can see, having a high level of UV protection on your cycling glasses is a very strong benefit.
The best cycling sunglasses will be able to protect 100% of UV rays, which are both the UVA and UVB rays. New glasses will have a stick that state the level of UV protection. Otherwise, an ophthalmologist can run tests to let you know the level of UV protect your sunglasses provide.
Luckily, many sunglasses in general have 100% UV protection as you can see in this CBS News report. Cycling glasses don't have to be expensive to have great UV protection which is great for everyone's eyes.
What Are The Best Lens Shape And Size For Cycling Glasses?
The shape of the lens on your glasses is a major factor in how protective they are.
You want coverage not only from the front, but from the sides as well. Unless you're riding right towards the sun, sunlight can come in from the side and affect your vision. For that matter, dirt, bugs, and debris can come in the sides as well.
The best lens shape is a one-piece lens that wraps around. This will protect you from UV rays, bugs, and other objects that can damage your eyes while you're cycling.
If you look at many glasses that Oakley offers, they all have this same wraparound single lens for a reason. It works.
You want the lens to extend out further than your eyes on all sides, but not to the point that it interferes with movement. So the size varies according to the rider. The key here is to wear glasses that have a large field of view so you'll be able to see clearly while flying down the trails.
To see if they are the right size and shape, put them on in a brightly lit room or outside in the sunlight. Move your head around in all directions and see if you get any sudden sun glare coming in from any side. If you don't, they're a winner!
Are There Prescription Cycling Glasses?
The answer to this question is a resounding yes. There are many options available for cyclists who wear prescription lenses.
There are several types of cycling glasses that can accommodate prescription lenses, including the following:
Cycling glasses with clip-on lens – These glasses might not be as durable as other types of cycling glasses, but they do offer a lot of flexibility when it comes to prescription lenses. Clip-on lenses that are made to your prescription will clip onto most cycling glasses fine. These can sometimes affect your field of vision.
Prescription lenses – Many brands such as Oakley will make prescription lenses that fit their glasses for a fee that will work for you. You need to check with each manufacturer themselves as not all will do this, although many will at point. Certainly all the top brands will.

Wear regular glasses under cycling goggles – There is always the option that you can get cycling goggles that you can fit your regular prescription glasses under. This is among the easiest ways since all you need is a pair of cycling goggles which are easy to come by.

They still have UV protection and such. The real bonus to this one is that by its very nature, goggles protect your eyes from all angles. The only thing you have to watch out for fogging up which is easy enough to overcome with anti-fog wipes.

Wear contact lenses – If you already have them, then just wearing your contact lenses with a pair of protective cycling glasses over them is an easy solution. You can pick any sunglasses at all at this point.
As you can see, there are many options to those who need to wear prescription glasses.
What Are The Best Frames For Cycling Glasses?
Cycling glasses are only useful when they stay in place when you are riding. The only thing keeping glasses in place is the frame.
The most critical part that many brands get can get wrong is the nose piece. The nose pads support the glasses in the front, and your ears support it in the back.
You want glasses that have an adjustable nose piece and one that also won't slip when you are sweating. Both of these work together because the the adjustments let it fit the narrow bridge of your nose which varies from person to person, and if the nose pads are made out of something like hydrophilic rubber, then they won't slip down when you are sweating. I actually consider this among the most critical parts of quality pair of cycling glasses.
The next one is really an obvious one and necessary for the best cycling glasses. They need to fit the shape of your head and stay in place. They should go over your ears and have just enough pressure to stay in place without being too tight.
When you have a pair that fits right, you need to test them to make sure they fit you like a glove when you are very actively riding. Put the glasses on, and move your head around in every direction. Look way up, way down, and shake your head both up and down and side to side. For all of this, the cycling glasses should stay put and not feel like they are leaving your face at any time. These are a perfect fit for your head.
That is part one of the usability test. You'll want to do the same test with your normal bike helmet on to ensure the helmet isn't putting pressure on the glasses and affecting the fit. Remember that you're going to be wearing your bike helmet when you are riding.
Aside from that, you have many choices for the type of cycling glass frame design. You can choose from full frame, partial frame, or frameless. All of these fall into what is known as Sports Sunglasses which are specialized at staying in place while playing sports (read more).
The difference between these types are the amount of safety protection they provide, and how much visibility they allow.
Full frame glasses have the most frame structure to them and thus the best protection ability due to debris or a crash. However, the frames do block some of what you can see.
Partial frame glasses generally only have a frame across the top and these are the most common. They give you structural strength for safety while generally not blocking much of your view.
Frameless glasses let you have the best possible view of your surrounding environment, but at the cost of having very little structural integrity so in a crash or if you catch a branch they won't do much to protect your eyes outside of the lens itself.
Regardless of which type of cycling glass frames you choose, ensure they are rated well for safety and that they fit snug. You want to go riding and not thinking about your cycling glasses if you choose properly.
What Else To Look For In The Best Cycling Glasses
Now that you have picked out the perfect cycling glasses for you, it's time to think about what else you might need related to eyewear.
The three main things you'll want to go along with your new cycling glasses.
A protective case – The first thing you'll want is a case that can protect your cycling glasses when they are not in use. Some glasses come with cases, but most do not. A case will protect your cycling glasses from getting crushed in your backpack when not in use. They also protect them from getting scratched from other things in your backpack like your mini tool kit or anything else you might be carrying.

A microfiber cleaning cloth – The second thing you'll want is a microfiber cleaning cloth to clean the lenses when they either get dirty or when you get fingerprints on them. You really will want to clean them everything before you go riding. While cleaning them with your shirt will do in a pinch, cleaning them with the proper cloth is fairly cheap and it protects your investment. Many new glasses come with these so you may not need to even buy a new cloth for awhile.

Anti-fog wipes – No matter what cycling glasses you choose, even the best cycling glasses can get foggy at times of high humidity of when sweating. Anti-fog wipes are easy to come by and you can carry some individual anti-fog wipe packs on your backpack so you can take care of a fogging issue easily at any time. If you've ever had your glasses fog up while biking you'll know how important these little things are.
Those three things do wonders in making sure your amazing new cycling glasses stay new and perform in all situations.
Are Cycling Glasses Worth It?
At this point, you may be asking if cycling glasses are worth it. They take some work to find a pair that fits you, they takes lots of reading to know what you need in a pair of glasses, and they can cost a bit of money. It feels like a bit of work at some point and sometimes people ask if they're even needed.
Cycling glasses are not a necessity, but they can be beneficial. They provide you with a lot of benefits well beyond basic eye protection.
They provide UV protection. UV can cause lots of eye damage and it's easy enough to protect them.

They protect you from bugs, dust, and debris. All of these things can get in your eyes and cause damage.

They protect you from the wind. It sounds silly at first, but too much wind will dry out your eyes and then your eyes are watering and you are squinting to avoid some of the wind. It's surprisingly a pain and with wraparound cycling glasses it's trivial to avoid.

They can protect your eyes from sun glare coming off of windshield and puddles. That glare not only can give you a headache, but it also makes it hard to see anything when it happens. It's easy enough to avoid with polarized sunglasses.
For something so simple and when you can get a quality pair of cycling sunglasses for under $50, why would you not want to get cycling glasses?