Pros
Lightweight
Very comfortable to wear for hours
Very reasonably priced compared to brands like Oakley
Adjustable nose pads and ear pieces
Hydrophilic nose pads and ear tips to keep them in place
Comes with additional high-constrast lens and clear lens
Grilamid TR-90 Frame is exceptionally durable
Polycarbonate lenses are shatterproof and scratch-resistant
Tons of vents for anti-fogging
Sharp looking
100% UV Protection (UV400)
Cons
The nose piece is a little big so it's actually in the corner of your vision
Current deals
There are few cycling glasses that can compete with the Tifosi Alliant on both the capability level and price level. In my opinion you are getting sunglasses that directly compete with Oakley for quality and features but at a fraction of the price. This is one of those hidden gems when you are looking for cycling sunglasses.
The Alliant has adjustable arms and nose piece that make it so you can dial it in to fit just right. If done correctly, you can adjust the arms so that they take the pressure off of your ears and they feel almost weightless.
Both the nose piece and arms are made out of hydrophilic rubber which is unique in that it just doesn't get slipper no matter how much they get rained on or (more likely) how much you sweat on them.
The frames are made out of Grilamid TR-90, which is a nylon-infused plastic. It makes them strong, light, and able to handle different temperatures without becoming brittle. They can even withstand oil and the constant UV without an issue.

Now to the fun part, the lenses. The lenses on the Tifosi Alliant have a whole slew of vents as you can see in the above picture. Because of all of the vents, these sunglasses won't fog up while you are riding
The lenses are made out of polycarbonate so they are scratch-resistant, and more importantly they are shatterproof. They are optically decentered as well, which is a fancy way of saying your view won't be warped by the curved lens.
Like all of the best cycling sunglasses, these have 100% UV protection to UVA and UVB, also known as UV400.
With the Alliant, you also get a hardshell case. The real bonus is that you get 2 additional lenses for high-constrast riding such as mid-morning, and a clear lens for early-morning or night riding. It's a real nice bonus especially at this price level.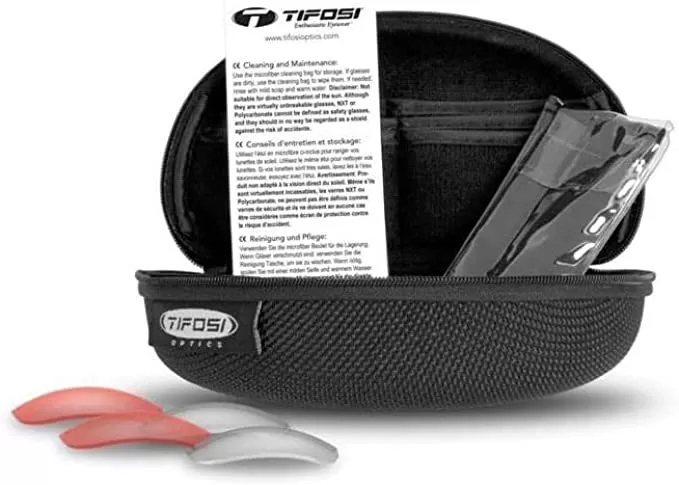 The Tifosi Alliant cycling glasses are very capable and if you're looking for the fit and features of the best glasses but at a more reasonable price, then the Alliant is perfect for you.
Current deals