Pros
Full frame glasses
Ultralight at 28g
Many vents for anti-fogging
Adjustable anti-slip nose pads and anti-slip temple tips
Interchangeable lenses
Unbreakable lenses
Sharp looking
Very comfortable and they stay in place
100% UV Protection (UV400)
Cons
Current deals
Rudy Project really hit a home run with the Defender cycling glasses. There are so many great features I almost don't know where to start.
To start with, the Defender are ultralight cycling sunglasses that come in at only 28g. That is lower than any other sunglasses I've reviewed including semi-framed ones.
The frames have an adjustable nose piece and arms so that you can really dial them in. They are hydrophilic rubber so that they'll grip like you won't believe while they repel water and sweat.
The lens contains tons of vents and moves so much air these glasses won't fog up.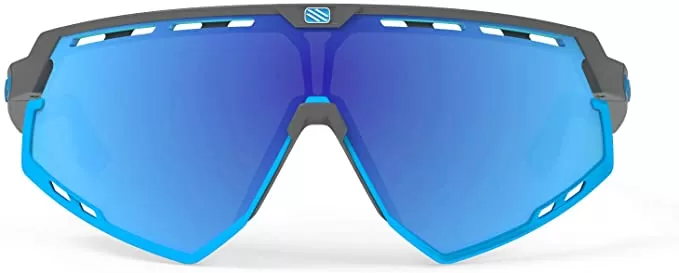 The lenses in the Rudy Project Defender are shatterproof and unbreakable. According to Rudy Project no matter what happens they'll stay in tact and not damage your eyes. Not many other manufacturers go as far as saying unbreakable so that tells you something about how well these are made.
The lens is also easy to change out with a different color. They are easy to change out which is a real plus.

Rudy Project Defender is a top contender when you're talking about the best cycling glasses you can get. They look great, work amazing, and really are a pleasure to wear. In fact, when you're wearing them they're light enough you really forget you're even wearing them.
Current deals