Pros
Full frame glasses
Comes with 5 different lenses for all situations
Ultra lightweight at only 19g
Polarized lenses
TR-90 Frames for strength and durability
Adjustable nose pads
Interchangeable arms
Comes with optional myopia frame
Can fit over many prescription glasses
Sharp looking
Very comfortable to wear
100% UV Protection (UV400)
Cons
Current deals
Sometimes I prefer cheaper cycling glasses depending on the situation and activity when it's not worth risking expensive sunglasses. These sunglasses from X-Tiger are one of my go-to glasses.
There are many things I like about these cycling sunglasses, not the least of which is that they are very, very reasonably priced. If I accidently broke these, I wouldn't be as bothered like if they were a $200 pair. In fact, this is one of my favorites pairs of budget cycling glasses.
One of the most striking things about this eye wear is that they weigh in at only 19g which is about the lightest sunglasses I've ever seen. When they are this light, you don't even realize you are wearing glasses at all.
The X-Tiger comes with an adjustable nose piece and multiple arms you can switch out for just the right fit.
The frame is made of TR-90 material which is a nylon-infused plastic that all of the big brand sunglasses are made from. It is very durable and strong.
One of the other strong points is that the X-Tiger comes with 5 total lenses. It has lenses that cover all of the major bases.
The blue Revo Lens are the all-purposes lenses that work well in the day, cloudy weather, and more.
The Transparent Lens is going to be your early-morning or evening lens when you want eye protection but you want to let all possible light through.
The Polarized Lens is good for times when you may be a bright reflection off of a windshield, puddle, things like that.
The gray Revo Lens is a mirrored lens and will reflect some of the light. These work best is very bright light situations.
The Night Vision Lens is also an early morning or late even lens. It's when you want contrast and to block some of the light.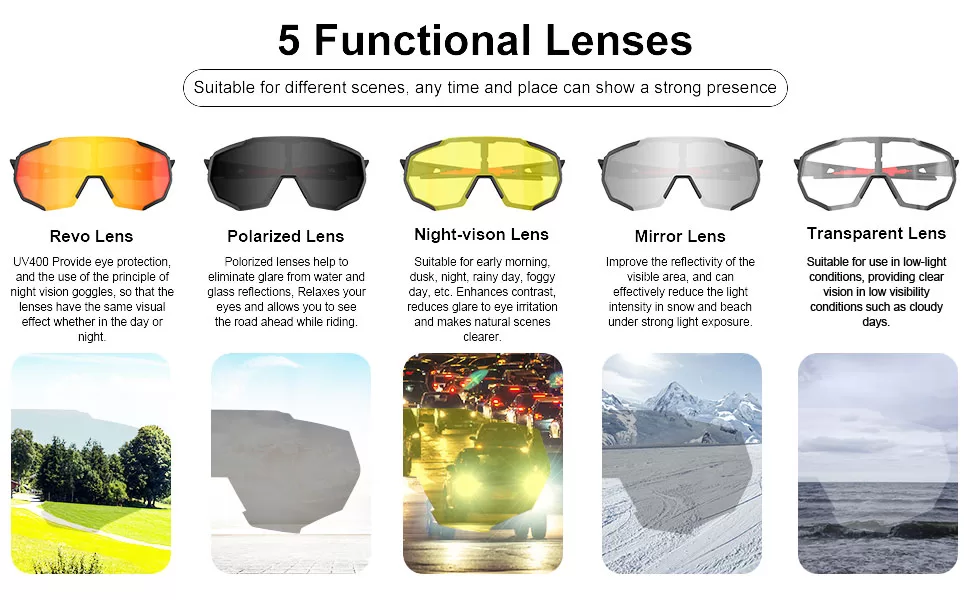 One last thing I really like about these is they fit over most prescription glasses. Many glasses you have to get specially made lenses with a given prescription, so being able to use normal prescription glasses is a real money saver.
So as you can see the X-Tiger cycling sunglasses are very functional glasses that are very capable and can provide amazing eye protection at a low cost making them among the best cheap cycling glasses out there.
Current deals