Specifications:
Lens: Shatterproof polarized lens
Weight: 24 grams
Frame Type: Full frame
Adjustment: None
Pros
Full frame glasses
Polarized Lens
Polycarbonate frames for lightweight and strength
Hydrophobic & Oleophobic lenses
Anti-scratch lenses
Ultra lightweight at only 24 grams
Sharp looking
100% UV Protection (UV400)
Cons
Best deals
Duduma really did a great with this pair of budget cycling glasses. I consider budget anything under $50 for the pair, and these come in at under $25 which makes them very low cost.
One of the first things I was impressed with is that these are polarized sunglasses which you don't see very often at all in the budget category.
Polarized sunglasses will block that bright sun glare you can sometimes get off of windshield or puddles. In the city this is very common, but it can really happen anywhere. If possible, polarized lenses are a great feature

The blue lens in the Duduma sunglasses is for high definition contrast and enhancing color perception. What that means is that this color lens (there are a few to choose from) will work well from dusk to dawn. They work well in normal sunlight, and they excel when there is lower light like you get in the early morning rides or rides as the sun is going down (which are the best rides btw).
These cycling sunglasses come in at only 24 grams which is lighter than most sunglasses you'll come across. While they are great for cycling, you can wear them anytime for the same reason – they are light enough you can wear them and forget you're wearing them.
These glasses have 100% UV protection from both UVA and UVB which is also known as UV400. It doesn't get any better than that.
The lenses are both hydrophobic and oleophobic. That means it will repel water, mud, sweat, oil, and more. It makes them much easier to clean at the end of a ride.
Other than that, these sunglasses are the right size for the average size head as you can see from the image below. While you have two lenses 58mm wide, I would prefer a single lens for riding situations. for normal usage these look good, and for the price you really can't complain too much.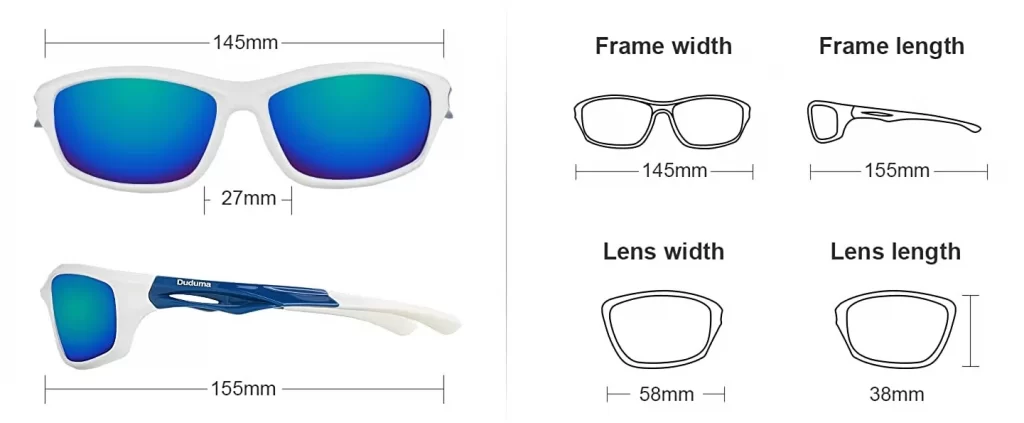 If you're looking for a cheap set of all-purpose sunglasses that can be used for cycling or any sports, then these will do the trick very nicely. They are polarized which is a huge plus, and they are cheap which is a big plus for those looking to save a few bucks on gear.
Best deals