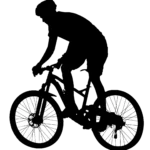 Howdy and welcome, fellow trailblazers, to your new favorite corner of the web! This is where the rubber meets the road – or should we say trail? You've just stumbled upon an Aladdin's cave brimming with everything mountain biking. We've got enough info to make even the seasoned riders' head spin faster than a freshly oiled freewheel!
If you're new to this world of muddy tracks, epic downhill runs, and adrenaline-fueled fun, don't fret! We're here to help you get rolling. Our 'Beginner's Info' section is just the ticket, the perfect jump-off point for those just starting to pedal their way into this exhilarating sport. And hey, even if you're a grizzled veteran, there's always a thing or two to learn – maybe you'll find some nuggets of wisdom in there as well.
Hungry for some gear talk? We're serving up a full-course meal! Whether you're in search of the perfect fat tire bike or curious about the latest shock-absorbing helmets, our gear reviews are as comprehensive as they get. Dive into our treasure trove of recommendations, and you'll soon be kitted out like a pro.
So, strap on your helmet, adjust those handlebars, and prepare to embark on a thrilling ride with us. We're as stoked as you are to dive headlong into the world of mountain biking, one click, and one trail at a time. So come on in, make yourself at home, and let's hit those trails together, virtually at least for now. Welcome aboard, rider. Let the good times roll!