Pros
Multiple lenses included
100% UV protection
Unbreakable frames
Hydrophilic arms
Ventilated to stop fogging
Great fit so they stay in place
Very comfortable to wear
Very reasonably priced
Cons
May not last as long as more expensive brands but these are 1/10 of the price.
Current deals
Torege glasses are a great value for how capable and lightweight they are. They are great as sunglasses and outstanding for budget sunglasses.
Sometimes you're looking at the best cycling sunglasses and you're looking for something reasonably priced since you have a lot of other gear to get. That would be this set.
Torege makes these as a package deal where you get 3 lenses for your glasses:
You get the standard lens that reduces sun glare, filters out UV, and adds a little contrast to the world around you.
The second lens is a polarized lens that gives you UV protection and full polarization. These are great for times when you are getting lots of reflection of bright sun off of shiny surfaces such as mirror or even puddles.
You also get the yellow lens which gives you some contrast of your surrounding but allows most of the light through. This lens is best for when the sun is going down.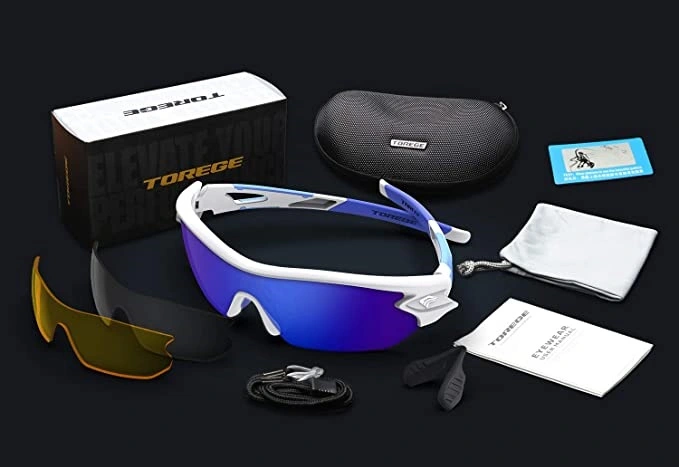 As you can see from the picture of the package, you get the glasses and extra lens, along with a protecting case and sunglass straps. All of that in what is an excellent pair of cheap cycling glasses.
These sunglasses also have ventilation openings to help with the glasses fogging up. As you start to move, the air should naturally keep the fog away. While many brands do this same thing, I still like to keep some anti-fog wipes with me just in case. They sell them on Amazon and they work like a charm.
The arms on these have hydrophilic rubber so that they resist sweat and stay put on your head. The nose pads are just regular rubber and while I would prefer hydrophilic rubber I can't complain at this price point.
All of the lenses that come with these have 100% UV protection as they block ALL of the UVA and UVB sun rays. The UV400 protection on these is the highest you can buy.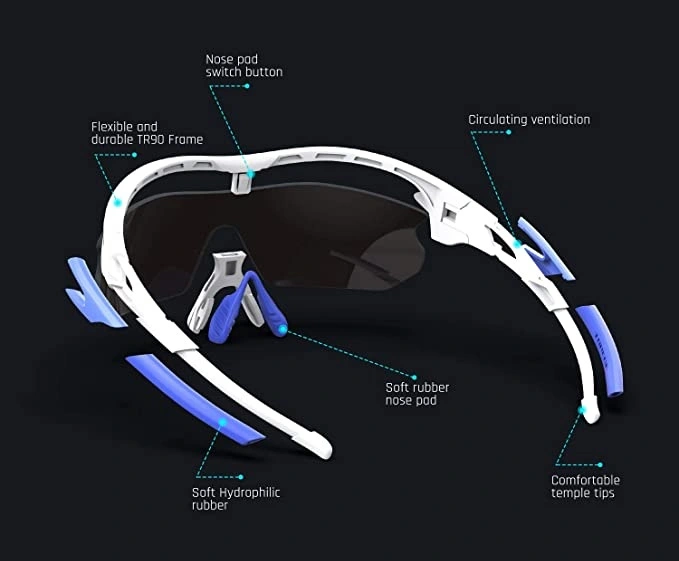 These sunglasses from Torege have what is called Toriex™ Technology. It is a form of high definition that in reality is a high-contrast lens. Nearly all of the good sunglass manufacturers do something similar and Torege is no exception.
The frames are made of TR90 material. TR90 is a Swiss-invented thermoplastic that is very light, durable, and flexible. Because of that, they conform to the shape of your head well and are good year-round.
All of the lenses also have a scratch resistant coating to help stop scratches.
While they are scratch resistant, I still always prefer to rinse off any dirt before using a cleaning cloth on any of my sunglasses.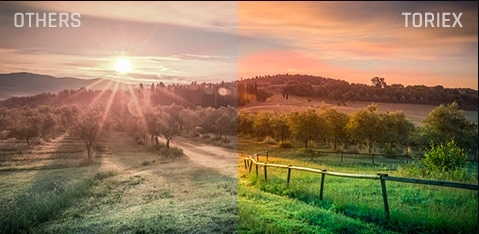 These Torege cycling sunglasses are a great bargain when you're looking for budget glasses that are comparable to the more expensive brands but at a fraction of the cost.
These glasses are good for year-round use due to their construction material and they are very capable, especially given the price. They stay in place well, and have the maximum UV protection among many other excellent features.
I highly recommend these to beginner cyclists and anyone looking for a strong set of cycling glasses that are capable but not expensive.
Current deals