Pros
Great looking
Hydrophilic nose pad to keep them in place
TR-90 frames for lightness and durability
High build quality
Shatterproof lenses
100% UV protection
Cons
Current deals
I've been using the same cycling glasses for a few years now. They work, they're familiar, and I haven't wanted to use new ones. Until now.
These Tifosi Jet glasses are amazing looking and just look fast somehow. There's just something aggressively sportly in the design somehow.
These sunglasses are in my buyers guide on the best cycling sunglasses if you'd like to see more. If you're looking at this sunglass review because you're looking for a budget deal, you may want to check out my list of cheap sunglasses for some great deals.
These Tifosi sunglasses are sized for small to medium size heads, with a lens width of 63mm and arm length of 126mm.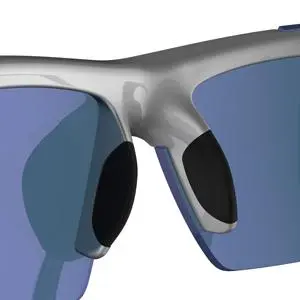 One of my favorite things is the hydrophilic hose pieces. They resist sweat so they stay in place no matter how much you are moving around on the trail.
To help the Tifosi Jet to stay in place for your entire ride, the frames are made of the incredibly light Grilamid TR-90, letting these sunglasses weigh in at only 26g. The frames can withstand UV among other things, so these frames will stay flexible and be durable for years to come.
The polycarbonate lenses are scratch-resistant and shatterproof so that they provide the maximum safety for your eyes. The lenses are optically decentered, which means that you won't have any distortion or wavyness in your view. This is really important because if you have any distortion, it can throw off your balance if you view of the trail is distorted at all.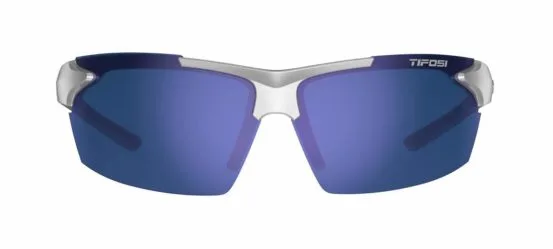 The Tifosi Jet lenses also block 100% of the UV sun rays (UVA and UVB) so that your eyes stay safe. Both of these features really must be in any sunglasses you wear for eye protection.
Beyond that, you get a zippered shell case for protecting the sunglasses when not in use, and you also get a cleaning bag which has a microfiber cloth to help you clean the lenses without scratching them.
Due to their construction, these glasses are fine for year-round use since they frames are unaffected by salt from winter roads or UV from the sun during the hot summer. They are very capable, and extremely stylish.
I highly recommend these to cyclists looking for that sharp-looking pair of cycling sunglasses but without the huge price tag.
Current deals