Specifications:
Lens: Light Night Fototec photochromic lens 75-25% LTV, Shatterproof lenses
Weight: 28 grams
Frame Type: Half frame
Adjustment: Adjustable nose pieces and ears
Recommended Use: All types
Rating: 4.5/5
Pros
Fully adjustable and light for a great fit and comfortable to wear
Hydrophillic nose pieces and arms
Prescription lenses available
Vent lenses to prevent fogging
Cons
Best deals
Tifosi makes amazing cycling glasses for a great deal, and these are another example of it. These clear glasses for cycling are actually photochromic so they are good for anytime.
If you've ever been out riding in the early morning hours with the birds just starting to chirp, then you'll know that many clear cycling glasses work great, but as the sun becomes brighter, then at some point you need to switch out to regular sunglasses.
Well, not in this case!
These Tifosi Veloce sunglasses are photochromic, so they will be clear when there is low lighting, but as it gets brighter they get more tinted, without you having to do anything. So they work really well on those rides at dusk or even at dawn. Heck, they work during the day and night just as well!
The Veloce have adjustable nosepads and temple tips that are made of hydrophilic rubber. Hydrophilic rubber will actually grip even more to stay in place the wetter it gets, so no matter how much you sweat, they'll stay in place.

The lenses also have vents cut in them so that the air flows through while you are moving and will help with not fogging up, which is really important anytime, but even more so when there is low lighting.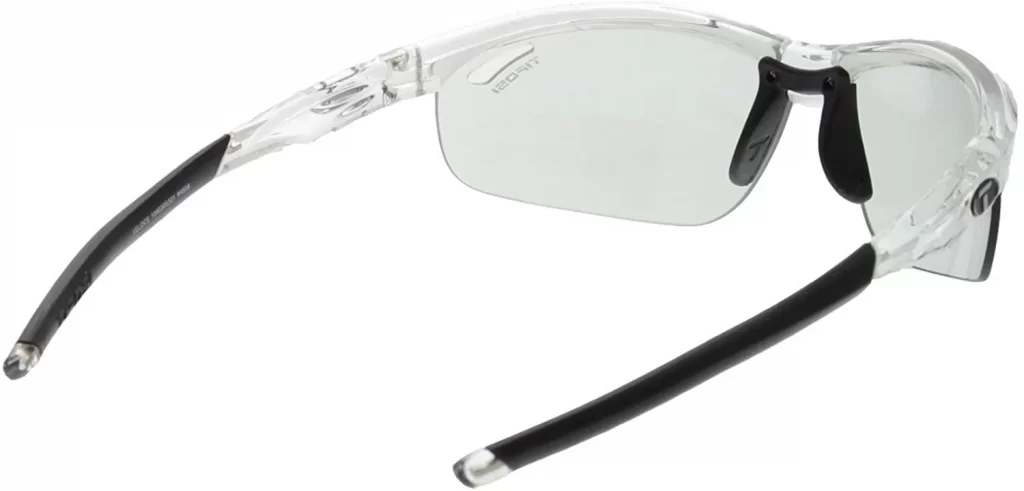 The Tifosi glasses weigh in at only 28 grams so they are lighter than most sunglasses and many times you hardly notice you have them on.
Beyond that, they are also rather stylish and look pretty cool while protecting your eyes against dust, debris, wind, and more.
If you need a set of clear cycling glasses for dusk, dawn, or night riding, these are your glasses!
Best deals