Specifications:
Lens: HD Photochromic lens
Frame: Full frame with TR-90
Adjustment: Adjustable nose pads
Weight: 30 grams
Photochromic: yes
UV Protection: UV400
Recommended Use: Cycling and mountain biking
Rating: 5/5
Pros
Very lightweight (only 30g)
Comfortable to wear for hours
Photochromic lenses
Low price
Large lenses for clear view
Adjustable nose pads
Polycarbonate lenses are shatterproof and scratch-resistant
100% UV Protection (UV400)
Cons
Vents between the lens and bottom of frames might help airflow for all face shapes
Current deals
Our Verdict
I ended up liking the RockBros Photochromic cycling sunglasses more than I thought I would initially.
I wanted to check them out since they have lots of raving reviews and they are under $30 and they are even photochromic. They performed well enough they went onto my cheap cycling glasses list.
So it turns out these glasses are very capable. How well they function and fit puts them easily into my list of the best cycling glasses you can get. Now let's dive into why.
These sunglasses are comfortable to wear and they are ultralight. The nosepad is adjustable and contributes to how well these stay in place when you're out riding. These sunglasses have 100% UV protection and they are photochromic so they'll work great day or night.
The frames are made of TR-90 which all the top manufacturers use because it is strong, light, and almost unbreakable.
These are far and away much better than other budget cycling glasses at this level, and compares well to glasses at more than double the cost of these. If you are looking for a cheap pair of mtb glasses that will work anytime of day or night, these are the ones.
Product Evaluation
These RockBros sunglasses are well made and it's easy to see why they are so popular online with high reviews. So let's look now at the different aspects for a full review on these.
Design and Style
The RockBros photochromic sunglasses are full-frame glasses suitable for all types of biking or cycling.
The frames are made of TR-90 which is a type of nylon-infused plastic that is very strong and durable. TR-90 is used by a vast majority of the top cycling sunglasses makers.
The RockBros glasses are also what I would consider ultra lightweight. They weigh in at 30g while many of the usual lightweight sunglasses come in at roughly 35g. So they are light enough you barely notice them on.
These are photochromic sunglasses which means that they will darken in bright light, or lighten as it is getting darker. That's really handy especially for those dawn or dust rides as the lighting conditions are changing constantly.
The adjustable nose pads help to dial in the fit so that they stay in place during active rides. With proper adjustment and due to their weight, these do stay in place very well during long rides.
While these sunglasses are being sold on Amazon as mens cycling glasses, there is nothing particular about this design that makes it either mens or womens. RockBros does make these in other colors that it labels for both men and women so I consider these ones unisex in reality.
These do come with a myopia frame that can be used for prescriptions if necessary.
These come in the black/red pictured above, and also in matte black and blue colors. All feature the same photochromic lenses and functionality.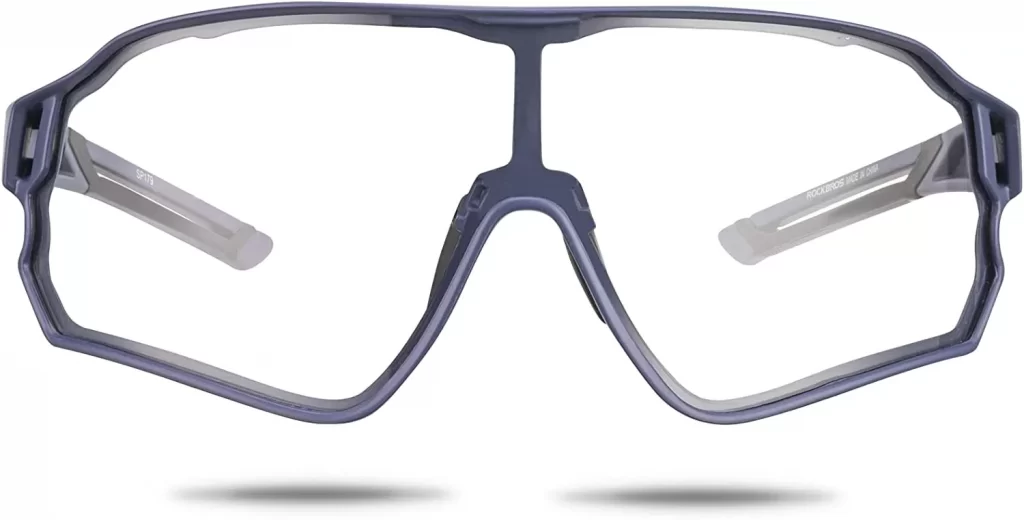 Protection
The RockBros photochromic sunglasses provide solid protection when you're out biking.
These cycling glasses have lenses that are both scratch-resistant and shatterproof. If rocks fly up or you catch a low-hanging branch, these will do a good job of protecting your eyes.
These mtb glasses also have the best Ultraviolet (UV) protection there is. These are rated at UV400 which will block 100 percent of the UVA and UVB sun rays.
The full frames on these provide a sturdy platform for the durable lenses and support them on every side so they can withstand as much as a pair of goggles do.
These sunglasses are also wraparound so they will protect your eyes from the sides as well from both the sun and flying objects and debris. Dust can be especially problematic when the wind brings up a dust cloud or other bikes do. The side protection on these goes a long way to stopping all of that dust as well.
Fit and Use
Now the most important part .. how do these RockBros do when you're out actually wearing them on the trail for hours of riding. In short, these do amazing in real world use. Far better than I'd expect from a pair of photochromic sunglasses under $30.
The adjustable nose pads help quite a bit getting them to sit on the bridge of your nose properly. While these are light enough that it doesn't make a big difference, I would really like to see adjustable arms / temple tips to help tighten them up for the folks who need it.
They are ultralight and are light enough you quickly forget you're even wearing them. The TR-90 frame material feels good against the face while wearing them.
With just the adjustable nose pads, they stay in place well but don't put pressure on the side of your head. That plus the lightweight nature and after about 5 minutes it feels natural.
There is no lens distortion on the lenses that I can tell or at least that is noticeable when riding.
The way the bottom of the frame is cut, it allows air to flow under and around the lenses for ventilation. While fogging is not an issue, I would preferred some small vents cut along the edge of the lenses on the inside of the frame to ensure cheeks don't block airflow from under the frame.
They are a good looking pair of sunglasses that fit well and are low hassle for a really budget price.
Lens
For one, these are RockBros cycling sunglasses with large photochromic lenses that are about the same size as your average goggles. So they give you a nice wide view of everything without interference.
They are photochromic so they go between a dark tint in bright UV light, to going all the way to 80% of the light coming through in low-light conditions. Most completely purpose-made clear lenses let through around 93% of the light. So these won't go all the way to completely clear, but they go to a very, very light tint. These are one of my recommended clear cycling glasses that are perfect for early morning rides.
The transmittance of these sunglasses is 18% of the sunlight gets through in bright sun (they have a darker gray look to the lens from the outside) and in low light situations 80% of the sun light gets through (they have a light gray tint). So these are excellent from the first traces of the sun coming up to the last traces of sunlight as it is going down. For actual night riding with very little light other than the moon, I'd always opt for clear cycling glasses over any photochromic because you need as much light as you can get at night.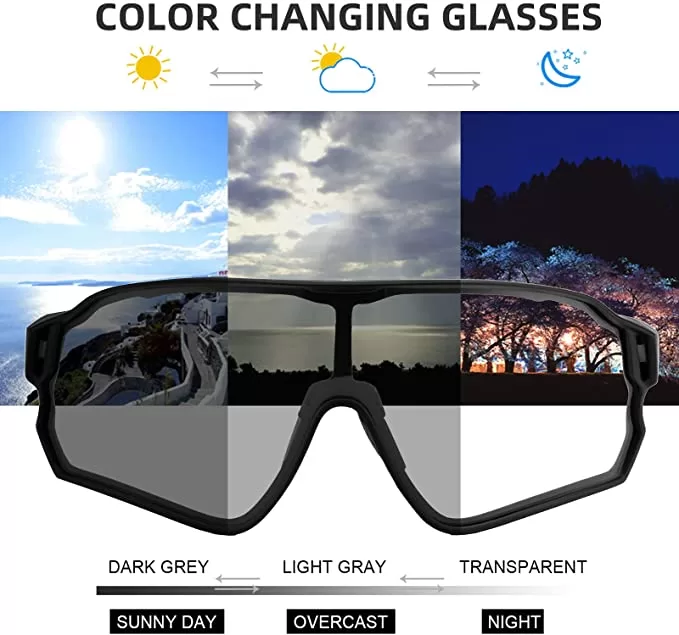 The lenses on these glasses are 100% UV protection from UVA and UVB as you'd expect, and they are also both scratch-resistant and shatterproof. Nothing unusual there, but it's great to see these necessary features on a set of sunglasses at this low of a price level.
Beyond that, these have UV400 protection as I said above which is the lenses block 100 percent of the UVA and UVB light so it doesn't get any better than these for UV protection. Couple that with shatterproof lenses and anti-scratch lenses and you have a very solid and capable set of mtb sunglasses for a very low cost.
Riding Performance
Sometimes you never know how photochromic sunglasses work in the real world but these Rockbros Photochromic sunglasses do a great job.
Often you find out just how well photochromic lenses do going between shade and bright light and how long they take to transition. I've had sunglasses that change nearly instantly.
These Rockbros adjust about average speed-wise. It takes about a minute to adjust fully to new lighting, so if you're riding through the shade from trees on a bright sunny day, they will tend to stay about in the middle and be a little too dim in the shade but a little too bright in the sun. This is actually pretty common and for this price range I can't overly complain.
They do stay on well even on jumps. They do get a little slippery as many sunglasses do when you are sweating heavily. Some sunglasses have hydrophilic rubber on the nose pads which helps them stay put even through sweat. So here and there you may have a little adjustment.
These sunglasses really work the best on those normal day rides but even in the worst conditions they're still plenty good enough to not want to do anything or change out the glasses.
Product Value
The Rockbros photochromic sunglasses are an excellent deal. These are photochromic sunglasses that have UV400 sun protection, shatterproof, anti-scratch, ultralight, and far more for under $30. These are one of the best deals I've seen on budget cycling glasses that have amazing features.
Compared to other mtb sunglasses on the market these are a far better deal. I've seen sunglasses twice this price that have about the same features, and I've seen sunglasses that offer far less for the same price.
I do highly recommend these if you are looking for quality sunglasses on the cheap.
The package you get on purchase has all of the normal stuff you'd expect. You get the standard assortment of items with these cycling glasses.  You get the case which can latch onto your bike. You also get a portable pouch and the cloth for cleaning your glasses. Fairly standard assortment which helps make this a full-package deal at a cheap price.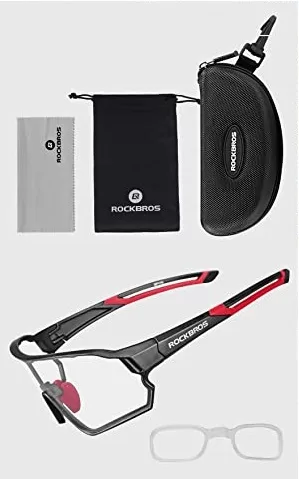 Conclusion
The RockBros photochromic sunglasses are one of those hidden gems. They are ultralight biking sunglasses that offer many of the same features you see on the best sunglasses. They have the same TR-90 light and durable frames, 100 percent UV protection, shatterproof and anti-scratch lenses, and they are one of the lightest sunglasses I've seen.
They are very capable and are a very solid set of glasses. They are also at the budget cycling sunglasses price range. A real win-win and might just be your best deal on cycling equipment yet!
Current deals