The truth is, if you're serious about cycling, then you're going to need some good gear. And that includes a good pair of glasses. So I put together a list of 7 budget-conscious options for cyclists who want to spend less than $40 on their glasses.
The best cheap cycling sunglasses are the RockBros Photochromic glasses and the Tifosi Jet sunglasses. Both are cheap cycling glasses that will protect your eyes very well.
When you are deciding which of the budget glasses is for you, you'll want to go for a simple design that covers you most important needs such as UV protection, protection from the elements, and that they are comfortable to wear for hours.
The 7 Best Cheap Cycling Sunglasses You Can Buy
For serious cyclists, cycling glasses are not just another accessory; they are an essential part of the cycling kit. Riding without them can lead to eye injuries, impaired vision and even detached retinas. Cycling glasses protect your eyes from dust, rain and wind. But finding the best cheap cycling sunglasses can be a difficult task as there are so many brands on offer.
In this buyer's guide I'll give you some great options for cycling sunglasses that are both cheap and effective.
Material: Glasses made out of polycarbonate material offer superior protection against UV rays as well as scratches and bumps on the road.
Lens type: Most bicycle helmets come with a visor which can obstruct your vision if you have prescription lenses for example. In this case it is best to go for cheap cycling glasses that have a clear lens.
Safety rating: Sunglasses protect eyes as their primary goal. Make sure the glasses still pass all of the stringent safety standard to protect your eyes.
Without further ado, here are my top recommendations for the best cheap cycling sunglasses: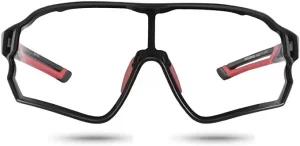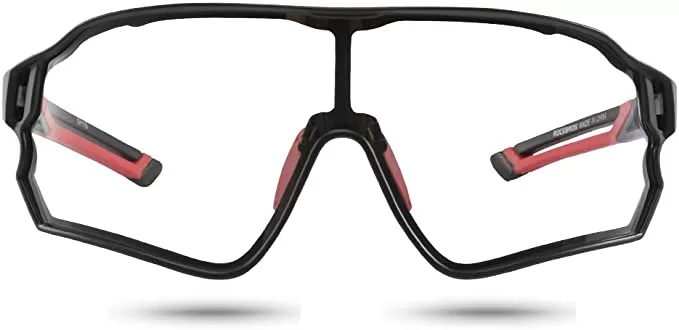 Best Cheap Cycling Sunglasses
These full frame bike glasses are photochromic so they're tinted during the day but clear at night. They are made of plastic with an anti-scratch coating so they are very durable.
Specifications:
Lens: Photochromic lenses (transmittance between 18 and 80% depending on light, category 3 lenses)
Weight: 30 grams
Frame Type: Full frame
Adjustment: Adjustable nose pads
Pros:
Full frame glasses for a great fit
Plastic lens that are anti-scratch
Photochromic glasses
Weight of only 30 grams for light full-frame glasses.
Cons:
No vents for air so they could be fogging in certain environments
Best deals
One of the strongest features of these budget sunglasses is that they are photochromic which isn't as common in budget bike glasses.  If you want only one pair of biking glasses, then you'll want glasses that are photochromic since they are tinted during the day but go to nearly clear at night.
During the bright days they'll let just 18% of the light through which is typical for category 3 sunglass lenses. During low light riding, they'll let in 80% of the light which puts them in the very light tint (category 0). Both of these are exactly what you want in photochromic lenses and are a great option if you can for all-purpose eyewear.
Do note that you want clear glasses at night, not yellow lenses. While yellow lenses can help with the added contrast, when it's really dark out pure clear lenses are preferable.
Add to that they weigh only 30 grams so they are extremely light for a full frame glasses that helps make them more comfortable.  These are great when the lighting is changing like when it's getting dark, or even when inclement weather comes in.  In fact, sometimes when you are biking through the woods you are in shade sometimes and bright sun other times, making these glasses even better.
Probably the biggest difference is that they are full-frame biking glasses so they are rather sturdy and if you are biking through the woods and might be a branch to the head, then these are the ones you want to wear to protect your eyes. They are simple, effective, and save you money in the process.
The RockBros photochromic are among the best of the cheap glasses out there.
Read more: RockBros Photochromic sunglasses full review


Premier Budget Cycling Sunglasses
Tifosi generally makes more expensive sunglasses, and this Tifosi sunglass model is at a budget price with most of the bells and whistles that the more expensive models have. Tifosi glasses fit amazing and feel great to wear.
Specifications:
Lens: Shatterproof, optically decentered polycarbonate lenses
Weight: 26 grams
Frame Type: Half frame
Adjustment: No
Pros:
Anti-slip adjustable nose pieces
Plastic lens that are anti-scratch
Stay put even with lots of sweat
Come with accessories like a shell case and cleaning kit
Sharp looking design on these shades
Cons:
Best deals
Tifosi is known for making quality sunglasses. Like, up near the Oakley realm of sunglasses.  The Tifosi Jet sunglasses is their budget model that comes in well under $40 but is still an amazing set of sunglasses.
I didn't put these first because these are not full-frame glasses.  That and these are not photochromic. For sunglasses these are unsurpassed. They have a wide field of view and zero distortion.
One of the best things about these cycling glasses is how well they fit.  It has the well-known adjustable nose piece, which is an innovation in itself.  The rubber of the adjustable nose pads is actually hydrophilic rubber which is soft, but will not become slippery no matter how much sweat you get on them.  This means they stay put which if you ride like me is a breath of fresh air to have sunglasses that just stay put and don't need to be constantly adjusted. Even when you're riding off road on gravel roads, they stay in place really well.
Aside from that, they really are light sunglasses.  They are made of a type of nylon material Tifosi designed which is both very light but also very durable.  Like I said, these glasses are made like the best of the ones they make but this pair happens to be really reasonable in price.
The Tifosi Jet is a great set of sunglasses that is suitable for using in all riding conditions
I mean, they even come with their own shell case to protect them at this price range!
Read more: Tifosi Jet sunglasses full review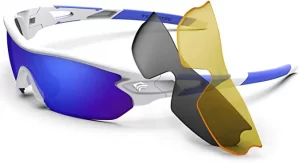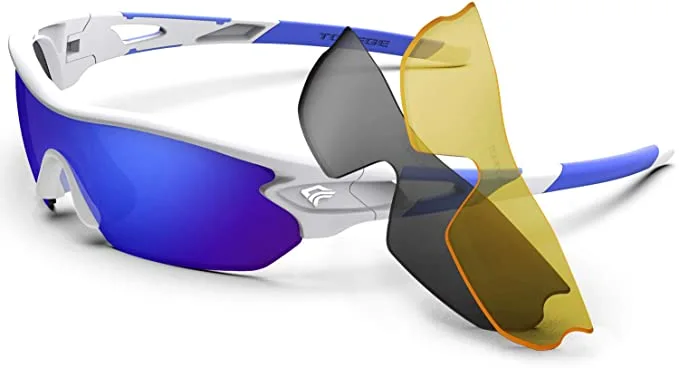 Best Multi-Use Cycling Sunglasses
These Torege sunglasses come with 3 different lenses so they can be used day, dusk, and night.
Specifications:
Lens: Uv filtering lens / polarized lens / yellow lens all included
Weight: 35 grams
Frame Type: Half frame
Adjustment: Changeable nosepad
Pros:
3 different lenses
Day lens block UVA and UVB
Polarized day lens
Yellow lens for evening riding
Anti-scratch lenses
Cons:
Only one of the 3 included lenses is polarized
Best deals
Torege isn't one of the well-known brands, but it's one of the hidden gems for sure!
Torege has put together a set of budget cycling glasses that have thousands and thousands of positive reviews and they come with some amazing features at a price near $20 which is amazing for anything now-a-days. There are many different colors to choose from for your lens so you can choose a different color option to meet your needs and style.
These bike glasses have very capable day lenses that block the usual UVA and UVB sunlight.  The daytime lenses are even polarized to stop those intense sun glare off of reflective surfaces on those sunny days.
These Torege cycling glasses also come with yellow lenses that are meant to be used for evening riding. These have higher contrast which you'll need when there is less light out to see the road.  With all of the lenses, these are really great for just about all cycling conditions. For true night riding, I would really opt for a pair of clear cycling glasses (these are below).
These have the usual plastic lens and frames and they even are scratch-resistant.  Fairly usual for cycling glasses but these do have all the things you would expect and some you wouldn't at a price that is a steal!
Read more: Torege Sport sunglasses full review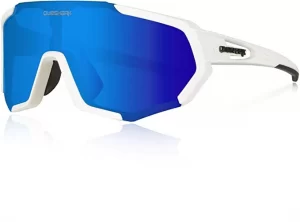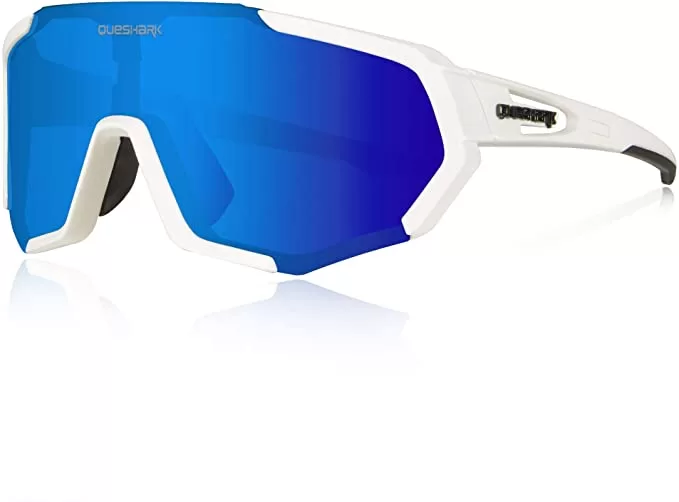 Solid Multi-Lens Sunglasses
These glasses are lightweight, comes with multiple lenses including polarized, at a very reasonable price.
Specifications:
Lens: Uv filtering lens / polarized lens / yellow lens all included
Weight: 32 grams
Frame Type: Full frame
Adjustment: Replaceable arms
Pros:
3 different interchangeable lenses
Anti-slip temple tips
Large lens for a wide view
Polarized
Full frame glasses made from TR-90
Cons:
Lack of an adjustable nosepiece
Best deals
Queshark is a lesser-known brand, but they make a great set of budget cycling sunglasses and have the positive reviews to prove it.
They are lightweight at only 32 grams, due in part to the Grilamid TR-90 frame which is a nylon infused plastic. They're both lightweight and very strong and durable.
The Queshark comes with 3 lenses – one Revo lens, one black polarized lens, and a clear lens – to cover all the environments you cycle in. The lenses are also very easy to switch out quickly.
The black polarized lens is dark enough that it works well on bright days, but on slightly more overcast days I'd definitely otp for the main Revo lens which is blue in this case.
So if you're looking for an adaptable pair of cycling sunglasses, then definitely check these out.
Read more: Queshark sunglasses full review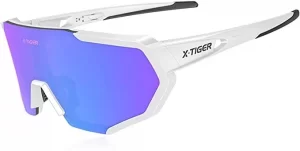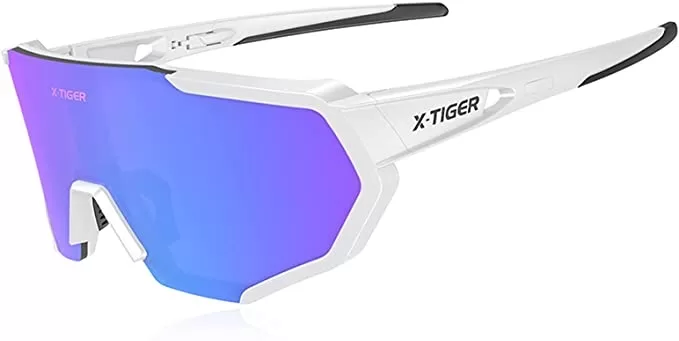 Most Adaptable Sunglasses
These are full-frame sunglasses that comes with 5 lenses to cover all cycling environments
Specifications:
Lens: All-purpose Revo lens / Transparent lens / Polarized Lens / mirrored Revo lens / Night vision high contrast lens all included
Weight: 19 grams
Frame Type: Full frame
Adjustment: Adjustable nosepads and interchangeable arms
Pros:
Multiple lenses (some models have up to 5 different lenses)
Block UVA and UVB light.
Weight of only 19 grams.
Polarized lenses
Cons:
Best deals
These sunglasses have more lenses you can change out than most by a long shot.  Some of the models of this sunglass on Amazon have 5 different lenses you can choose from.  Extremely adaptable to say the least. With all of those lenses, these sunglasses can cover pretty much any biking condition you'll come across and are a great option if you need to cover many different environments.
They are also polarized and block UVA and UVB lighting.  The polarized is a big feature as it blocks out those sudden glare that you get off of shiny surfaces like windows and water on those bright days.  If you're riding in the city, you definitely want polarized lenses for eyewear. These also have no visible distortion as you look around which is a very important.
These X-Tiger sunglasses only weight 19 grams which is insanely light.  That's the weight of 3 pencils! You don't get much lighter than that and it's well within reason. In fact, it's part of why these are so comfortable.
Between them being ultra lightweight and with all the adjustment, these stay in place really well for riding on either a paved road or bumpy gravel trails such as XC. For downhill with large jumps and drops you want to go with something with more grip to really stay in place like the Tifosi Jet.
These are highly rated sunglasses, and it might have to do with the fact that  it comes with little extras like a glasses case and cleaning cloth among other things. That's something you don't normally see in the cheap sunglasses market.
Read more: X-Tiger Sports sunglasses full review

Best Value Cycling Sunglasses That Exceeds Safety Standards
If you're on a tight budget, these sunglasses at well under $20 might be the winner.  They exceed ASTM F803 safety standards while still having features to prevent fogging.
Specifications:
Lens: Shatterproof polycarbonate clear lens
Weight: 35 grams
Frame Type: Half frame
Adjustment: Adjustable temple tips
Pros:
Cheapest cycling glasses that are made well
Exceeds the ASTM F803 safety standards
Anti-fogging lenses
Shatterproof, anti-scratch lenses
Room to wear them over prescription eyeglasses
Cons:
Clear lens only so only can be used in low-light situations
Best deals
Rounding out the list is the cheapest biking glasses that do a great job of protecting your eyes.  These are clear so you'll still be able to see sharply so these are really for pure protection of your eyes.  If you're riding in the evening or at night, these are perfect to use. If you are looking for a full-frame glass option for riding in low light, this is the one!
These glasses are shatterproof to the ASTM F803 standard.  That is not an easy standard to pass to say the least, so passing it means that these glasses won't shatter into your eyes which is the whole reason for wearing glasses. The lenses have a high clarity and no noticeable distortion looking from side to side.
The Unique glasses even have fogging prevention which is especially useful at night as the hot air from breathing tends to fog up many glasses.
Probably one of the big reasons for the popularity of these glasses is that you can wear them over regular prescription glasses as you can see in the picture above.  There are not many prescription cycling glasses that can provide this so this is a major selling point of these glasses.
So if you require prescription cycling sunglasses, then these might be a good option for you.
Read more: Unique Sports glasses full review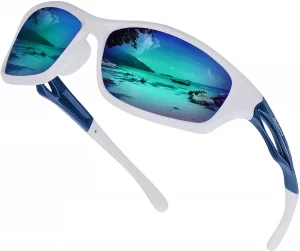 Best Budget Polarized Sunglasses
These are the cheapest polarized sunglasses you can get. Full UV protection and no sun glare!
Specifications:
Lens: Shatterproof polarized lens
Weight: 24 grams
Frame Type: Full frame
Adjustment: None
Pros:
Polarized lens on budget sunglasses
Hydrophobic & Oleophobic lenses
Anti-scratch lenses
100% UV protection (UV400)
Cons:
Best deals
These are the cheapest cycling sunglasses that I have seen with polarized lenses. While polarization isn't necessary, it sure is nice when possible. I just gets rid of that kind of sun glare that can make you squint.
These sunglasses are very light, weighing in at only 24 grams which is far lighter than most "lightweight" sunglasses. Being that light means you can wear these and not really notice it.
The other nice thing is that the lenses have a coating on them which makes it easier to wipe off water, sweat, and oils. Very nice and unexpected in this budget category. The lens is dark enough that they work great on bright days while the lens have excellent clarity.
The only downside is that there is really no adjustments on these. I much prefer adjustable nosepads and arms when possible, but when you're talking just over $20 you can only get so much in a polarized sunglass that can handle most average riding conditions.
Other than that, these block all of the UV light. Really any sunglass that you wear should block all of the UV.
Again, not too bad for sunglasses that are polarized. These are plenty to make this list. If you need a little more adjustment and want a single lens, the X-Tiger further up in the list works very well.
Read more: Duduma polarized sunglasses full review
How To Choose the Best Cycling Sunglasses
Top 5 Reasons Why People Should Buy Cheap Cycling Sunglasses
We all know that cycling eyewear are an important accessory when riding a bike. They protect our eyes from the harmful UV rays coming from the sun. However, they don't have to be expensive to be of good quality. Here are five reasons why people should buy cheap cycling glasses:
They can be less expensive than designer brands
Some of them offer fogging prevention, so you won't need to constantly clean them
You can get prescription eyeglass lenses with some models of cycling glasses
You can find sunglasses that will shield your eyes from both UV rays and trail conditions like debris and sand
The best cycling glasses come in many styles and colors
If money is tight, just remember that a good pair of budget glasses is far better and a goes a long way. According to the American Optometric Association (AOA), quality sports sunglasses can protect your eyes well, but regular sunglasses used in sports can actually be more dangerous (read the article here).
So just determine what your cycling sunglasses budget is, then what features you need, and then look through and see one which one works for your style.
How To Choose The Best Cycling Sunglasses – Expert Advice
One of the most important aspects of cycling is being able to see. It is also one of the most overlooked aspects. When you are cycling, you have to know that your glasses will not slip off and that they will offer protection from dust and other factors. The best budget cycling sunglasses are those that offer UV protection, fogging prevention coating, and a non-slip design.
When you find all of those features and the cycling glasses are still under $30 then you have a winner! ALL of the glasses I list above fall within that criteria.
Now, if you want to only look at cycling glasses for riding at night, I have that post there which only has glasses meant for night riding.
If you mainly want to ride during the day, I have a list of the best cycling sunglasses that has some really great options on it.
How To Choose The Best Bike Sunglasses That Suit Your Face Shape & Style
Choosing the right pair of sunglasses can be a daunting task, considering that there are so many different types. Sunglasses are not just about fashion anymore. They are also about safety and comfort. But before you make any decisions, take a look at your face shape and style to find out which sunglasses will suit you best.
The following is a brief introduction on how to select the best bike sunglasses for your face shape and style:
Face Shape – Choosing the right pairs of glasses is all about deciding what kind of cyclist you are.
Face Style – If you're into cycling as a sport, then go for cycling glasses that have an aerodynamic design instead of fashion glasses with big frames or lenses.
Generally speaking, you have either the wrap-around glasses or the more traditional-style flat glasses. It really depends if you want maximum protection (such as with goggles) or just basic UV protection from the front.
For me, it depends on the type of riding I am doing. If it's light riding, any glasses will work. If it's through-the-trees, mud-flying type of riding, then I'll want full goggles.
The Different Frames For Your Face Shape – Which One Is The Best?
There are different frames for your face shape that you can choose from, but which one is the best?
The first step of choosing your best cycling glasses is to know what type of face shape you have. This will help you to narrow down the possible frame design that will work best for you.
Next, think about what kind of riding or cycling do you plan on doing. Different activities require different features, so make sure to find a pair of glasses that will suit your needs. The sunglasses you would need for riding on pavement is very different than those for gravel trail riding for instance.
Lastly, don't just buy a pair because they're trendy – choose them because they will be more comfortable and safer for the kind of riding that you plan on doing.
Those steps together will lead you to the type of frame/type of sunglasses you need to get.
Key Features Of Good Budget Cycling Sunglasses
It is important to remember that even though budget cycling sunglasses may not offer the same features as more expensive models, they can still provide protection from the sun and the elements when you're on your bike.
You should try to look for three key features as a guide when shopping for a pair of budget cycling sunglasses:
Protects Eyes From UV Radiation: If you plan on being in the sun for long periods of time, it is crucial that you purchase a pair of cycling sunglasses with UV protection. UV exposure is the primary cause of  ocular surface inflammation and may contribute to the development of cataracts ( read more )
Fashionable Options For All Ages: If you are looking for something to wear while biking or just wearing around town, there are many different options available to meet your needs. You can find glasses that are fashionable but also have safety features inside them.
Budget-Friendly: It should be very affordable. Ideally under $40 makes for a great price for budget cycling glasses. Glasses can be affordable and still provide high level of protection. You should be able to both save money and find something that fits you needs fairly well.
Why You Should Go For A Budget Pair Of Cycling Sunglasses
The reason why you should go for a cheap pair of cycling glasses is because it is more affordable, but the right pairs can provide the same level of protection as expensive cycling glasses.
The better budget cycling sunglasses are usually made from softer, lighter and cheaper materials. They don't have as much style and come with fewer features that the expensive ones do.
The best budget cycling sunglasses are not heavy and provide adequate visibility and protection from UV rays and glare. They also come with interchangeable lenses which can be used in different lighting conditions like cloudy weather, sunset, sunrise or night time rides.
I hope this buyer's guide has helped you to find the budget cycling glasses that will fit both your needs and budget. Best of luck with your new shades!