Pros
Unobstructed view like goggles but airflow like glasses
Lightweight
Adjustable nose pads
Really comfortable to wear
Comes with bonus clear lens
ChromaPop™ lenses greatly enhance view
100% UV protection
Cons
Due to larger size may bump against some helmets
Current deals
These Smith Wildcat glasses are high quality and competes with the best cycling glasses on the market. They give you unobstructed view you typically get from goggles, but they are open enough to allow airflow to help avoid fogging.
The Wildcat is a full frame design which sits beyond the edge of the 140mm lenses. Due to the width of the lenses, the frames are barely at the edge of your peripheral vision.
These glasses have adjustable nose pads so you can get the proper fit for your face. The nose pads are made using a material Smith calls Megol. It is very close to the hydrophilic rubber compounds from many other manufacturers in that they stay put even when they get wet from rain or sweat.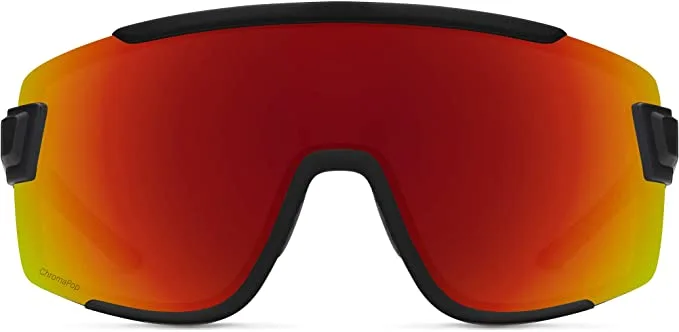 The arms also have this same rubber compound, so together they do a great job of keeping these sunglasses in place while you are actively riding.
Beyond the amount you can view, the view itself is really taken up a few notches by the ChromaPop™ lens. The ChromaPop™ enhances you view by giving everything more contrast.  What that means is that objects on the trail that might be hard to see, really pop out with these lenses. If you're really moving on a XC trail or on an extreme downhill, then you know just how important it is to be able to clearly see all of those little details so you don't go flying off your bike!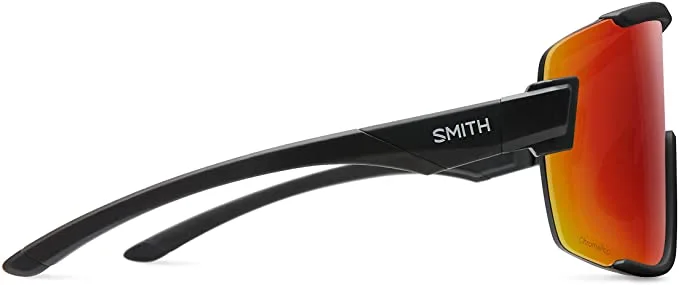 The Wildcat has the standard 100% UV protection from UVA and UVB as you'd expect of sunglasses in this range. They also have smudge and moisture resistant lenses so that it is easy to clean your lenses and they stay as clean as possible while you're cycling through everything.
The frame is the typical TR90 TPU that is both lightweight and durable. These cycling sunglasses weigh in at 36g so they have slightly heavier than Oakleys or 100%, but it's still well within reason and when you're out on the trails it's hardly noticeable.
The Smith Wildcat also comes with a bonus clear lens that you can switch in so if you're riding after the sun goes down or even well into the dark, you can have plenty of eye protection from low-hanging branches or rocks that get kicked up while still being able to see the trail in front of you as if you didn't have glasses on.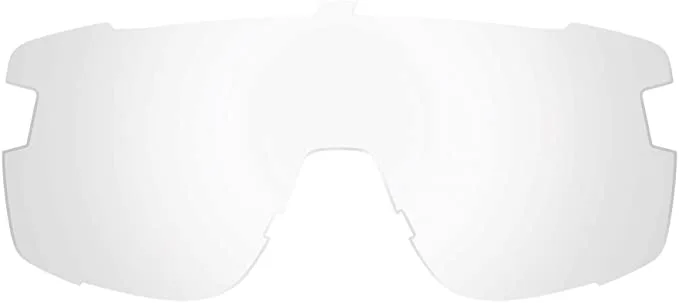 The Smith Wildcats are a well-made set of glasses that come with ChromaPop™ built in, where on many sets you have to upgrade such as Oakley with the Prizm or 100% with their HiPER high-contrast lens. That's definitely a bonus given that the Wildcat is on the expensive side.
All in all, these Smith Wildcat glasses are a solid set of glasses that are durable and will last you years. They are good for all seasons and you can't go wrong with them.
Current deals