Pros
Tall lenses for an unobstructed view
Sharp looking
Great fit so they stay in place
Very comfortable to wear
Oakley Prizm provides enhance view
Cons
Current deals
Oakley sunglasses are among the top of the best cycling glasses for a good reason. They are lightweight, comfortable to wear for hours on end, and always stylish.
The Oakley Radar EV Path cycling sunglasses are the very best glasses that Oakley offers for the cycling enthusiast. They are comfortable, have a superior design, and stay in place well no matter what style of cycling you are doing.
The Radar EV Path sunglasses take everything that was great about the Radar EV and takes it further. If you are planning on riding in low light, there is even a clear lens / photochromic version that is in the guide to clear cycling glasses you might find interesting.
The EV Path has taller lenses than previous models so that the lens frame sits higher and provides a clearer view, especially in the upper peripheral region.
The side frames are also back further compare to other models so that your side peripheral vision is also more open. The end results is you have a better view of the path or road.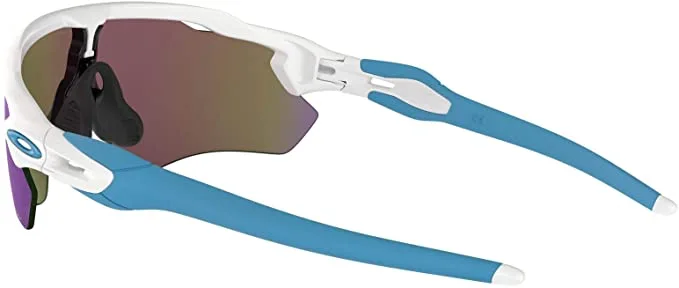 These sunglass frames are made of what Oakley calls O Matter™. That is a fancy way of saying that they are nylon-infused plastic. It is lightweight, durable, and won't become brittle in heat or cold. To say the frames are durable would be an understatement.
The earsocks and nose pads are made of what Oakley calls Unobtainium®. Unobtainium is a type of rubber that Oakley has patented which is a type of hydrophilic rubber.
What that means is that they will repel sweat and not become slippery. Because of that, the earsocks and nose pads will stay in place no matter how much you sweat, giving them an incredible fit.
The EV Path cycling glasses also optionally comes with Prizm™ lenses that will enhance color and contrast. When the sun is bright, these will make it easier to see what's around you without the eye strain.
While these are not directly polarized lenses (though Oakley does have polarized versions available), they still do help a bit with toning down bright sun spots.
Like other Oakley sunglasses, the EV Path do have prescription lenses available. You can get a custom lens made through Oakley for your prescription and then you clip then in like the current lenses. All you have to do is squeeze the nose pads together to release the lens, and then pop in the new lenses.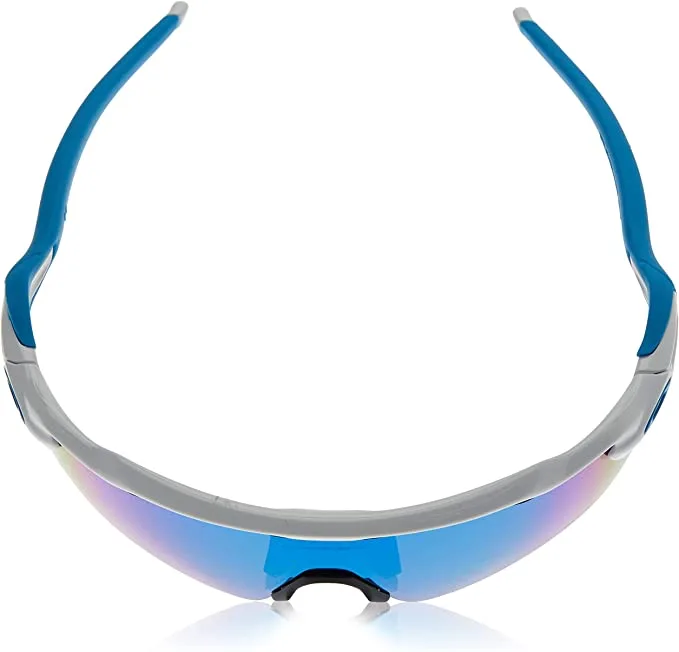 Also like other Oakleys, with purchase you get a protective hard case for storing them when not in use. While they are very durable, it's still worth protecting them when possible since they still cost a bit.
The quality and performance of the Oakleys EV Path sunglasses is exceptional as you would expect and beats out the other top cycling sunglasses. The EV path just comes with many cycling-specific additions that give you glasses that are light, stay in place, and work very well.
These are my top recommendation and they work well for year-round cycling due to their design and adaptability.
Current deals