Pros
Tall and wide lenses for an unobstructed view
Lower vents help prevent fogging
Hydrophilic nose pads and ear tips to keep them in place
Interchangeable lenses
Sharp looking
Very comfortable to wear
100% UV protection
Hydroilo lens treatment repels water, dirt, and oil
Comes with a clear lens also
TR-90 frames for high durability
Available HiPER lens for high-definition contrast
Available photochromic lens for auto-darkening
Cons
Current deals
These 100% S2 cycling sunglasses are among my favorites because they really had cyclists in mind. They are light, stay in place, and are really comfortable to wear but there is so much more that puts these among the best cycling glasses you can get.
The best thing about these cycling glasses is that they have large lenses are that are both taller and wider than the common eyewear. They have what 100% calls 5.5-base cyclindrical shield lenses which is a fancy way of saying that these things have a very unobstructed view and you have a large peripheral view with these on.
Truthfully, wearing these glasses is much like wearing mtb goggles. You have this big open view of the trail, but they are also open and with the vent openings at the bottom you get air moving constantly through them.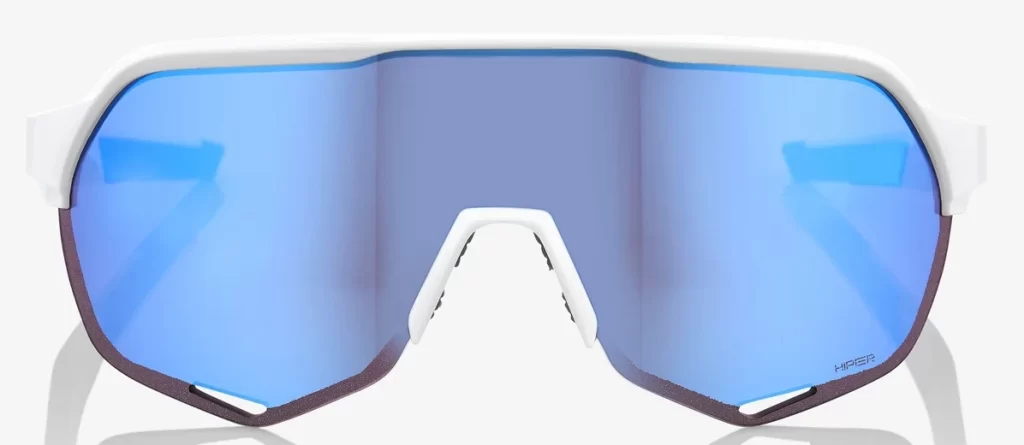 As you would expect, the lenses are scratch-resistant and also provide 100% UV protection. At this level it's fully expected and they really do resist scratches so they stay looking good.
One thing a little different is the Hydroilo lens treatment these sunglasses get. It repels water, dirt, and oil. It's common to see the tr-90 frames that do this, but it's not nearly as common to see lenses that have it. It sure makes them hold up better and far easier to clean.
The other unexpected bonus is that theses glasses also come with a clear lens since the lenses are interchangeable. The clear lens lets through 93% of the sunlight so if you are riding when the sun is already down or at night, these glasses are absolutely perfect for that as well. It's harder to see branches and such at night so you still need eye protection and these are just right for that.
In fact, that is one of the other strong points. With all of the air movement from the vent slots, they don't fog up. As long as you're moving, the air is flowing through constantly.
The nose pads and the arm tips are also made of ultra-grip rubber which actually repels water so that if you are really sweating or it's raining, these sunglasses just stay put.

The frames are made of TR-90 plastic which is very common among the better cycling glasses. It is very light, and very durable so they can hold up to repeated uses.
These glasses weigh 30g so they are very light which is very important for any glasses. They don't get much lighter than this pair.
While the view is incredible on standard sunglasses, you can also get HiPER lenses that are even higher definition with better contrast. If you are riding in very bright sun, then this is a good option. If you are just a regular rider in varying situations, I think the regular lenses is awesome enough that it more than does the job.
The only thing these glasses could use is slight better hinges. I haven't had this issue, but some people have had issues with the durability of the hinges over the months and years and I think this is the one area that glasses like the Oakleys EV Path have a slight edge on these. However, I really like the extra clear lens that comes with these.
The 100% S2 cycling sunglasses are most definitely among my top choices. These are excellent for year-round use and in any weather and look great while doing it!
Current deals