7 Best Clear Cycling Glasses for Night Mountain Biking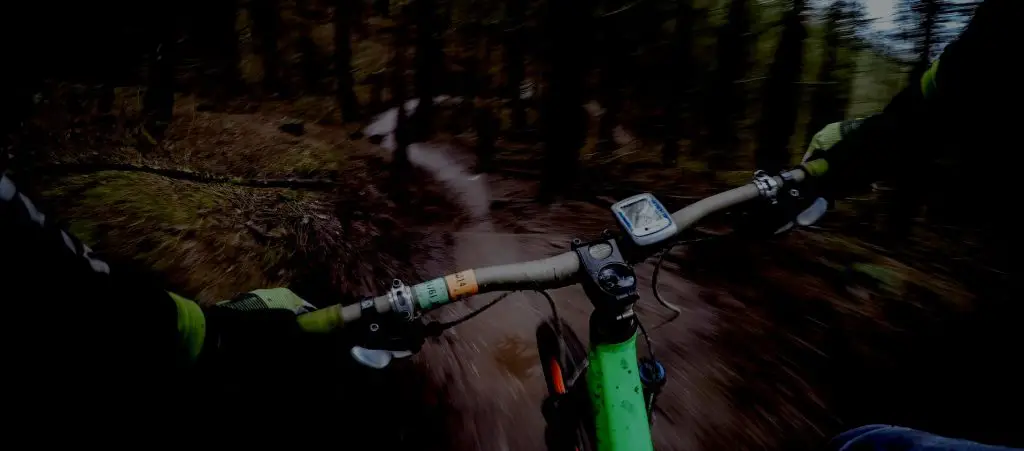 Sometimes bike riders mountain bike at night because there's not enough daylight like in the late fall, and sometimes it's because they truly enjoy it.  In either case, mountain biking at night presents different safety issues, the first being you need to protect your eyes while you are biking.  Not all manufacturers make clear glasses for night so I put together a list of the best choices there are.  Some of these glasses are also on my best cycling glasses list as my favorite glasses work in both daytime and nighttime.
The best night mountain biking glasses are ones that are completely clear, have a full frame, and have sturdy plexiglass lens.  These will allow you to see everything in front of you, while still being able to take a hit from a branch and protecting your eyes at the same time. For the money, Giro Goggles are the best you can get.
The 7 Best Clear Cycling Glasses You Can Buy
Sometimes on an early morning ride or late evening trek, you'll find that you don't need or want tinted sunglasses.
When there is low light, you'll want clear cycling glasses so that you can see easily, but still provide plenty of eye protection. There are still dangers from dust, debris, branches, and wind.
Most guides focus on regular sunglasses which makes it harder to find clear glasses for low-light or night riding.
In this buyer's guide, I'll give you several great options for clear riding glasses that will fit almost any budget.
Specifications:
Lens: True sight Polycarbonate Lens with Expansion View (EXV) Technology
Weight: 200 grams (full goggles with strap)
Frame Type: Full frame
Adjustment: Adjustable Goggles Strap
Recommended Use: Downhill/Enduro
Rating: 4.5/5
Pros:
Full frame glasses for maximum eye protection
Ability to wear them over normal prescription glasses
Anti fogging
Expansion View (EXV) Technology has amazing peripheral vision
Very comfortable to wear
Cons:
Could possibly interfere with non-Giro bike helmets
Best deals
For my money, these are the best way to protect my eyes riding at night.  These are actually goggles so they are a bit heavy duty but they protect your eyes like no other.  The full frame is a key reason these goggles are so durable.
If you are doing either downhill or enduro riding you need to protect your eyes from branches that the light just doesn't catch.  Downhill has a lot of obstacles and speed and a lot of other things going on at once.  It's really easy to miss a branch until it hits you in the face.  These are about the best protect you can buy.
Special Features
If you're looking for heavy duty glasses for night mountain bike riding, or really any riding, these are the best in my opinion.  They mix high quality construction with a very reasonable price from Giro which is a well-respected company in biking equipment.
Giro created something they call Expansion View Technology for these goggles.  In reality, what it means is that the peripheral vision is really good with these goggles and it has a clear and not-distorted view.  Basically they maximized the clear lens and minimized the frame so that when you ride you see nothing but what's around you and don't even notice you have goggles on.  That's the mark of well-made goggles and when you combine it with all of the benefits of clear goggles, they are a sure winner.
I don't wear prescription glasses, but if you do, these goggles are marketed as being built big enough that they will fit over glasses.  Not having to get special lenses for your glasses or goggles is a nice money-saving method.
My next though went to fogging up since it seems almost all goggles I've had over the years fog up in 2 minutes flat.  I was pleasantly surprised to see that these have anti-fog coating on them to prevent the goggles fogging up.
Here's a little tip for goggles that I don't hear mentioned very often.  Wipe a pea-sized amount of toothpaste on the inside of a pair of goggles and then wipe it out and they'll fog up far less.  I learned this when I first scuba dived and it holds true on any goggles you have, whether for biking or wearing them while cutting wood.
The other thing I personally like is the strap to hold it in place.  I've always liked goggles just the way they stay in place.
Read more: Giro Tempo MTB goggles full review
Specifications:
Lens: Prizm HDO optical lens
Weight: 29 grams
Frame Type: Half frame
Adjustment: Adjustable nose piece and arms
Rating: 4.5/5
Recommended Use: Cross Country / Mild Downhill
Pros:
Oakley is well-known for their quality so you know it'll be a good set of sunglasses
Prizm lenses provide great contrast and clarity
Anti-Scratch
Photochromic
Very light and comfortable to wear for hours
100% UV protection (UV400)
Cons:
Best deals
Oakley is a well-known brand and they do have one version of these glasses that are Clear to Black Photochromic that more or less adjusts the tint to the outside light conditions.
These are mostly aimed at the 24 hours endurance tests but they can work well if you like the fit of Oakley glasses because at night they become clear and completely transparent.
Oakleys are a bit pricey but they really do fit well.  They don't give out replacements so easy now and they don't cover scratched lenses (though you can buy replacement clear lenses on Amazon).  I rate these high on the list because they are well-known and they are well-built, but they are also expensive so if you're in that boat I have some very reasonably priced glasses coming up next.
Special Features
Oakley is a well-known brand and I'm sure I don't need to tell anyone that these glasses are very high quality.
Oakley makes their glasses to last and withstand a lot of abuse which is really the reason for their higher price.  I myself have never had the actual glass structure break although I find lenses can get scratched easily if you're not paying attention.  If they get dirt or mud on them, making sure to rinse them good before you rub them clean so you don't rub in the rough dirt.
These glasses are comfortable with the nose and ear pieces.  No real surprise there.
These are pricey glasses for sure, so make sure either you don't care about the money, or that you choose them for situations where they likely won't take too much abuse like XC biking or road biking.  For downhill these can easily get damaged so I'd choose the goggles above.
We have a review on the Oakley Radar EV Path which applies to the photochromatic / clear version. They are both available under the same links and choosing the clear lens for the lens color is this version.
Read more: Oakley Radar EV Path sunglasses full review
Specifications:
Lens: Prizm HDO optics lens
Weight: 34 grams
Frame Type: Full frame
Adjustment: Adjustable nosepiece and arms
Pros:
Large lenses for an unobstructed peripheral view
Lightweight and very comfortable and they stay in place
Hydrophilic rubber nose pads and ear pieces
Oakley Prizm optics provides enhance view
Sharp looking
Cons:
Depending on face size, the frames may be visible when riding
Best deals
The Oakley Jawbreaker is one of the original cycling glasses with the big lens and it's a design that is still available today.
The Jawbreaker offers a wide field of view thanks to those big lens, and it also helps protect your eyes especially from things like branches you may not see in the low lighting environments.
The nosepads and arms stay in place due to the hydrophilic rubber that actually grip even better the wetter they get.
They fit great and stay in place no matter how rigorous the path. They are lightweight and they just plain work.
Special Features
The Prizm lens in the Jawbreaker has amazing clarity and contrast even in the clear lens.
The Jawbreaker is a tried-and-true set of cycling sunglasses that won't let you down!
Read more: Oakley Jawbreaker cycling glasses full review
Specifications:
Lens: ImpactX Photochromic 2 Black lenses
Weight: 36 grams
Frame Type: Full frame (has removable upper and lower bumpers)
Adjustment: Adjustable nosepad and temple tips
Pros:
Full frame design with removable lower bumpers
Wide lens with quick-change system
Adjustable anti-slip nose pads and anti-slip temple tips
Supports prescription lens insert
Sharp looking
Many vents for anti-fogging
Very comfortable and they stay in place
100% UV Protection (UV400)
Cons:
The Prescription lens insert fits on the inside so eyelashes can hit them
Best deals
The Rudy Project Cutline is one of the most customizeable cycling glasses I have ever seen. They are incredible easy to take apart and switch lenses or even change out parts like the arms.
Since you can easily switch out parts like the arms and nose pads and bumpers, you can really dial these in to fit your face perfectly.
These Rudy Project glasses are photochromic which is why they work so well in all lighting environments. They have a LTV (Light Transmission Value) of 9% – 74%.
During the day, these will darken to let through only 9% of light meaning they are great in even the brightest sun light.
In low light situations, they will let through 74% of the sun light. They are just a slightly darker tint in night riding than the RockBros below which will let through up to 80% of the light at night. I would say the tint in dark conditions is about average of the glasses I've reviewed. However, the glasses themselves are far above average in quality.
These glasses change colors very fast when the light conditions change quickly such as going between a sunny field and then into the wooded trail.
You can also get prescription lens inserts so that you can use these instead of your regular prescription glasses.
Not fogging up is very important in low light conditions, and these glasses have plenty of vents to let through air to keep them from fogging while you are moving along.
The Cutline remains one of my top recommendations as they work amazing, have a fit that rivals Oakley, and just plain work. You really can't go wrong with a set of these!
Read more: Rudy Project Cutline cycling sunglasses full review
Specifications:
Lens: Light Night Fototec photochromic lens 75-25% LTV, Shatterproof lenses
Weight: 28 grams
Frame Type: Half frame
Adjustment: Adjustable nose pieces and ears
Recommended Use: All types
Rating: 4.5/5
Pros
Fully adjustable and light for a great fit and comfortable to wear
Hydrophillic nose pieces and arms
Prescription lenses available
Vent lenses to prevent fogging
Cons
Best deals
These Tifosi glasses are a set I've had my eye on for a bit.  I haven't tried them out myself but here are the reasons why I think I'm going to grab a pair shortly:
Adjustable Nose Piece
Adjustable Ear Pieces
Vented Lenses so they don't fog up
Lightweight – They seem lighter than other sunglasses I've used and I like the idea of glasses light enough I don't even think about them.
They look really cool – These are a look you don't see on many other glasses with them almost completely clear, even the frames.
These glasses have both the hydrophilic rubber and they are adjustable.  This type of rubber resists sweat so they stay in place no matter how much you sweat.  Couple that with being able to adjust the glasses entirely and you have the perfect glasses.
Special Features
These glasses are not only cool looking, but they are made from a nylon material that is very light and durable so you'll barely notice you have them on from a weight perspective.
Both the ear and nose pieces are fully adjustable like I mentioned above.  Glasses just have to sit right to be happy with them.
The lens in these glasses are also pretty well made.  They are shatterproof and they are consistent in that they won't cause distortions in your field of vision.
Read more: Tifosi Veloce photochromic sunglasses full review
Specifications:
Lens: Photochromic lenses (transmittance between 18 and 80% depending on light, category 3 lenses)
Weight: 30 grams
Frame Type: Full frame
Adjustment: Adjustable nose pads
Recommended Use: All Types
Rating: 4.5/5
Pros:
Full frame glasses for excellent eye protection
Plastic lens that are anti-scratch
Photochromic glasses
Weight of only 30 grams for light full-frame glasses.
Cons:
No vents for air so they could be fogging in certain environments
Best deals
RockBros makes an excellent set of photochromic sunglasses that go nearly clear at night, while providing excellent protection with the full-frame glasses.
At 30 grams they are lightweight, and with the adjustable nose pads they become unnoticeable to wear after a few minutes.
The reason these sunglasses are in this list is that they are photochromic, so they go from regular tint in the bright sunlight, to nearly clear when there is low lighting. They are perfect for those early morning rides that get brighter as you ride, or riding in the evening when it's slowly getting darker. It's really nice not having to change glasses partway through.
At night they go all the way down to 18% tint which is perfect for low lighting situations. That is about as light of a tint as you are going to get, second only to completely clear lenses.
These RockBros glasses are full-framed glasses so they're sturdy and they'll keep your eyes safe. They're rather light, too.
Special Features
You'll want to consider the RockBros photochromic glasses if you do a lot of early morning, late evening, or night riding. They are full frame glasses so the lenses are well-support in case a twig or branch hits them.
These glasses wait only 30 grams so they're really light, almost to the point you don't notice them on.
Read more: RockBros Photochromic sunglasses full review
Specifications:
Lens: Shatterproof polycarbonate clear lens
Weight: 35 grams
Frame Type: Half frame
Adjustment: Adjustable temple tips
Recommended Use: All Types
Rating: 4.5/5
Pros:
Cheapest cycling glasses that are made well
Exceeds the ASTM F803 safety standards
Anti-fogging lenses
Shatterproof, anti-scratch lenses
Room to wear them over prescription glasses
Cons:
Clear lens only so only can be used in low-light situations
Best deals
These are just simple, inexpensive glasses to protect your eyes at night.  They are shatterproof to the ASTM F803 standard.  That is not an easy standard to pass to say the least, so passing it means that these glasses won't shatter into your eyes which is the whole reason for wearing glasses.
What makes these ones even better is they have an anti-fog coating.  Normally it's not so much an issue unless they are goggles like the Giro ones.
A lot of riders are choosing these because they can easily be fit with prescription lenses.
Special Features
These glasses are fairly generic glasses that don't cost much to pick up.
What I like about these glasses is that for light biking, they are ideal.  They are light and fit comfortably.
These glasses are also tested to the ASTM F803 standard which is pretty strict about how the lenses need to hold up and not break into your eyes if they are compromised.
A safety feature of that level is pretty important to me since you are wearing glasses to protect your eyes from stick, flying rocks, etc.  If they save your eyes and you have to toss them in the trash, when you're talking $17 it's a good deal.
Read more: Unique Sports glasses full review
What Should You Look For In Clear or Night Biking Glasses?
All of these above have the set of traits to make these durable, useful glasses when you trail ride at night. Here are the high-level things to look for in night cycling glasses:
Clear lenses – You don't want anything impeding your view at night.  Not even yellow lenses which have been proven to filter out some of the light.
Durable – You want a set of glasses that will take a normal 1/4 inch branches on trails.  Many times you just don't see them since you are focusing on the trail itself and they are in the perimeter.  If you are doing rough terrain with lots of trees and such, you'll want full frame glasses.  If you are doing cross country, enduro, or road biking, then a half frame is plenty.
Shatterproof – You don't want the lenses cracking and sending material into your eyes.  Ideally they have passed the ATSM F803 safety standard.
Anti-fog coating – Again, you don't want anything impeding your vision and fog is definitely something that will affect your view.  You're going to be breathing hard and you need glasses that won't fog up because of it.
The anti-fog thing is interesting because it's a feature I want, but I learned a tip when I started scuba diving of how to make any goggles, or in this case glasses, anti-fog.  All you need is a little bit of toothpaste about the size of a pea.  Rub it around inside the lenses and then use a clean cloth to clean it out.  Voila!  Both effective and free!
With the right cycling glasses night riding can be both safe and fun.
Why Do Cyclists Wear Clear Glasses?
Cyclists wear clear glasses to protect their eyes from dust, debris, wind, and generally anything they want to keep out of their eyes. Protecting your eyes is important to say the least.
Clear glasses are for when you want eye protection but you don't want tinted glasses to block out sunlight. They are for cycling in low light conditions, which are typically early morning, late evening, or night biking.
Clear cycling glasses give you eye protection without making it hard to see when there isn't much light out. If you are into those really early morning rides when it's peaceful, then you'll want either clear glasses or photochromic glasses.
Why Do Cyclists Wear Yellow Glasses?
Cyclists wear yellow glasses when they want eye protection plus extra contrast of the surrounding area, but in lower light conditions.
Typically, yellow cycling glasses are used in early morning hours or late even hours when there's still some sun out, and the yellow lens will help differentiate objects on the trail and make it easier to see what is going on.
When Should You Wear Clear Lenses When Cycling?
Clear lenses should be used in any of these lower light conditions:
Early morning riding
Late evening riding
Night bike riding
Riding on a cloudy or overcast day
More or less, the general rule of thumb is to use clear cycling glasses when you want eye protection but you don't need to filter out sun light.
If you are looking purely for budget or cheap sunglasses that are well under $50, then I put together a post over here on the cheap cycling glasses you can get.
You may have noticed that very few of these sunglasses are polarized. They do have UV protection, but polarization on clear glasses is far from common since they are mostly used in low-light situations.
Whether you choose any of the glasses I mentioned above or you choose your own, make sure it can stand up to your daily usage and keep your eyes safe.  Mountain biking can be dangerous but with the right equipment and preparation it can be a safe and exciting sport.