Cross country (XC) mountain biking is a form of mountain biking that is performed on paths consisting of forrest paths, smooth roads, singletrack, and paved roads connecting trails.  XC biking emphasizes endurance above technical skill.
What Precisely Is XC Mountain Biking?
XC mountain biking is defined by the very terrain that it covers.  XC riding focuses more on the endurance and distance of the ride vs the difficulty of the terrain it covers.
In XC riding, the focus is mostly on completing the course as quickly as possible rather than seeking out the most adventurous route.  Typically, cross-country routes are forrest paths, smooth fireroads, paved paths, singletrack or doubletrack paths.  Generally speaking they are smooth enough paths you could almost use a hardtail mountain bike for it.
What Are The Types of XC Races?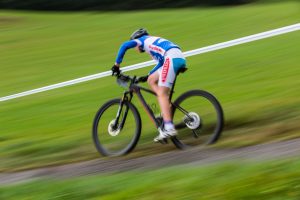 Cross country races run very differently than normal downhill mountain bike (DMB) races.  In the downhill races, each rider has an individual run that is timed.  In cross country races, racers usually start at staggered times and all race concurrently.
Even within Cross country racing that is a subset of mountain bike races, there are specialized cross-country races.
Cross Country Eliminator (XCE) races where the last people who cross the line are eliminated.
Cross Country Olympic (XCO) races where times to complete a short circuit are compared.
Cross Country Marathon (XCM) races where individual races compete to get the best time for an extended length, usually at least 25 miles.  Typically in the US these are longer than 62 miles.
What Trails and Paths Do XC Riders Use?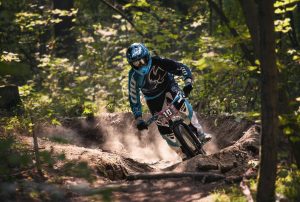 Despite seeming like they are closer to road bikers, cross-country riders do in fact ride trails.  The trains they ride are typically anywhere between singletrack paths to fire roads.  Cross country riders generally prefer twisty paths, hills, and occasional jumps.  The paths are generally pretty mild.  Cross country riders ride on everything from short, hard races to longer endurance races.
The difference between downhill or trail riders and cross-country riders is that trail riders generally prefer more adrenaline-inducing adventures like jumps, drops, and rocks.  Cross country riders are more apt to race each other up hills or a certain distance for the quickest times.
So generally XC riders use the more mild trail paths.
What Equipment DO XC Riders Use?
This is where you see some separation between the different mountain bike types.
Cross country bikes tend to be among the lightest bikes since the path isn't as rough.  They usually have suspension forks in the front that allow up to around 4 inches of travel total.  The rear suspension may be like a hardtail and have zero suspension travel or it may also have up to around 4 inches of suspension travel.
Because cross country riders go for speed, they tend to travel a bit less upright than downhill mountain bikers and the geometry of the frame reflects this.
Generally wheels sizes are 29 inches for cross country bikes.  Most mountain bikes at this point are 29 inches in wheel sizes as well.  What makes the cross-country tires different is that they are skinnier than their downhill mountain bike tire cousins.  Most times cross country tires are under 2.2 inches in width.
There are lots of options you can do from tire size to seat height on an XC mountain bike, but the key is to make sure you pick the right size mountain bike and dial it in so you can get the best use from it.
And let's not forget the biggest thing which is to be prepared in the event your bike breaks or you get hurt.  Make sure to pack essentials like a repair kit and a first-aid kit in your backpack.
How Much Does the Equipment Cost?
Bikes vary in price almost as much as cars.  Like how a Chevy and a Ferrari are very far apart in price, so are the Walmart to the Trek bikes.  They are in different worlds.
However, I will do my best to give you an idea of the costs that you are looking for.
Cross Country Bikes Cost
Ideally you are looking for a light, 29-inch wheel that fits how you ride.
Trek's xc bikes are some of the more expensive bikes that ranges anywhere from $3,000 to $10,000.  They are very high quality but unless you are a Pro I would look a little cheaper, especially when you are learning.
The Cannondale xc bikes at REI are good for the price.  I did not say cheap, I just said decent deal when they have a couple below $2,000, with one even at $1,000.  The Cannondale Trail 5 at $1000 is about the best you'll get price-wise that stands up and has 29-inch wheels.  It's well-known for its quality.
Bike Mag has a nice list of bikes with some good comparisons too.  They start out at around $3500 so they might be out of your price range if you're newer to cross country biking but it's a very well written reference.
XC Mountain Bikes vs Downhill Mountain Bikes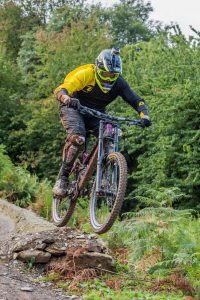 When you look at XC bikes vs tail bikes, cross country bikes have a different purpose than the downhill bikes.
Cross country riders ride over fairly smooth paths so they don't need the same suspension systems, but they do go for fastest times so the need to be more streamlined means the frames angle down the riders a bit more.
Seat posts are a bit different between the two types of bikes as well.  Generally cross country bikes have aluminum posts for the seat vs the dropper posts that downhill bikes have.
Conclusion on XC Mountain Biking
Generally speaking, cross country mountain biking is just mountain biking on smoother trails but at higher speeds.  What type of biking you choose whether it is cross country or downhill really comes down to what type of biking you find interesting.  In fact, many riders avidly ride both types of races for the different challenges that they face.
Either way, mountain biking cross country is a great sport and cross country is a great way to get into it with more predictable trails.  You get amazing exercise as a byproduct and the health benefits are second to none.
Just remember to be prepared for your biking (guide) by bringing things like a first aid kit and a bike toolset so you are prepared for a full day of cross country cycling. To bike cross country is to have a day of fun.
Happy Trails!