The two main types of mountain bikes are cross country mountain bikes and Trail bikes, but what's the real difference between them and which should you be using?  In this article I give you a bunch of tips for how to decide which bike is right for you.
Everybody starting in mountain bikes just pictures the one mountain bike used for everything.  You could use a hardtail bike like the one above for both cross-country (XC) and trail riding, but it would be a rough ride taking a trail in a bike with no rear suspension.
Bike have many parts so let's look at them now and what's different between each type.
Bike Riding Terrain
Cross Country (XC) Riding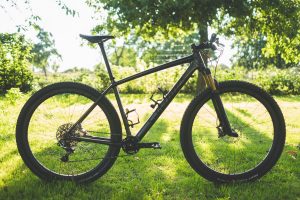 Cross-country bikes, or XC bikes for short, are generally ridden on forest paths, smooth roads, singletrack (bike-width trail through the woods), and paved roads.  XC riders generally prefer twisty trails and hills instead of the more mountainous paths that trail bikes generally go on.  These riders do both short, intense races to longer endurance races.  Generally speaking XC is more for speed than adrenaline. However, the cross country trails are quite a lot of fun and have a lot of action.
Lately there are some cross country bike races that incorporate a bit more technical terrain than is classically part of xc.  Over at singletracks.com there are some pictures from the World Cup Stellenbosch in South Africa and while it looks amazingly fun, they are still overcoming foot-tall logs and medium rocks.  So XC riding can really vary but it still won't go up to the multi-foot drops that trail riding is known for.
Trail Riding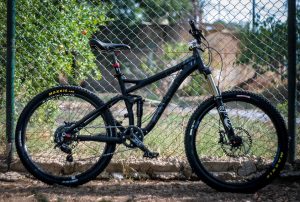 Trail bikes are used on forest paths, rough roads, jumps, good-size rocks, and generally anything that creates a little adrenaline.  Trail bikes are more for conquering terrain rather than the simplest and fastest routes.
No matter which you choose, you're going to be a bit away from civilization and you'll want to be sure you have a backpack stuffed with all of the goodies like a repair kit to be sure you can get back if anything breaks.
The bike trail that you find more appealing may help to lead you towards the type of bike that works for you.
Differences Between Cross Country Mountain Bikes and Trail Mountain Bikes
Because Cross Country and Trail bikes are designed to be used differently, there are differences in the design and parts used.  It all comes back to what the bike is meant to handle.
One good way I've found is to actually look at some pictures and such for both xc and trail bikes and see which you just feel inside is right for you.
For cross country biking, over at Mountain Bike Review I found a great writeup by someone who recently went from road bikes to cross country and it has pictures and all of the reasons she loves it.  It's hard for me to put it any better than she does with 6 reasons why she loves xc riding.
Likewise for trail biking, over at Liftopia.com is a great post on 10 reasons to love downhill trail riding.  As you can see, trailing riding can be a big more rugged but if big jumps and drops appeals to your adrenaline side, then trail riding might be right for you.
Or better yet, get both.  Start with cross country biking to get your skills and stamina up, and then get a trail bike as an additional bike and enjoy both worlds.


Front Suspension
XC Bike
Medium suspension travel of up to 4 inches for mild trails
The main goal is a lightweight bike. A lighter bike can go faster.
The shorter travel leads to a more rigid ride and getting more power to the ground.
Trail Bike
The front suspension is heavy-duty to handle the stress of jumps and rough terrain.
The front suspension travel can be up to 10 inches.
Usually the front suspension is an air spring.
Tail bike front forks may include a lockout to limit suspension travel.
The main difference is that trail bikes have far more suspension travel available than cross country bikes so that they can handle the bigger jumps and drops.
Rear Suspension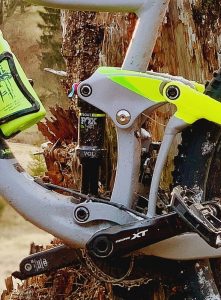 XC Bike
Cross country bikes can either have a medium suspension of up to 4 inches of travel or no rear suspension at all (which is a hardtail bike).
Trail Bike
The rear suspension can have up to 10 inches of travel.
The rear suspension may have a lockout to limit travel suspension either partially or totally.  A total travel limit would let the bike act like a hardtail which has no rear suspension.
With a full suspension, a trail bike will absorb rough technical terrain.  If the bike is a hardtail, the path through the terrain will have to be selected carefully.
Wheels and Tires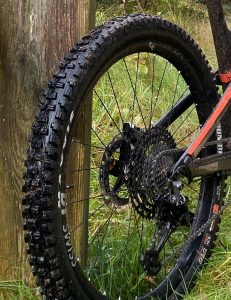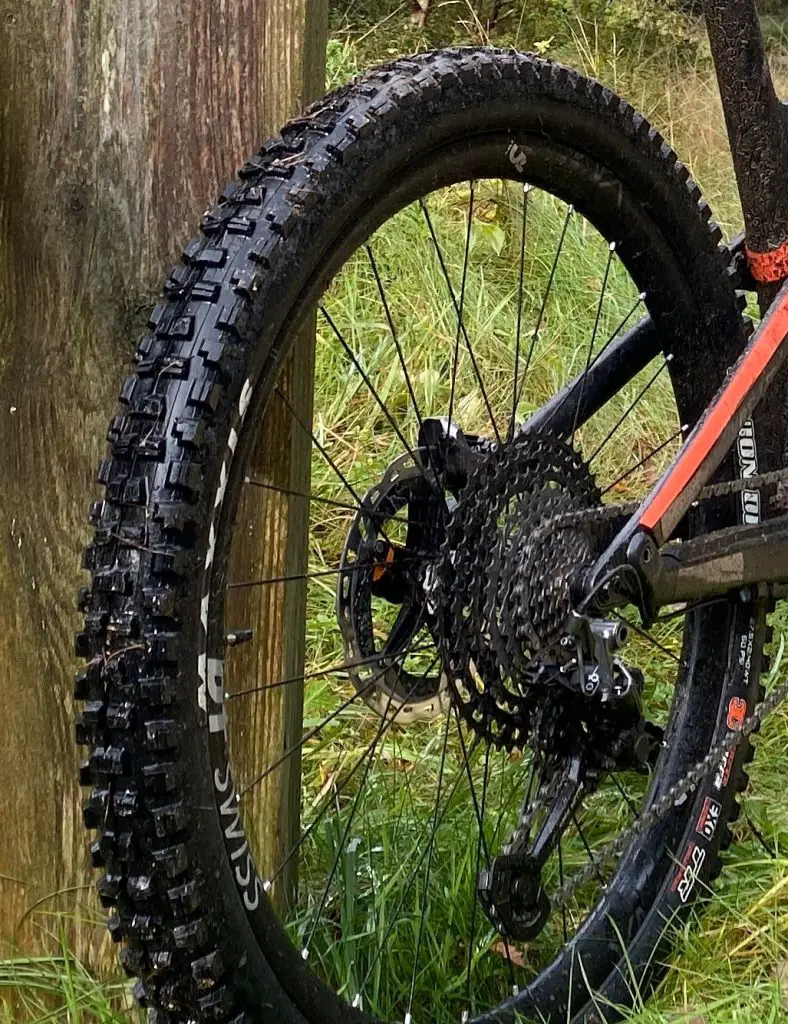 XC Bike
Most of the cross-country bikes have 29 inch wheels and tires under 2.2 inches in width.
XC bike tires are skinnier than trail bikes to lower the rolling resistance and thus makes the bikes go faster.
Trail Bike
The tires can be either 27.5 or 29 inches although 29 inches is getting more common.
The tires are wider up to around 3 inches.
The tire are more knobby in general to help get better grip on slippery rocks for instance.
Saddle Position

The bike geometry of the two different bikes lead to a different seated position and how it needs to be ridden to be effective.
XC Bike
As these are built for speed, the rider leans more forward and down for aerodynamic reasons of speed.
Trail Bike
Trail bike riders sit more upright mostly because the rider needs to be very agile and shift their weight around to keep the balance of the bike as they are climbing hills and such.
Frame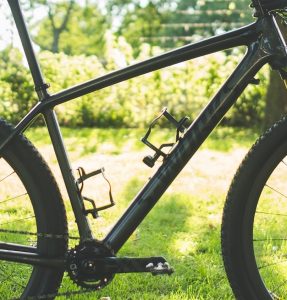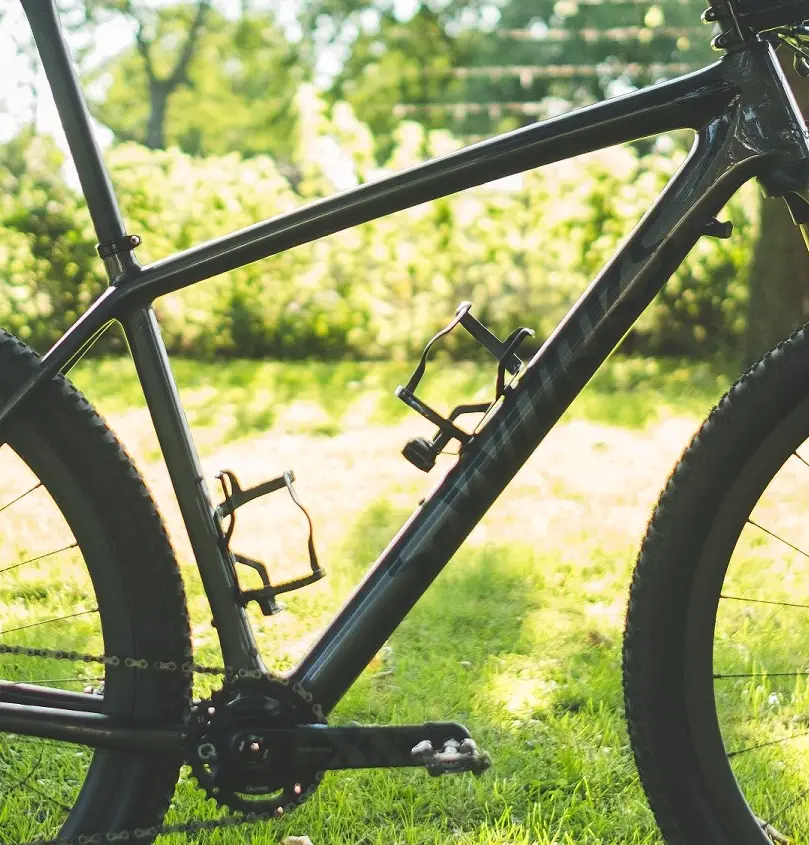 Todays mountain bike frames are made of a wide array of both metals and composites.  The four most common materials are carbon fiber, aluminum, steel, and titanium.  Each materials has a different price and durability attach to it so cross country and trail mountain bike usually won't have the same frame material.
Steel tubing is the most popular bike frame material.  In the case of a trail bike, it's desirable because of it's durability and it costs less.
Cross country bikes need to be light in order to achieve top speed.  Because of this, many cross country bikes are made of carbon fiber which has low weight and high strength if the buyer can afford the carbon fiber cost.  If not, aluminum is the next most likely choice.
Trail bike frames are slightly different as well.  Trail bikes tend to have more slack head angles which then leads to having the tires a little farther apart than cross country bikes.
XC and Trail Bike Manufacturers
There are many makers of bikes.
Trek makes both cross country bikes and trail bikes to fit your needs.  They are expensive, but top of the line.
REI sells the Cannondale bikes for under $1000 which is a great XC bike.
Evo.com sells the Giant trail bikes as low as $2400 which isn't bad for 50% off.
There are many mountain bike reviews of the different model bikes produced by these brands which is a topic for another article.
Which One Is Right For You?
While some of it is personal preference, there are some basic questions to help direct what bike fits your needs:
Is the mountain bike only going to be used on mild paths and roads?
Is the mountain bike going to be used on downhill trails with rough technical terrain?
Is the mountain bike going to be used on a wide variety of terrains?
What is your riding style?
If the bike is only going to be used on smooth surfaces like roads or mild trails, then the XC mountain bike is going to be your best choice.
If the bike is only going to be used on rough terrain for the thrill, then a trail bike is going to be your best bet.
If you are going to use the mountain bike on a variety of both mild surfaces but also rougher trails, then you'll want a trail bike with front and rear lockouts for the suspension.  With this, you can limit the travel so that on smooth surfaces you can waste less energy by limiting the vertical movements of the bike.  On smooth surfaces, you want a less cushiony ride.
Whichever you choose, just make sure you choose the right mountain bike size so you can truly enjoy it.  Remember to prepare and bring with you the essentials so you enjoy mountain biking safely.
Sometimes a video will help to make it easier to watch a video than read all of the details, so here is a video I made just for this article. Hopefully it will help you learn more about them.
Can You Turn One Bike into the Other?
This is a question I get quite often.  Can you turn a XC mountain bike into a Trail bike or vice-versa?
XC bikes and trail bikes have different geometry, saddle position, and suspension (though you can limit the trail bike suspension to be a little better on only smooth surfaces).
What About Enduro Mountain Bikes?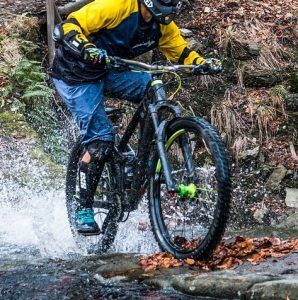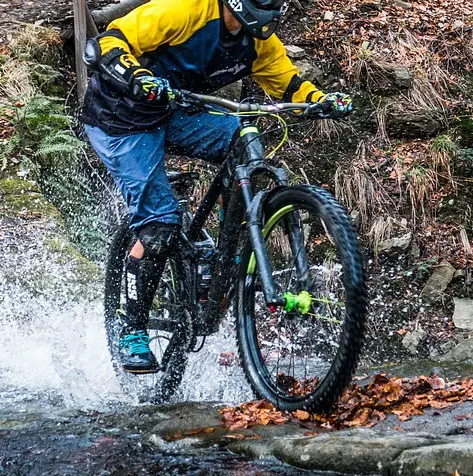 If you look at an enduro mountain bike, you'll notice it is very very similiar to a trail bike except it has a longer wheelbase due to a different head angle.  Because of this, I am lumping it in with trail bikes for the high-level purpose of this article and to not over-complicate things. The all mountain bike is very similar to an enduro bike and it also fits in with trail bikes in how it is used for climbs and drops. There are different types of mountain bikes like hybrids, but for the purpose of this article I've tried to keep it on topic comparing XC to trail bikes.
I hope this guide on the difference between cross country and trail bikes has helped guide you towards what fits your personality and likes.