When I got into mountain biking, I guess I always thought about biking during the warm daylight.  Most other sports happen during the day, so it made sense.  Then I heard about some people choosing to mountain bike at night and I couldn't imagine why so I checked into it and this is what I came up with.
As it turns out, riding a mountain bike at night makes a lot of sense and there are a lot of good reasons for it.  The most common reasons are that it helps hone skills and it's a very different experience on the usual trails after dark.  Trails are also less crowded and during the summer the temperatures at night are more favorable in places like Moab.
Riding at Night Hones Your Skills
When are riding at night, you're can only see the trail directly in front of you using your lights.  Your field of vision and the whole scope of you can see is just what's right in front of your bike.
So you can see less at night and there are lots of shadows.  You need to really pay attention to the train in front of you to read it right to avoid a crash.  Because of this, you are focusing very intently on reading the trail correctly and this level of focus will force you to bring your skills up a few notches to avoid crashing.
To naturally avoid crashing when the trail is more challenging, your skills naturally increase and you'll learn to focus on reading the trail.  The same thing happens when people choose to ride a hardtail on downhill trails to force themselves to learn to read the trail and take smarter paths or they feel every big rock on the trail.
Trails Seem Fresh Again
If you're like me, some trails you've taken 100 times if not well more.  It's kind of rinse-and-repeat in that the runs are exciting but more like a replay.  Still lots of fun of course but sometimes it leaves you wanting to add a little extra fun to it.
That's where night mountain bike riding comes in.  All the trails and terrain look different in the dark.  You can only see a limited distance.  Things always look different in the dark and trails are no exception.
So if you're looking for a little bit of something different, try taking the same trials about an hour after the sun goes down.
The Temperatures are Lower in Summer
If you are biking out near Arizona or an area that is really hot during the day, you know that it's hard biking when it's 110+ out.  I've done it and even with a hydration pack it feels like a sauna.
Now, the temperatures can fall down into the 90s overnight.  So if it's 110 out during the day, if you go mountain biking around 9-10pm it's still going to be 100-105 but without the sun boiling you it's actually pretty comfortable.
All the same, it'll be hot and make sure you bring along water and all of the usual biking supplies.
The Trails are Less Crowded
During the day trails can be very busy with other bike riders, joggers, walkers, and possibly even motorbikes.  Depending on the place, it can feel like rush hour and it's hard to just relax and ride.
After dark there are 10x less people using trails so you just have the wide open trail mostly to yourself.
Just remember to be careful with your bright headlight on your bike and helmet.  A good bike headlight can put out a solid 1500 lumens which can be a bit bright for other riders.
Aim your headlight down a little for 2 reasons:
A bright light can cause shadows in front of people riding in front of you and make it harder for them.
A bright light can be blinding to oncoming traffic.
Your Riding Season Becomes Longer
Many people go biking after work, which is typically 5 or 6 pm.  During the summer it's fine as the sun is out until 8pm typically.
In the fall, winter, and spring, the sun may go down by 5 or 6pm.  Unless you put your bike up for the colder weather, chances are you are going to end up riding at dusk or into the dark some.
While you can still bike a little on the weekends, many people either put away the bike for the winter or they get prepared to at least a little riding in the dark.
If riding at night doesn't bother you and you can dress warmly and such, then you can ride year-round.
Everyone's Schedules are Less Crowded When It's Dark
When mountain biking at night, you should never bike alone if you can help it.  Everybody works and biking has to wait until after work.  Many times your buddies may not be available to go mountain biking until 7pm.
So by the time everybody can get together and rides for an hour or so, it's well into dark.
Sometimes riding at night is the only time you can get everyone together.  Either way, it's a lot of fun.
Exercise During the Winter is Good For You
It can feel like you're cooped up inside in the winter, and it's mostly true.  The weather is cold.  It sometimes snows.
Getting out mountain biking in the winter can actually solve quite a few problems, all at the same time:
You need exercise and fresh air.
Exercise helps you feel better and shake off those winter blues
It's exercise and the trails are empty … what more could you want?
Exercise and getting some fresh air is good anytime of the year, but especially in the winter.  In the winter the sun is out a little less and it can be a little bit of a drag that you are working when the sun is up and it feels like there is no time to burn some energy after work.
Well, there is, and the answer is get a couple of friends and get the bikes out and hit some gnarly trails.
Getting New Equipment is Always Cool
If you're going to ride in the dark, you're going to need a few new pieces of equipment.  It's always exciting looking through the possibilities and embarking on a new adventure.
These are some of the things you'll need:
A Strong Bike Headlight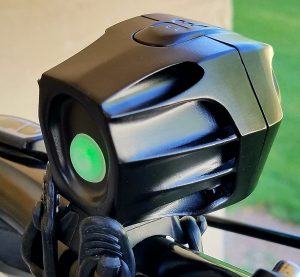 You are going to want a strong light here.  I always go at least 1500 lumens so that I can easily see the trail like it's daytime.
There is water, mud, and more on the trails and you need all of your equipment to be durable.
Look for a light with these qualities:
1500+ lumens of light
Waterproof so that it is fine in water, mud, snow, etc.
You want the bulb made by a manufacturer such as Cree that has a high Color Rendering Index(CRI) so that the path looks natural.
Adjustable so that the light hits the trail about 25 feet ahead of you.
Make sure to choose a good light.  This one on Amazon is exceptional and very reasonably priced.  It'll light up the trail with ease.
A Helmet Light
The bike's light will light wherever your handlebars are pointed, but adding a helmet light is a great idea because when you turn to look ahead of a turn coming up, you want some light where you are looking.
Many helmet lights don't put out anywhere near as much light as the bike light, but every bit helps.  I've had good luck with lights even with 100 lumens.
A Very Visible Taillight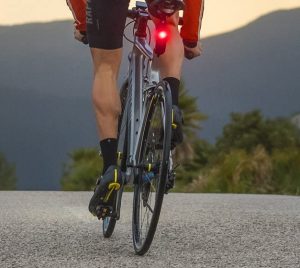 As much as you need to see ahead, you need to have your bike seen clearly from behind.
You might be on trails with other riders, or you might be bicycling along a road.  In either case, you want to be clearly noticeable.
I strongly recommend this Garmin taillight that you can see in the picture above because it's easy to see from a football field and a half away.  It's not a wide light but more concentrated so it's not blinding to anyone but they can't miss it either.
Reflective Tape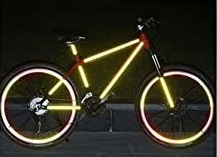 While I don't think I would put enough reflective tape to look like the bike above, I would definitely put some tape on the top tube and downtube so that the bike is very visible from the side.
Reflective tape is very noticeable if you are just sitting there near your bike.  It's common to turn off at least one of the lights on a bike to conserve power while resting so this is a great safety item.
I would also add some reflective tape to what you are wearing so that if you are standing but not right next to your bike, that you are easy to spot by other bikes and not get run into.
Night Mountain Biking Glasses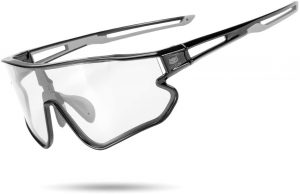 Even though it is night, you still need to protect your eyes with night mountain biking glasses.  You just want completely clear glasses such as the ones in the article I just linked to.
I myself favor the Giro clear goggles because they are shatterproof and they stay put.
Regardless, these are what you want in night glasses:
Clear lenses – You want clear.  Not yellow. Definitely not tinted.  Just clear works like a charm.
Shatterproof – You want the glasses to hold up and if they do break, you don't want them hurting your eyes.
Anti-fog coating – You definitely do not want them fogging up on your while riding.
Here's a neat little trick for making any glasses or goggles not fog up.  Just rub some toothpaste on the inside of the glasses and then wipe it out with a towel.  The toothpaste will actually take any oils and such off of the plexiglass and the water droplets in the fog won't stick.
Riding in the Dark is a Thrill
There's always that thrill that comes from riding in the dark.  There is so much you can't see, so much unknown.
With all of those scary movies that have been on over the years you imagination can even run a little.  It just gives the whole thing a thrill.
Conclusion
As you can see, there are many reasons to want to ride at night, such as training your skills to read the trail.  Sometimes it's just because the trails are less crowded or the temperatures are a little lower in the summer.
Just remember to buy the right equipment and take all of the proper precautions as mountain biking at night is potentially dangerous.