A bike helmet is the single most important piece of gear you can buy.  You should buy a mtb helmet that meets standards set by the Consumer Product Safety Commission (CPSC) to ensure it really is protecting you as it should.
The Scott Arx Plus Bike Helmet is the best bike helmet you can buy. It has all of the advanced safety features to give you maximum protection when biking.
Before I get into which helmets are truly amazing from the ones that fall short, let's start off by talking about what you are supposed to see on a bike helmet:
The helmet should have a statement (usually a sticker) right on the helmet saying one of the following:

Complies with U.S. CPSC Safety Standard for Bicycle Helmets for Persons Age 5 and Older
Complies with U.S. CPSC Safety Standard for Bicycle Helmets for Persons Age 1 and Older

If the manufacturer is based in the US, it must have the name, address, and telephone number of the manufacturer.
If the manufacturer is foreign, it must have the name and address.
Each helmet must have a serial number that identifies what production batch the helmet was in, the year, and the month of manufactured date.
Beyond that, the helmet has to have the model number and the standard assortment of warnings required by the CPSC.
That's quite a lot of information to start off with there is a reason I started off with such a strong safety point (besides the only thing a helmet is for is safety).

According to Consumer Reports after doing extensive research, they found in the article Bike Helmets That Don't Meet Safety Standards Are Widely Available that in their helmet review that many of the current helmets for sale do not meet US standards for helmet safety.  The sticker above has all of the standard information that should show on a CPSC sticker.  It has the name/address/phone number, the serial number, and the compliance notification.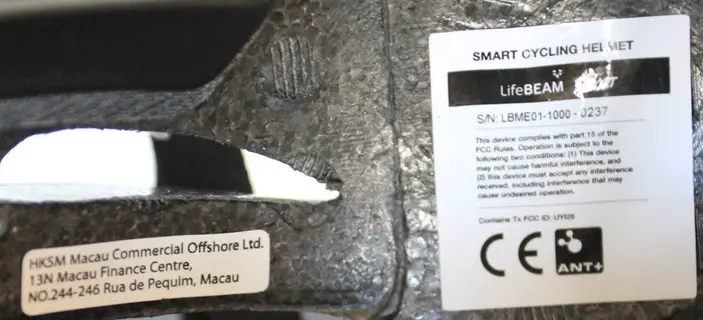 Many bike helmets have a sticker with a manufacture date and an expiration date so you'll know when to replace the bike helmet to keep maximum protection. Helmet materials can weaken with time which is why they need to be replaced periodically.
Unfortunately, a vast majority of the helmets don't have this sticker and they might not conform to US standards. It has the CE on the label which means it conforms to European standards but not US standards.
It is an example of a sticker that is just not valid and you have to wonder if the manufacturer didn't bother to get the helmet tested to US standards, is it something you want to put on your child's head or your head?
If you've ever seen a bike helmet after a harsh crash, you'll know why picking a good quality helmet is extremely important.  For that matter, if you ever get in an accident where you bang up your helmet, get a new one!  It can absorb a single accident but it is now compromised and for how cheap helmets are it is always a good reason to buy a new one.
So before we get to the helmets which do meet all US standards and are top-notch, I will say these bike helmets are sufficient for many bike activities, but if you plan on making the most of a downhill mountain bike and hitting some serious technical terrain, I would suggest a full face helmet.  If you are planning on cross country mountain biking, then these helmets are plenty good to protect the ol' noggin.
With all of this talk around mountain biking and biking in general, the question always comes up of just how dangerous mountain biking is.  Luckily, I put together a post on just how dangerous mountain biking is compared to other common sports.  It might surprise you that by the numbers it's a bit safer than some other sports if you use proper safety equipment.
Without further ado, the best bike helmets that meet and exceed US standards.
The Best Bike Helmets
These helmets can range in price up to $200.  If you need to keep under $100 but find the best helmet with the most safety protection, then check out my post on the best road bike helmets under $100.  If that's still pushing the budget, you can get a cheaper helmet if things like MIPS protection on your helmet aren't needed right now. Many of those are mentioned in the list below but there are a couple meant for road bikes that are real finds.
Scott Arx Plus Bike Helmet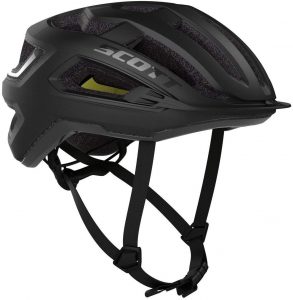 The Scott Arx Plus Bike Helmet is among the very best helmets you can buy.  It has both impact protection well beyond the US standard, but also Multidirectional Impact Protection System (MIPS).
This helmet excels in all categories from safety structure to ventilation and is about the best you can buy.
Giro Register MIPS Bike Helmet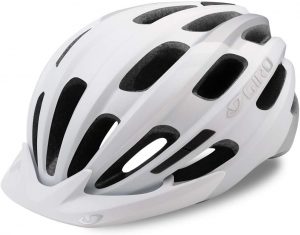 The Giro Register Mips helmet is just nearly as good as the Scott Arx due to the Scott has a little better adjustment and fit.  It is darn close though.  The straps can work themselves a little loose during a ride so they do need some readjustment when you stop for a break.  Other than that, it's a great helmet that is snug yet comfortable.  Throw in an adjustable visor and this thing is gold.
Kali Alchemy Helmet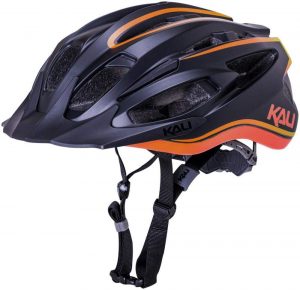 The Kali Alchemy Helmet is a Composite Foam helmet that has moisture-wicking foam which helps get rid of the sweat while also being both washable and anti-microbial.  It has a two-position adjustment for height and locking buckles so it'll stay put.
Bontrager Circuit MIPS Helmet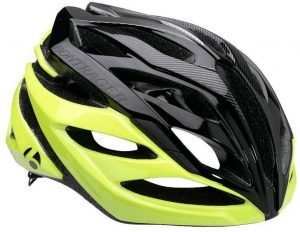 The Bontrager Circuit helmet is a light helmet that has great impact protection and impressive MIPS protection.  The real interesting thing about this helmet is that it has magnetic light mounts which is something you just don't see on every helmet.
Bell Stratus MIPS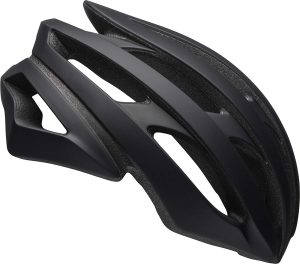 The Bell Stratus Mips helmet is an interesting helmet because it has a minimal design but has the full MIPS impact strength of the other helmets.    It has these quick adjust fasteners that help keep the straps flat and tight.  The foam is also designed in such a way that it actually seems to move sweat away from your eyebrows and away from your face so it won't affect your vision.  In hot weather that is a great feature!  This is one Bell super tough helmet that is top of the line.
Giant Rev Comp MIPS
The Giant Rev Comp MIPS helmet is a less expensive version of the Rev Pro from Giant.  What I really like is the Cinch Pro system (their wording) that makes the adjustments really quick on this helmet.  I tend to re-position it as I'm riding so this does make it a bit easier to use.  This helmet also has magnetic light mounts which is pretty awesome when you considering how much light LEDs can put out and weigh almost nothing.
Giro Cinder MIPS helmet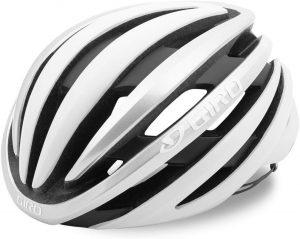 The Giro Cinder MIPS helmet is one of the lightest bike helmets you can find that still has full US testing and standards on it.  It also has 26 vents which is about 25% above most of the other helmets so it'll breathe very well.
Livall Bling BH60 helmet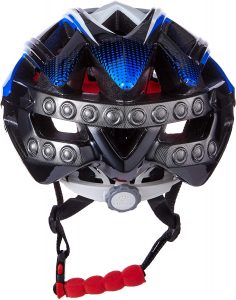 The Livall Bling BH60 helmet is very different which is part of how it gets the Bling in its name.  This helmet has 6 rear LED lights for visibility in the dark.  As you can see in the picture, it also has 8 rear lights in the upper row that you can actually use for directional blinkers.
This Livall helmet has a built-in bluetooth speaker and it has a built-in mic so you can make phone calls on the go.  It even has a Walkie-Talkie feature which lets you talk to the other riders.
Now it even goes way beyond that.  It has the ability to send SOS alerts to your contacts and flash the LED lights if you fall and get hurt.  For $50 that's pretty impressive.
Now, this helmet might seem like a better road biking helmet and it is, but it exceeds all of the standards and can handle all biking.
Coros Linx helmet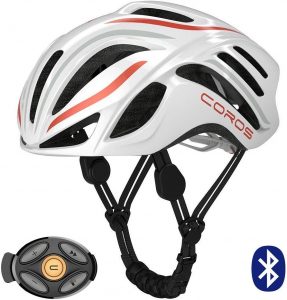 The Coros Linx helmet is unique in a very different way.  It has a unique audio system that actually delivers rich audio through your cheekbones so you can still hear everything around you.  Very different.  There is a wireless remote you can attach to your handlebars if you want to be able to take phone calls as well.  8-hours of battery life should last longer than your energy for a ride.  This helmet also has the walkie-talkie feature so you can talk to the other riders as well.
Bontrager Specter WaveCel helmet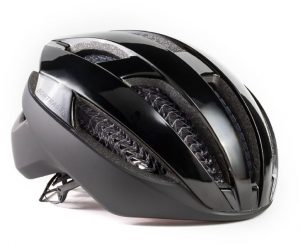 The Bontrager Specter WaveCel helmet is a little different in how it secures on your head.  It has a system they call Boa that lets you adjust the helmet fit with one hand.  It also has magnetic buckles which make it even easier.  As with the other helmet, this helmet has wicking foam and is completely washable.
Full Face helmets
While the above are your standard mountain helmets and road bike helmets, if you activities are a bit more extremely, I highly suggest a full face mountain bike helmet.  A full face bike helmet will protect you in the event you hit something and go over the handlebars face first.
Other Equipment You'll Need
So now you have one or two mountain bike helmets and you're ready to go biking right? Wrong.  There are a few other things you'll want to make sure you pick up.
Protective glasses to be sure those twigs don't cause damage to your eyes.
Mountain bike shoes to make sure you feet stay on the pedals through water and more.  I devoted an entire post to just this on my guide to mountain bike shoes.
Padded biker shorts
Biking gloves
There's actually 12 main items you want to bring when you go biking to be sure you can handle anything that comes up.  What I do is just always have my backpack packed with the essentials and then just toss in water bottles and clif bars for riding.
I go into more details on my post on what biking clothing you need for further reading, as well as what you should bring in your mountain biking kit so you can handle incidents that come up while biking, both mechanical and medical.
If you need help learning how to measure you head to see what size bike helmet you need, I put together a post to help you measure your head for a bike helmet.