A bike helmet is the single most important safety gear that you can wear.  It's the one place you don't want to sacrifice safety to save money and it might feel like you are cutting corners picking such an important safety item for under $100.
As it turns out, there are quite a few of the best road bike helmets that are available for under $100.  Not only are my recommendations the most safe helmets, but I also checked each one of these to verify that they all passed the required Consumer Product Safety Commission (CPSC) test and are properly labeled to meet standards.  Many helmets being sold online do not meet requirements for sale in the US but you can rest assured all of these helmets are both very safe and meet US standards and I will show you how to tell.
For those in a hurry, here are the very best road bike helmets you can buy for under $100:
ALL of my recommendations below have met all federal safety standards and have MIPS rating so they are the most protective helmets you can buy.
Best Road Bike Helmet Recommendations
My recommendations for the top helmet is based upon my experience with these helmets as well as the test results from Consumer Reports on helmets that meet federal safety standards.
The Scott Arx Plus Helmet is the safest bike helmet you can buy.  It topped the Consumer Reports tests, and for good reason.  This helmet has passed all of the safety tests by a country mile and features MIPS protection as well.  It is a top-notch bike helmet from a company that is known for bicycling and motorcycle safety products.
This helmet features in-mold technology which means that they bind the shell to the EPS foam liner which make the helmet even safer while keeping it light.
This Scott helmet also has what is known as MRAS 3 for the helmet strap.  MRAS, or Micro Rotary Adjustment System, is a helmet fitting system that lets you use an easy dial to adjust helmet fit with just one hand.  Can't get much easier or more capable than this top-notch helmet retention system.
The Arx has cooling channels which you can see by looking at it.  These direct the air through these channels at a good speed to help cool down your head and keep the best ventilation possible.
Scott proclaims with the Arx helmet that they took everything they learned with their very expensive helmets and applied it to the Scott Arx Plus helmet to give it the best safety at a budget cost.  I think they hit the nail on the head with this one because it's true.
Giro is a well-known name when it comes to biking gear, and they bring their A game to the table with the Giro Register MIPS bike helmet.  Like the Scott and all the other helmets I'm recommending, the Giro Register has MIPS protection to provide advanced head protection.
The Giro has rugged in-mold construction which means the polystyrene shell is bonded to the EPS foam to provide superior helmet safety while keeping the helmet light.
This helmet has over 20 vents so when you wear it the wind is able to flow through and help keep your head cool.  You can actually even see the channels the air will blow through in the picture and it's easy to see how effective it is.
This Giro helmet is has universal fit sizing means that the straps are adjustable where it goes around your chin.  While this is a great helmet and it's quite a bit cheaper than the Scott Arx, I would choose the Scott helmet above if price isn't an issue as it allows far better adjustments to dial in the helmet to fit just right.
The Giro Register is a solid helmet that will go a long way to protect you.
The Kali Alchemy helmet is from Kali which is not as well-known as companies such as Scott and Bell, but they make one heck of a helmet.  This helmet is engineered to run with the best, and Consumer Reports test prove just how safely made it is.
The fitment system for this helmet is very capable to say the least.  It is a micro-fit closure system that has two different position height adjustments to fit well.  It allows you to get the helmet snug so it doesn't bounce on your head without being overly tight and uncomfortable.
The Alchemy helmet also has 21 vents with the familiar wind channels to help the air to get to your head and keep you cool.
Now for what makes this helmet a bit different than the norm.  The Alchemy comes with Kali's latest protective technology which it bills Low Density Layer (LDL) protection.  In a nutshell, these are gel packs that are on the inside of the EPS foam and provide a third layer of protection for your head.  Couple this with the in-mold construction which bonds the shell to the EPS foam, and Kali has created a whole new level of head protection and innovated beyond many leading brands.
Bell has been making safety equipment for as long as I can remember  and always been a leading brand, and they have brought those years of expertise to the Bell Formula MIPS road helmet.  Like the other helmets, this is a MIPS-rated helmet which helps reduce the rotational forces from impacts.
This Bell bike helmet is a minimalist helmet that is designed to be very lightweight and very non-intrusive while still providing advanced safety protection on the road.  To help it fit well, the helmet has a dial at the back of the helmet which is easy to turn with one hand and allows you to adjust the MIPS system to fit your head like it was made just for you.  This company has been making these things for more than 60 years and it shows in how well it works.
This bike helmet has the same in-mold construction as the other leading helmets which bonds the outer shell to the EPS foam to create a one-piece helmet that is structurally very sound.
There is one thing even beyond that that I really like about this helmet.  With many helmets, once the brow pad gets saturated with sweat, it starts to drip down onto your glasses and can create a little bit of blurriness.  Bell engineered this a little different and you can even see in the photos that this helmet has a guide that will actually get the sweat picked up from the brow pad and pull it away to evaporate so sweat doesn't drip down into your eyes.  THAT is pretty impressive!
Giro created a Youth MIPS helmet that performed among the very best in Consumer Reports and with many youth getting into biking lately, I thought it would be perfect to include a helmet specifically designed for younger folks.
Like the other helmets, this helmet is MIPS rated as I'm sure anyone buying a helmet for a kid would 110% want.  It has the usual in-mold construction so the shell is bonded to the internal EPS foam for a very structurally sound bike helmet.  In fact, it doesn't get much safer than this helmet for kids.
Even with a smaller size, this helmet does have 18 vents so that it helps keep your head cooler and makes biking a bit more enjoyable which is the whole reason for riding in the first place.
It has what is called a Roc Loc Sport MIPS Fit System which is a fancy way of saying it has an adjustment system that is so easy to adjust it can be done with one hand.  It has a dial in the back that you spin to choose a good setting for tightness and that's it.  Simple just like a helmet retention system should be.
It is a universal fit for youth and looking at the reviews it seems to fit rather easily by spinning the dial and Giro has quite a few happy customers to say the least.
This helmet also has a visor built in which will help keep the sun out of kids eyes and making bike riding just that much better.
How We Selected the Top Bike Helmets
We selected the top helmets to make this list looking at how a superior helmet should look and the safety it provides.  This is the list of things that factor into the final score of a well-made bike helmet:
How well does the helmet safely protect your head?
Does it provide advanced protection such as MIPS? MIPS is an advanced multi directional impact protection system.
How well does it ventilate to provide cooling to your head?
Is it solidly constructed like in-mold construction that binds the shell to the EPS foam?
How does it adjust to fit? Is it easy to use?
How well does it stay in place? Does it wobble or have play, or is it solid?
How does it perform in national safety tests?
Price. In this case we kept it under $100 but if your budget is a little tighter for a helmet, you can get one a little cheaper with a little less features.
So there are lots of things to consider.  The first is how safe it is.  The second is how comfortable is it.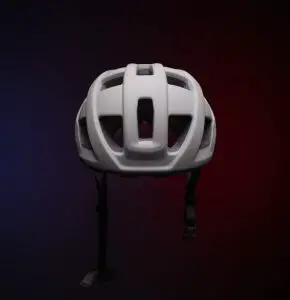 What Makes a Good Budget Road Bike Helmet?
A good budget bike helmet is one that protects your head, as you might expect.  A bike helmet that can protect your head means it passed the Federal Safety Standards for bike helmets which means it meets the minimum safety requirements which is shown by having the Consumer Product Safety Commission (CPSC) stickers on the helmet to signify it meets all requirements.
At a MINIMUM, you want a helmet that shows that it passed the test and will protect your head.  If it doesn't have that information, absolutely steer clear of the helmet as it would not be trustworthy.  When you look at a bike helmet check that it has this stick to even consider it as one of your choices of budget bike helmets.
If you want to go the extra mile (and I sure do with helmets), you will want to get a superior helmet that meets an even higher safety standard as well as being more comfortable to wear.
What Makes a SUPERIOR Road Bike Helmet?
First and foremost, the most important thing that makes a road bike helmet superior to the others is the safety is offers your head.  For a superior helmet that is the best, this means that it meets the Federal Safety Standards, but also has things like MIPS protection.
MIPS (Multidirectional Impact Protection System) is an advanced safety system beyond the regular safety standards that protects your head from impact in many different directions.  It's far better because you never know how you'll fall and having maximum protection is the whole reason for buying a bike helmet.
Secondly, to be superior, a bike helmet really should be comfortable as well.  This means it has to meet all of these criteria:
Sits comfortably on your head without pinching or pain
It stays in place when you move and it doesn't bounce on your head or have any looseness.  When you put on the helmet, move your head side to side, front to back, and up and down looking for looseness.
It has enough airflow to help keep your head from overheat with sweat.  You really don't want sweat in your eyes while you're trying to see the trail and bike.
A bike helmet must be the safest you can wear and it's comfortable enough to wear it for hours and never realize you're really wearing a helmet.  That is the mark of a superior helmet.
If you are buying a helmet for yourself or especially if it's for a child, make sure to choose your helmet wisely.
What Should You Consider When Choosing a Road Bike Helmet?
These are all of the things you should consider when you're looking at new road bike helmets.  These are the things I looked at with these helmets so I recommend to you today the best of the best in the way of road bike helmets.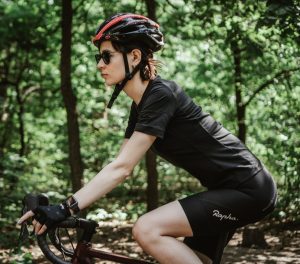 How Safe is the Helmet
A road cycling helmet that meets the minimum Federal Safety Standards for road bike helmets has the required CPSC safety commission stickers proving it passed the tests as well as who they are.  This is the minimum for any helmet to ever be considered.
Above and beyond that, MIPS helmets have far more advanced safety to protect the riders head.  Your helmet should be MIPS-rated for maximum head protection.  You'll see MIPS sometimes also referred to as the MIPS Brain Protection System which is a fair name as its goal is maximum protection of the head and brain.
Does it fit?
You want the bike helmet to fit your head without pressing on your head or creating pinch points.  When you fasten the helmet, it should sit on your head, but not really have any movement when you tilt your head side-to-side and front-to-backwards.  Remember you will be wearing this helmet for hours at a time and you need to be happy with it.
Is it Comfortable?
Like I said above, you wear a bike helmet for hours at a time.  If you can't stand it for 5 minutes, what's 5 hours to feel like.  So be sure to pick a helmet with a good strap system and it fits your head.
Air Circulation
Road biking is normally done in warmer weather, so you will work up a sweat for sure.  Naturally, air circulation through the helmet is a big concern so you don't overheat.  You'll notice many of the top helmets have many openings so that air can flow through and keep your head as cool as it would without even having a helmet which is a great mark of an amazing helmet.
Weight
Wearing a bike helmet for hours, the goal is to be able to take a bike ride and focus on whats around you and not really pay much attention to the fact that you are wearing a helmet.  To do that, the bike helmet is going to have to be lightweight.
Many of these road bike helmets use a polycarbonate shell over Expanded Plystyrene (EPS) foam so that it's lightweight yet very strong.  Weight-wise, many of these helmets are very similar, but if you do find a helmet that feels like it affects your head balance, it might not be a good helmet choice.  All of these helmets below use very similar construction so there isn't much of a weight difference in my helmet recommendations.
What Labels Should You Look for on Road Bike Helmets?
When your turn over a helmet and look at the inside part that will touch your head, you should be a CPSC sticker for helmets that are sold in the United States.  This signifies that the helmet has met the Federal Safety Standards and is fit to wear safely as a bike helmet and usually has both the manufacture date of the helmet as well as the helmet expiration date. Modern helmets are usually good for 3 to 5 years before you have to replace them.
This is very important, because many helmets sold online many not meet US requirements.  If you get a helmet without a sticker like this or the one farther up, return it immediately!
Because of many helmets online that do not measure up, I checked on each one of these helmets to ensure it meets safety requirements and these have also all made the Consumer Reports top list of safe bike helmets as well.  Any of the helmets I recommend is very safe so any of these are a top choice.
Looking for more advanced safety helmets?
If you have the means and you want to look at more options, I put together an article on the best bike helmets on another article of mine and it includes many of the helmets from this list, but also a few that are closer to $140.  I will say that the Scott ARX Plus Helmet is under $100 and it is the safest bike helmet made hands down.
On the other list, I have a few with special features such as built-in led lights in the helmet complete with turn signals, etc.  There are some pretty cool helmets out there even with bluetooth and such built-in which is actually quite handy.
Regardless, just make sure you choose a helmet like the ones I recommend that meet the Federal Safety Standards and are properly marked.  Even on Amazon there are helmets being sold that don't meet this and I have avoided those.
Generally speaking, if you stick with a name-brand such as these manufacturers you have a very well made helmet that meets standards:
Scott
Giro
Bontrager
Bell
Kali
Giant
Conclusion
There are many well-made road bike helmets out there, but the key to getting a truly superior bike helmet is to get one that has MIPS protection, and it is comfortable to wear and use for hours at a time.  The helmets above have all gone through Consumer Reports testing and they have come through with flying colors.
Furthermore, these helmets are tested to Federal Safety Standards and performed well beyond them and are for sale, ready to protect yours or your loved ones heads and keep them biking safely.
There may be road bike helmets for more money, but these perform at the very top of all bike helmets and will go a long way to keeping the head safe in the event of a fall or impact, and when a road bike helmet can do all of that for under $100, you have a winner!