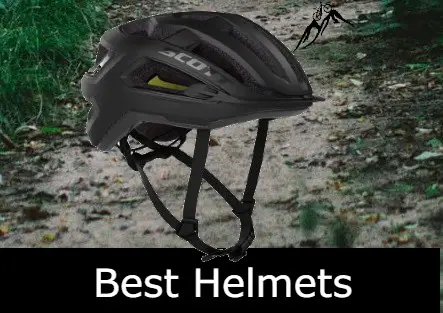 The number one reason for a helmet is to protect your from injuries on the trail.  Before you rush off to pick the helmet that appeals to you most, make sure you're informed about what you need to pick the best helmet.
After considering more than two dozen helmets, I chose the Scott ARX Plus Bike Helmet (link to check the price on Amazon) for mountain biking.  This Scott helmet is a great mix of amazing safety features and a great price.  It has impact protection well beyond the standard and also Multiple Impact Protection System (MIPS).  It has better ventilation than other helmets and it has a comfortable fit.  Oh yea, and Consumer Reports reported it as the safest helmet too.
Just remember that you get what you pay for.  Don't cheap out on a helmet because it's the one thing protection your brain from damage in a crash.  It doesn't matter if you choose the same helmet I have, but the most important thing is to choose a well-made helmet that will protect you.
What Features to Look for in a Helmet
The helmet has a proper safety sticker to show it passed US standards.  There are many online that don't meet this requirement.
Comfortable.  The helmet you pick has to fit comfortably on your head and after a few minutes or riding is something you forget is even there.  The helmet should not wobble around or feel like it's squeezing your head at all.  Remember you will be wearing this helmet for hours at a time.
Weight and balance.  Since you're going to wear this for awhile, the weight of the helmet and how it balances are a big deal.  Over the course of a ride, a helmet can actually hurt your neck and cause soreness if it's too heavy or it's not balanced so that it affects your neck muscles evenly.
Ventilation.  In the winter it's no big deal, but in the summer when you're sweating, you're going to want great ventilation to help cool down.
Pricing.  I recommend getting a quality helmet which normally means a helmet in the $100-150 range.  Most cheaper bike helmets are cheap for a reason and many times they are not made that well.  Get a quality helmet because this is your brain you need to protect.
Accessories.  This may sound weird, but with video cameras coming down in price, you may want to mount a light camera.  If it's an important item, you may want to consider one with a mount already built in.
Do you like it.  You're going to wear this all of the time and you don't want to be self-conscious because you don't like the helmet you picked.
Top Mountain Bike Helmet Brands
There are many top brands of bike helmets that all make excellent helmets, but that's just one of the many things to consider. It's best to start with knowing your budget and needs before worrying a particular manufacturer.
Scott – Scott makes some of the best helmets on the market.  They are engineered well so you get a top-notch helmet.
GIRO – GIRO makes some helmets like the Register MIPS (check the current price on Amazon) that are almost as good as the Scott helmets.  Can't go wrong with a GIRO.
Kali – I like how some of their helmets such as the Alchemy are very adjustable for a good fit and they have very good sweat wicking and anti-microbial abilities.
Bontrager – Bontrager have lighter-weight helmets yet still have pretty good MIPS protection despite their weight.  If a lot of the helmets seem heavy a Bontrager might be better suited for you.
Bell – Bell is a staple company and has a solid track record for well-made helmets.  Some of their minimal helmets are still very capable from a safety perspective.
Giant – Giant is a solid company and their helmets have this cinch system which makes it really easy to reposition the helmet when you're taking a quick stop.  A solid product.
Livall – The Livall helmets I wouldn't choose for trails through the woods, but if you are biking near the roads this might be a good choice.  The BH60 for instance has 12 LED lights built into the back of the helmet so if you're riding it definitely helps you stand out a bit more.
Coros – Coros makes some interesting helmets.  Some like the Linx have an audio system that reverberates your cheekbones so you can head audio or use the walkie-talkie features to talk to other riders.  I wouldn't use this for downhill but for mild cross country riding away from traffic I'd consider it.
Safety Standards for Mountain Bike Helmets
All bike helmets should have full safety testing and include the appropriate stickers so that you know as a consumer that you picked a helmet that at least met the standards.
In the US, every new helmet should have a Consumer Product Safety Commission (CPSC) sticker to ensure it meets these standards.  If it doesn't, do not buy it.
Consumer Reports did a study and it was surprising just how many helmets being sold (especially online) that don't have these safety test labels on them.  I have the full details over on my post on bike helmets if you'd like to read more about what should be on a quality bike helmet.
Regardless of the helmet you choose, there are 2 MAJOR points you need to remember:
Don't ever risk your head on a helmet where the structural integrity may already be weakened.  This is one safety feature you don't want to skimp on.
Think of a helmet working the way a car does.  When a modern car gets into an accident, everything crumples to save the passenger from taking the hit.  A bike helmet does the same thing.
Once the helmet's internals have already taken the force to protect your head, they are done with.  Even though it may look fine, it won't protect your head in a bike accident the second time.
How Should a Helmet Fit?
When you find the right helmet, it should fit like it was made for you.  The only way to find the right fitting helmet is just to try them on until you find the right one.  You want a helmet that fits without a compromise to safety.
A good way is to make a list of the ones you want and work your way down trying them on.
When you try on a helmet, fasten the straps firmly so that there isn't movement when it's just sitting on your head.  Just put your hands on the helmet to keep it from moving.
Try these tests to see if the helmet and your head move as one:
Turn your head left and right to see if there is any play
Move your head forwards and backwards
Try  lifting both sides and the front and back to see if the helmet separates from your head at all
If all of those go ok and the helmet feels ok on your head, then you have your winner.
You might be wondering what is a good way to do this as online has the best prices.  Well, this is one of those times you need to worry more about getting the right product than saving a few bucks by supporting your local bike shop.
Go to your local bike shop and try the helmets on like I said above.  The shop has very knowledgeable people who will help you to be sure you pick the right helmet.  Remember, you're going to have it on for a good 3-4 hours at a time.
Do Helmets Require Maintenance?
After a ride, I always wipe down my helmet with anti-bacterial wipes such as Chlorox wipes to keep the helmet from getting a bit funky.  If not, the sweat builds up over time.
Aside from that, there's not much to do unless you get into a bike accident and hit your head or a really hard fall.  If you're not 100% sure it's unaffected such as your head didn't hit anything, then it's time to pick up a new helmet.