When everyone starts out mountain biking, they start out with a basic set of accessories related to biking.  Over time, everyone finds the accessories that fit how they ride.
Here are my favorite 21 mountain bike accessories that I can't do without.  These are items like helmets and biking gloves that just work.  They're not always expensive but these items just do the job right.  If you're not sure what you need, this list will help you get a solid start.
If you're just starting out, I would additionally read up on some of the tips on getting started mountain biking in addition to this list of equipment to start off on the right foot.
1.  Helmet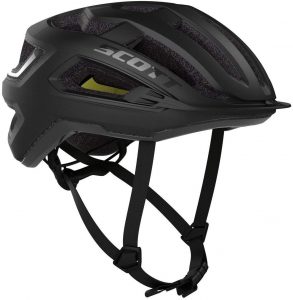 A helmet is the single most important piece of safety equipment you will have on the trail.  When you fall, it is the thing keeping you from a concussion and keeping your brain from getting damaged.
Choosing the right helmet is critical.  A helmet has to fit right, stay put, and has to have passed all of the safety tests. Mountain biking can be dangerous so taking the precautions of wearing properly safety equipment is highly recommended.
My favorite helmet hands down is the Scott Arx Plus Bike helmet which is $129.99 (check the current price on Amazon).  It meets the Consumer Product Safety Commission (CPSC) safety standards and it has a Multidirectional Impact Protection System (MIPS) so it's well-qualified to be a safe helmet.
Many helmets are safe.  Why do I like this one?  It fits well without that slightly-loose wiggle that comes with some helmets.  It has plenty of ventilation so it helps keep your head cool.  And just one more time let me just say it just feel good to wear.  That's a big one.
I put together a very complete list of the best road bike helmets under $100 which includes the Scott helmet I mentioned here.  In this article I go into much more depth on these helmets and the pros and cons of each one.
2.  Biking Gloves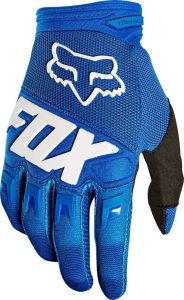 I listed gloves high up in the list here as they are far more important than they appear.  A good set of biking gloves can make a world of difference with how a ride goes.
Gloves play a few different roles in a trail ride:
Gloves help you keep a firm grip on your handlebars
Gloves will help wick away sweat which also helps both comfort and grip
The Fox Dirtpaw Gloves are high-performance gloves with some added features I really like.  The thumb part has that different looking material.  This is actually to help wipe sweat away from your face which is pretty cool.  I would prefer gloves that breathe a little better but these gloves have great grip and I feel like my grip on the handlebars is second to none.
If you want to check the current price of these on Amazon, just click here.
3.  Sunglasses

Eye protection is pretty important to me, like every other biker.  Frequently low-hanging branches and rocks kicked up by bikes can fly right for your eyes.  Protecting them is is a must-have.
To be effective, sunglasses for biking should fully support the lens, and the lens should be shatterproof and pass standards such as the ASTM F803 standards.
The Oakley Radar EV sunglasses are built strong to withstand really being used and they fit well. They are a little pricey but sometimes you get what you pay for.  These are actually the first glasses I recommend in my best cycling glasses post.
I like the Clear to Black Photochromic version because they auto-tint in the sun, but go to clear at night.  If you ever bike when it's getting dark, you appreciate just how great of a feature this is.  If you go this route, be sure to look at my post on the best glasses for night biking.  These get my vote for sure.
4.  Padded Shorts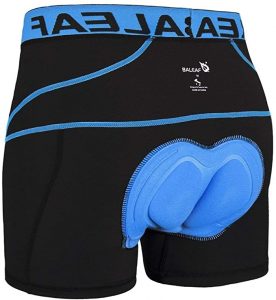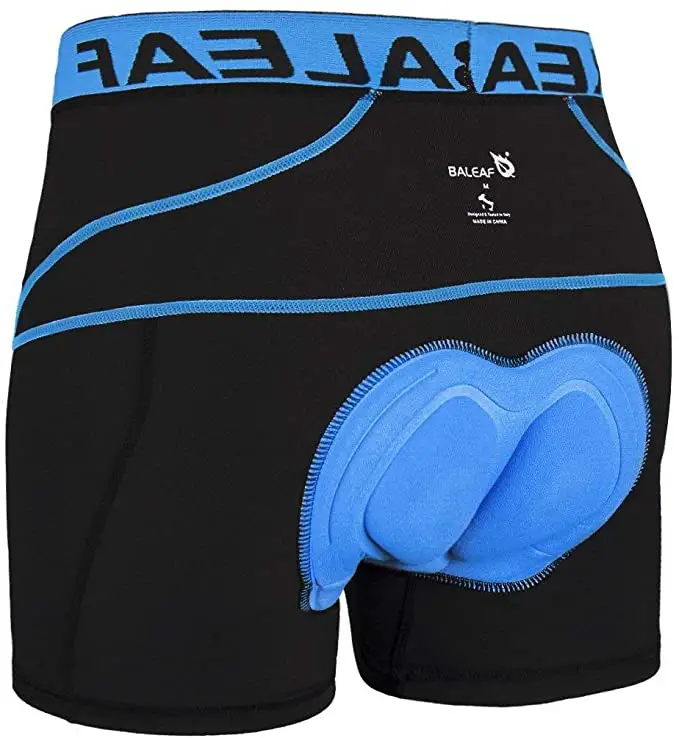 Once you start biking, you'll quickly realize that bouncing on the seat over terrain will cause rear soreness given enough time.
Padded shorts you wear as an under layer are some of the best things ever invented.  The padding in the rear cushions you against the seat and I wouldn't do a ride without them.
The Baleaf padded shorts (check price on Amazon ) are very well made, both from use and from washing them.  They are good quality and under $30.  My suggestion is to pick up 2 pairs for thsoe back-to-back riding days that you may not get to use the washer in between.
5.  Jersey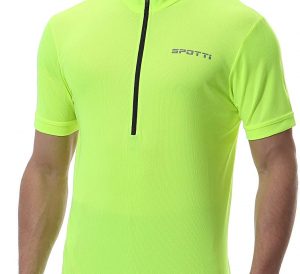 A jersey isn't necessarily required but I do place it on my favorite accessories list because there are some serious advantages to wearing a jersey when you're out riding.
A normal cotton shirt will get soaked from sweat in probably the first few miles.  It isn't the most pleasant thing in the summer and in the winter a soaked shirt can actually make you colder.
Bike jerseys have wicking qualities built into them so they actually pull the moisture away from your skin.  This quick drying can actually help you feel much cooler when biking in the summer and in the winter it keeps the moisture away from your skin keeping your core warmer.
Everybody has their favorite jersey to use and mine is the Spotti Cycling Jersey because it works well, it's very affordable, and it has a couple of built-in pockets.
6.  Knee and Elbow Pads

I like to have a good set of knee and elbow pads to protect myself from abrasion and impact when out riding.
I will admit that I don't always wear them.  On new trails, I always wear them.  On trails I'm more familiar or they are pretty mild, there's a good chance I might forego the pads for the comfort and less restriction on movement.
The smart decision is to wear the pads as much as possible or especially on dangerous terrain like downhill and enduro riding and racing do.  When you're downhill biking you tend to get pretty close to trees and wipeouts happen all the time.
The Fox Pro Knee/Shin guards are my go-to for knee protection.  Not only are they the best in regards to protection of knees and flexibility so it's easy to move, they are also the cheapest (check the price on Amazon).  A win-win-win.
7.  Socks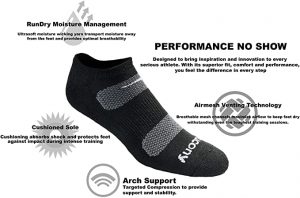 Socks aren't something that most people think about, but they can make a real difference if you're serious about riding.  You absolutely can wear any athletic sock and they will work well to cushion your feet.
For a few bucks you can buy a weeks worth of performance socks that can help in quite a few ways.  These socks can actually wick away moisture and sweat away from your feet keeping them nice and dry.  The arch support will keep the sock clinging to your feet so that they stay in place.  This is a great way to keep your feet feeling fresh and stay away from Athlete's Foot.
I myself get the Saucony Mesh Ventilating Socks on Amazon and they cost as much as the regular socks at the store do.
8.  Shoes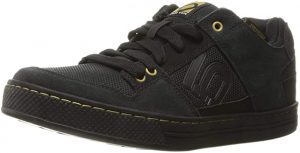 Shoes are important whether you are flat pedals or clipless.  Whatever style of pedal you run, you want your shoes to stick to the pedals when you're pedaling hard.
I really like the Five Ten Freerider shoes.  They stick to the pedals like super rubber and inspire confidence.  And if you've ever had your shoe slip off the pedal and skin your knee on the pedal then you know how important good shoes are.
9.  Repair Toolkit
Getting stranded out on the trail is no fun to say the least.  If something happens, you need to make sure you can fix it or at least put a bandaid on it until you can get somewhere to fix it better.
You'll want a few basics in your repair kit:
A multi-tool to tighten bolts or screws
A mini air pump.
Tire tube patches
A couple of small pry rods
You'll want this all to be in a convenient case.  Some riders like the kit that hangs beneath the top tube but I find I hit my knees on those.  I prefer the under-seat mount for the repair kit or even put it in the backpack.  I use this kit I found on Amazon and for $26.99 I have a kit that has never left me high and dry.
10.  First Aid Kit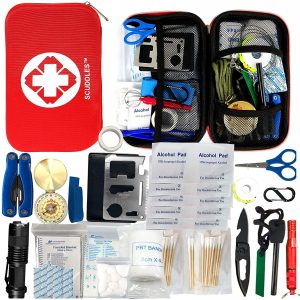 I always have a first aid kit with me because you never know when you're going to need it.  I picked up a this one on Amazon that has everything you could need in a compact size.
Here's what you need in an emergency first-aid kit:
Bandages and cotton swabs
Tape
Scissors
Tweezers
Flashlight
Whistle –  This one is huge if you have an issue because a whistle permeates more and longer than yelling
Tourniquet
Emergency Blanket
So more or less the goal is to stop bleeding and get to help or be able to call for help.  To that end, make sure you cell phone is fully charged and also bring a rain poncho with you to keep dry in case it rains.
11.  Backpack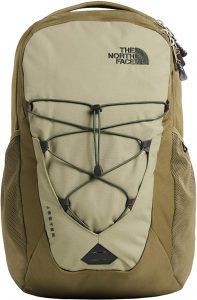 A backpack was actually one of the first things I bought because I knew that a rider has to bring along a few things and your hands are busy so a backpack is the only way.
I got myself a survival backpack but one not too tall so it wouldn't interfere with moving around.  In it you'll want to put all of those things you need:
First aid kit
Water bottles
Snacks
Rain poncho
Zip ties
Duct Tape
Flashlight
Extra bike parts
Not too much else to say on this since a backpack is one of those must-have items every rider brings.  Just make sure the padding that goes against your back breaths so you sweat a little less.
I have written a little more info at my list of 12 items to always have in your backpack if you'd like to read it.
12.  Hydration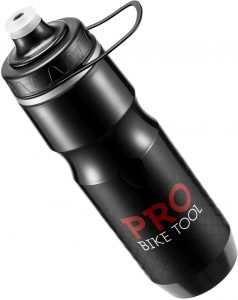 You'll want to bring some water bottles with you.  If your bike has the cradle to hold a water bottle on the frame, even better.  If so, you can get an insulated water bottle like this one on Amazon to put in there.  To be honest, all the ones I've had work great so by all means get one local or pick your own.
13.  Bar Ends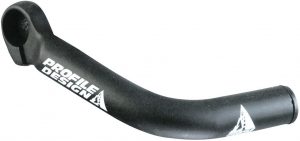 Bar ends can be pretty handy when you need a break.  Normally you're leaning forward a bit when riding and sometimes you want to sit more upright for an easy spin to help stretch.  I got these bar ends on Amazon and they're not slippery to hold so in my book that's a well-made item.
Bar ends are made for when you need to sit really straight upright due to a bad back or back ache.  Even with a downhill bike you sit upright but not quite enough.  These do allow me to sit straight up so I like them when I need to use them. To take full advantage of these, just make sure your bike is properly sized and adjusted beforehand. Then, just attach them and they should be pretty close to your ideal adjustment with only minor changes needed.
14.  Bike Seat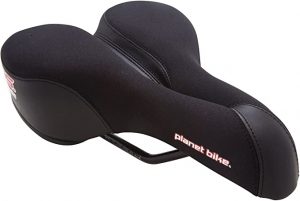 Bike seats have never been known for being comfortable.  Often time, the seats only feel better after you've ridden enough that I think you dull the nerves in the rear.
I've never really heard of a particular bike saddle that is universally enjoyed, so I'll tell you which one works best for me.  I didn't like the original seat on my bike.  After about 30 mins it got painful, so on a whim I picked up a Planet Bike saddle on Amazon (check the price here) and it's worked out pretty well for me.
I think when I'm ready for the next seat I'm going to try a Bell but so far this saddle has worked out well.  It feels kind of gel like so it cushions and that split in the middle has been incredible for how weird it looks.
15.  Headlights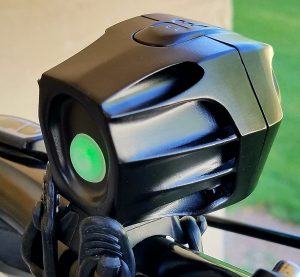 I have used my headlight on my bike far more times than I would have thought when I originally bought it.  I bought it at first thinking it would be good in case it started getting dark out while I was out biking.
As it turns out, this happens more often than I plan.  Either I'm tired and not making the time I thought I would, or I just want to bike further and I'm enjoying myself.  In the fall months I feel like it's on almost half the time with how early it gets dark.
In any case, I picked up the Bright Eyes headlight ($49.97 but check the current price) that has 1600 lumens and enough battery to make it more than 5 hours on a charge.  Plenty of time.  As an added bonus it even came with a taillight which works pretty well.  The lights are waterproof and so far very dependable.
16.  POV Camera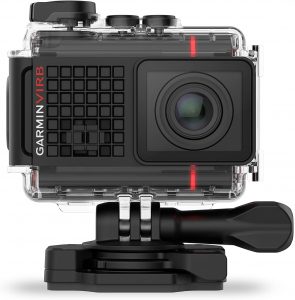 A video camera that records from your perspective your adventures is just awesome for sharing it with someone.  If you watch the videos on YouTube people make that are the rider Point of View (POV) then you'll know how awesome these are.
My personal choice is the Garmin Virb Ultra 30 Camera.  My runner up would have to be the GoPro Hero 8 Black Edition.
Here's why I think the Garmin is the best camera:
It's in a waterproof case.  Many cameras like the GoPro are not waterproof and it can short them out quickly.
The Garmin has 3-axis stability so this thing can create a very smooth video even when you're bouncing all over.  The GoPro does a great job here too.
Garmin has the ability to Live Stream to YouTube which is pretty cool if you make it a Live Event which will rank high on YouTube.  If you do a lot of YouTube stuff this is an awesome feature.
Ideally you want a video camera with these features:
4k video
Waterproof
Multiple mounting positions – at least helmet and handlebar mountable
A high-quality microphone
A wide angle of video capture
Long battery life
Video stabilization technology
Cameras are one thing I've done a lot of research on in my Helmet Cameras section on the site.
What's really great about taking videos is reviewing your riding in the off-season to help make your riding better in the upcoming season.
17.  Energy Bars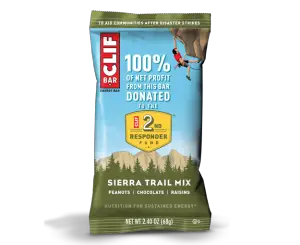 There are lots of energy bars you can bring with you or even other snacks, but I definitely prefer Clif bars.  There are so many flavors and they seem to give you a boost without feeling unnatural.
You'll always want to toss some snacks like energy bars in your backpack to bring with you.
18.  Sunscreen
It's easy to get so busy that you forget the Sun is frying you slowly all day.  Many times you don't even feel the worst of it until far later in the day.  That and the Sun is pretty bad for your skin.
Just throw on your favorite sunscreen around SPF-50 and you're good to go.  Get a sports version that won't come off when you sweat.
19.  Duct Tape and Zip Ties
It's really true that with duct tape and zip ties you can make almost anything work for a little bit.  It won't be pretty, but it'll get you where you're going.
Always bring a roll of duct tape with you.  I myself have noticed that the Gorilla brand duct tape really does hold a lot stronger than the generic tapes (which in themselves are amazing) so get the Gorilla brand if you can.
You'll want zip ties that are at least a foot long as you'll likely have to wrap them around a bar to secure a cable in place or something similar in a pinch.
20.  Bike Mount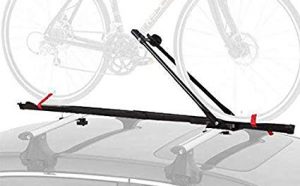 You'll have to get your bike to where you are going to bike ride somehow.  Unless you have a truck to throw it in the back, you're going to have to mount the bike somewhere.
I myself do drive a pickup truck so I have a bed to put it into, but I've done plenty of research for how to mount it on cars and in SUVs and you have one of these choices:
A trunk-mounted bike rack
A roof rack
A bike hitch rack
Fit the bike inside the vehicle
Check out my post on 4 ways to fit a bike inside a car if you want to see more about this.
21.  Bike Lock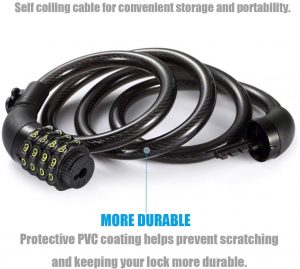 When you bike is sitting on your car rack, it's vulnerable to thieves.  Protect it with a heavy duty lock chain.
I probably have 2-3 bike chains sitting around like this one on Amazon.  They're not very expensive but you always want one handy when you can't be there to ensure your expensive investment in your mountain bike is protected.
Conclusion
So there you have my 21 favorite mountain bike accessories.  These are all things I think everyone should either get or strongly consider when they're mountain biking. This is a really comprehensive list and if you are looking for more of a list of the core items you need for mountain biking or just what you'd need to take with you when you go biking, those are around as well.
Some of these things are for obvious safety reasons like a helmet and gloves.  Some of these things are optional like a camera.  Some of these things are good ideas like bringing snacks such as energy bars.
Hopefully my list has helped you think about what your favorite mountain biking accessories are and helps you to enjoy this amazing sport.