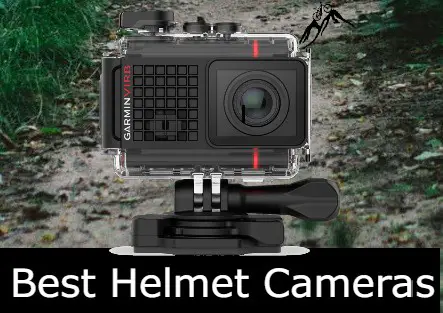 Looking to capture your bike adventures and share them with others?  Well, let me share some info on these cameras to help you find the right one for your needs and price range.
GoPro has come a really long way in the past couple of years to put some amazing features that cements it among the best.  They have a new feature they've dubbed HyperSmooth 2.0 which not only stabilizes the picture but also levels it out.
You might have noticed that the camera in the picture above is the Garmin VIRB Ultra 30.  The Garmin costs a bit less and has some amazing extras.  It has voice control to start and stop the video, and with the G-Metrix technology you can overlay gauges and graphs with action data over top of the video to take things to a whole new level.
These are the Top 3 Mountain Bike Action Cameras for 2020:
Why I Picked the Garmin VIRB Ultra 30 Action Camera
When you compare the features of Garmin to GoPro, it can be a bit surprising:
The Garmin has a waterproof case.  the GoPro 8 has zero waterproof capabilities so if you drop it into even a puddle it'll stop working.  This is probably the biggest advantage the Garmin has.
The Garmin has a 3-axis stabilization which works far better than the GoPro over rough terrain.
The Garmin has the ability to Live Stream to YouTube which is pretty neat sharing it in real-time through your phone.
Features You Should Look For in a Quality Camera:
So you know the 3 cameras I feel comfortable recommending.  Regardless of it's a camera I recommend or not, these are the features you want to look for in an action camera:
A 4k resolution
Multiple mounting positions – You want to be able to mount the camera either to your helmet or your handlebars.
Video stabilization technology.  Most of the brands at this point have some level of video stabilization but the real difference is how good it is.  The GoPro and Garmin are examples of video cameras with very high level of stabilization.
Tough and waterproof.  Your camera is going to get wet, and it's going to fall.  And that's before the run starts sometimes.  The cameras is going to get shaken like a martini so it has to be tough to last.
Easy to set up the camera, operate it, and get your video back off of.
A high-quality microphone that will work well even when it's inside of a waterproof case.  The ability to connect in a separate microphone is a real plus.
A wide angle of video capture.  Many of these do around 170 degrees.
Voice-activated control to start and stop the video.
Long-life battery of at least 2 hours of total video footage.
A remote is handy.
How Does Footage Look With a Quality Camera
Sometimes you just have to see the results for yourself to see what these modern cameras are capable of.  The YouTube video above looks great if you view it in 4k and you can actually feel like you're part of it.  That's why these cameras are so cool.
The neat thing is that you can use the camera all of the same and have your own little archive of adventures for viewing whenever you want.
Hopefully I'm able to give you some insight into action cameras today and with a little research you're able to choose the camera that is right for you.
Why Use an Action Camera? What is it?
An action camera is a camera that can get attached to either your helmet or your handlebars to video your trail action from your perspective.  It's an incredible way to share your footage with others.  How cool is it to show your relatives what you do for fun!
These helmet cameras are small cameras that can easily mount to your helmet with a small mount if you helmet doesn't already have provisions for it.  They allow you to record all of the action hands-free which is perfect since your hands are both busy keeping your bike going in the right direction.
You can look on YouTube and find tons of videos from people who got a GoPro to record their own action to share.  With advances in technology, you can get these cameras for around $300 so they are within reach of everybody.  These cameras are getting smaller and with higher resolution with 4k being the norm now.  The pictures on even the cheaper cameras are amazing.