Once it gets around to October, most folks put up their bikes until the Spring.  Come January, the biggest topic I always see is off-season mountain bike training to prepare for the Spring riding and races.  I never did anything special myself, but with Spring coming up I thought I'd find out what the best riders are doing to prepare for the upcoming season.
After taking a couple of months off, it's time to start training for the new mtb season.  This is a great time to work on improving your technical skills, your fitness levels, your diet, and make sure your bike is ready to go for the next season.
Whether you're a seasoned rider or just getting started, the tips below can help all riders.
Improve Your Technical Skills
Before the normal mountain season starts, it's a great time to work on your technical skills.  What I'm talking about here isn't to do the same thing you always do, but try some different things to round our your skill set:
Try riding different terrain than you're used to.  If you ride XC, try some more hilly terrain like mild downhill.  If you ride downhill, try some XC.  Try enduro style riding.  Mix it up.
Try learning a trick you haven't done before such as a wheelie, a kickflip, or a 360 tire tap.
What you're trying to do is something different so it feels a little more new.  Additionally, you are using muscles in a different way which will make your body stronger as well.
Current Health
Before we get into exercise, let's touch on something a little more universal.
Step 1 is getting a physical done by a doctor and checking on your current health as well as addressing any injuries you have lingering on from the previous biking season.
You want to make sure that you know where the current health is so you can address issues but also to be sure you're clear to begin exercising and training.
If you are training for XC races, you'll want to pay especial attention to the endurance training.
Exercise
After you get in a little rest and do other sports or just plain relax, it's time to get in some exercise to be sure you're physically ready for upcoming biking.  If you're able to exercise regularly during the entire off-season then you won't have to be too extremely with your workouts.
Workouts for off-season training are going to consist of two parts.  Part one is cardio training. Part two is weight training.
Cardio Training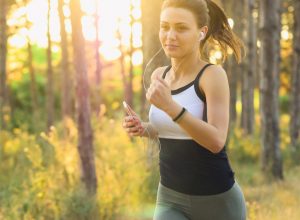 All good workouts that focus on general fitness and lower body fat percentage are going to focus quite a bit on exercises where you raise your heart rate and burn some serious calories.
The whole point behind the cardio training is to help train up your endurance.  Endurance is the one thing that helps you keep going and keeping pushing your bike.
The best cardio you're going to get is jogging.  Try to get in 30-60 mins of jogging a day if you can.  More importantly, remember to breathe correctly.
In fact, breathing is some of the best thing you can train yourself to do.  Getting oxygen into your lungs and exhaling the carbon dioxide is the key to endurance.
When you're pushing it hard up a hill, you want to make taking deep and effective breaths second-nature and focus on the path in front of you.  Many newer riders tend to take shallow breaths or even hold their breath a little here and there.  Both of these will contribute to fatigure.
So teach yourself breathing and endurance so you will be able to pedal stronger and wear down a little slower.
Strength Training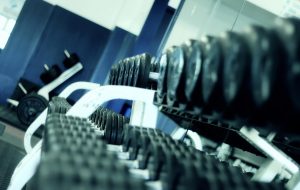 When you're strength training, you are trying to strengthen the muscles which take the biggest toll when you're biking hard.  Generally speaking, these are your legs, your core, and back.
Note that your core is your core from chest to hips front and back.  Having a strong core is essential to preventing injury.
These are the exercises you want to focus on, and note that not all of these even require actual weights and some you can even just do at home in your living room:
Planking
Lunges
Side planks with an integrated leg lift
Deadlifts
Overhead squat – Keep the weight square on your shoulders and work those legs
Pushups – Vary between two-leg and one-leg pushups
When you look at the muscles that you commonly work when mounting biking, the above exercises make a lot of sense.
A strong core will give you strength and stability in all of your biking endeavors and help to prevent injury.
Train Indoors in a Facility
Remember that if you live in a cold climate, it's always warm in the gym.  You can workout there any season and sometimes it's even easier when other people are working out.  Maybe even get a few workout buddies to all help motivate each other.
Pace Your Training
Remember that all exercise and training requires rest periods for full effect.
If you are weight training your legs doing power squats and such, only do it every 2-3 days so that you don't cause injury  You don't want a setback in your training or cause injury that will delay the biking itself if you can help it.
If you happen to be in the area, Ray's MTB in Cleveland, OH is pretty awesome.  It's an entire warehouse that has everything from total beginner with no inclines to "trails" with lots of jumps.  It's color-coded by the type of obstacles you'll see.  Green is the path that runs around the entire perimeter that has some speed to it.  Red has lots of jumps.  There's even a half-pipe to jump into a foam pit.  It's only open I believe from September until May. Much like riding out on the trails there's just a few simple rules to ensure it all goes smoothly.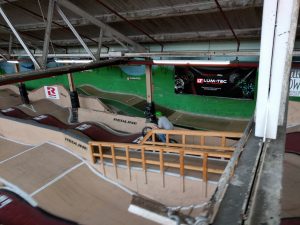 Yep, that's me at Ray's doing the red line which has lots of jumps and dips.  You can see the green line all the way to the wall.   It's way cool but you can tire yourself out because you just want to try everything and this place is giant.  If you visit Ray's MTB on Google maps you can see a lot more pictures that I and the guys I was riding with uploaded.  If you get a chance, absolutely take it.
Use a Training Bike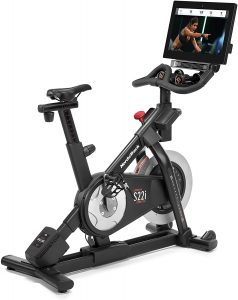 Another good way to get ready in the off-season is to bike indoors if the weather outside isn't that great just yet.
The most common way is to pick up a bike stand that holds up the rear wheel so you can just bike away indoors.  It's pretty neat, but the downside is the bike has little resistance.
It's a little expensive and I haven't done it myself, but the Nordic Track bike is actually pretty cool like in the picture above.
There are some features that I am genuinely excited about.  For one, it has the tv so that you can feel like you are biking as part of a group.  It helps give motivation and it makes sure you stick to the schedule and show up.
What I really like however is the live incline feature of this machine.  It can actually change the resistance so that it gets harder at times like you are biking uphill and other times less resistance like downhill.  It gives you the variance that you get in real biking but in the comfort of your own home.  How cool is that?
All you really need is a VR headset and a little fan going and it's like you're actually outdoors.  Seriously though, it is pretty cool and if you can't get out and bike due to temperature or snowy conditions it's the next best thing.  It's always open, night or day.
Nutritional Diet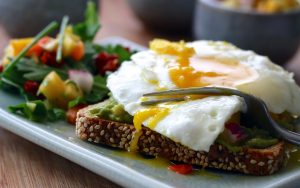 Now the fun part if you do it right.  When you're working to get in better shape and ready for the season, a healthy diet is always going to be part of the plan.
There are 3 main types of foods that you want to pay attention to when you're in training: proteins, carbohydrates, and fats.
In case you wondering, in the above picture, it's actually a really great breakfast and is nutritional.  It's eggs (protein) and avocado (healthy fats) on whole wheat toast (carbs) with a side of vegetables (natural carbs).  It's healthy and really delicious.
Let's look at what foods fall within proteins, carbs, and fats, and why they're important.  Ideally you want about 1/3 of each meal to each one of these.
Proteins
Proteins are used to by the body to build and repair muscle tissue.  It is essential to bulk up on proteins when you working out, especially weight training.
Common proteins are eggs, cheese, chicken, fish, and beef.  These are what are called lean proteins in that they provide proteins while not having saturated fats and cholesterol.  Well, eggs do some have cholesterol but just keep it sane on them.
Carbohydrates
Carbohydrates are used by your body for fuel to do, well, everything.  Whether you're biking hard up a hill or rocking in a chair, your body is burning carbs.  The key is having a balance and not overdoing it with carbs.  Luckily, when you're biking a lot, you burn carbs like crazy so in the regular season it's no problem.
The best carbs are natural carbs, not refined.  Most of these natural carbs are vegetables and fruits.  While fruits are fine and they are in fact natural carbs, they can affect blood sugar levels more than expected.  Vegetables have these same carbs but they are higher in fiber and do not affect blood sugar in the same way as fruits.
Healthy Fats
You want to get enough of the "good" fats and avoid the "bad" fats.  The bad fats are saturated fats, or LDL cholesterol and you want to minimize those.
The good fats are sometimes called the healthy fats, and they will actually lower your blood pressure and lower the risk of a heart attack or stroke.
You can find healthy fats in:
Avocados
Olives
Nuts
Sunflower and sesame seeds
Flaxeed
Fatty fish or even fish oil
Soybeans and soymilk (which btw is the only food that contains all of the essential amino acids so this counts a bit in the protein category too)
Tofu
Try to use fresh foods if you can and enjoy the healthy fats.
How Much to Eat of Each?
Ideally you'll have 1/4 of the plate of lean protein, half of the plate vegetables, and some healthy fats to fill it in.
Perform Bike Maintenance
Before the riding season starts is the perfect time to check out everything on your bike to see what is up to snuff.
Check the tires out and make sure there are no cracks or bulges.
Check out the rims to be sure they have no cracks.
Test the brakes out
Lube the chain
Check the shifters that they are working as expected and if not adjust them
Make sure the bolts holding on the wheels and the bike stem and handlebars are tight.
Check the entire drivetrain from the pedals to the chainring to the derailleur to the rear cassette to be sure everything works and nothing is bent or damaged.
If you have to fix anything or upgrade them on your bike, this is the time to do it.
Beyond that, it's a great time to look over your mountain gear, clean up the equipment, and see if any of it needs to be replaced or repaired. We're talking bike helmet, shoes, and all of the other clothing-related equipment that you put on to go biking.
Take all of your tools and such out of your biking backpack and go down my list of the essential bike kit to see if you still have everything there and ready to go. It's much easier to do this when you're not biking then when you're excitedly heading out the door.