Specifications:
Sizes: XS, S, M, L, XL
CE Certified: Yes, certified to EN 1621-1, Level 1 Standards
Adjustment: Hook and loop strap
Ventilation: Breathable fabric
Pad Type: Half length
Washable: Machine washable
Recommended Use: XC/Trail Riding
Pros
VPD Air Protection for lightweight knee pads
Has certified impact protection
Well ventilated
Lightweight and breathable for comfort and freedom of movement
Cons
Best deals
Our Verdict
The POC Joint VPD Air knee pads are among the best mtb knee pads on the market. They are very effective for lighter riding where you're more interested in freedom of movement.
The main idea behind the VPD Air pads are to provide light knee protection while avoid the bulk that you can get on some of the knee pads meant to protect against more dangerous impacts. They are intended for use in enduro, XC, and trail riding mostly along with on-road riding.
So these are perfect if you are just out riding some light XC trails, or riding on the road. Basically rides where you don't reasonably expect to take a big rock or stump to the knee. That's just the place you want to wear a lightweight mtb knee pad in fact.
The sleeve material of the knee pads is comfortable to wear for long rides. The impact protection is provided by VPD padding and these have been certified to EN 1621-1, Level 1 Standards, which is the standard that is often applied to motorcycle knee pads so they provide more than enough for average road or trail riding without a doubt.
The knee pad material has good airflow to keep them comfortable on those hot days. In fact, that's why they're called VPD Air, because a big focus was on making knee pads that stay cool but have plenty of protection. These are great for cyclists and mountain bike riders because the material is flexible and allows plenty of movement while keeping your knees protected.
Product Evaluation
The POC Joint VPD Air work well for cycling, mtb riding, or anything in between while being among the most comfortable knee pads out there. Now on to the details….
Design
The POC Joint VPD Air are lightweight knee pads suitable for cycling, enduro, cross-country, trail riding, and more. They are meant to provide a good level of protection while focusing on making them comfortable to use for all situations. They are full-length so the padding covers from above the knee to several inches below the knee, covering to the bottom of the knee pad sleeve.
The sleeve is made of a neoprene that is well-ventilated to allow as much air as possible to get through so that they keep cool and allow your skin to breathe as much as possible.
VPD Air material provides the impact protection and has certified and tested knee protection. Even with all of that protection, there is still plenty freedom of movement for a comfortable ride.
These are unisex knee pads and they are for both men and women. They come in a variety of colors to suit your style.
Protection
Impact protection on the POC Joint VPD Air knee pad is done using Visco-elastic Polymer Dough (VPD) material that is really quite advanced. The material actually becomes flexible as it warms up so it molds to the shape of your knees and legs. On impact, the VPD material quickly stiffens to provide hard impact protection that distributes the impact among the material to lessen the effect on the rider. It is a very impressive safety system that does an amazing job at protecting your knees. The material is similar to SmartFlex in the G-Form Pro X2 knee pads in how it's flexible until it's needed for protection.
These knee pads are certified to EN 1621-1, Level 1 standards which is a level that not many knee pads have attained and not too many have certified their protection. That tells you something about how serious POC is about their safety products.
The VPD material extends from just above the knee to nearly the full length of the knee pad, so the pad goes long well below the knee. Shin protection is sure handy in case your feet slip off of the pedals while riding. The material does extend around the sides of the knee cap itself although it would have been preferable if the material could have gone just a little further around the sides for more ample side knee protection.
This level of certified knee protection is suitable for enduro, cycling, trail riding, and cross country riding. They are lightweight so they are not meant for extreme riding. They are intended to be used as lightweight knee protection that is comfortable to wear.
Fit and Use
So this is where it all comes together. How comfortable are the POC Joint VPD Air knee pads for real-world usage?
Well, they are pretty amazing actually. They are comfortable to wear and have ample air flow. They fabric stretches and allows complete freedom of movement. These knee pads are very refined.
The knee pads stay in place well as long as they are properly sized. They fit snug so they stay in place, and there is an adjustable hook and loop strap on the thigh side so that at the top you can tighten them down a little more than they are naturally if the strap wasn't there. It does help with them not slowly walking down your legs as you can walking around and as you can cycling it keeps it from slowly moving down as your legs are moving.
These knee pads are comfortable to wear for hours and they are slim enough that they fit right under pants and jeans no problem. The key here like all knee guards is proper sizing.
If you are planning on doing lighter riding, the Bodyprox Protective knee pads are an excellent alternative.
Ventilation
Air flow is one of the biggest features of the POC Joint VPD Air knee pads. One of the main goals of these knee pads is to provide solid knee protection while allow plenty of air flow so that they're comfortable to wear around all day.
Due to the design, these are some of the least restrictive knee pads and they stay cooler than a majority of the knee pads out there. Because of that, they are an excellent choice of safety pads to wear during the hot summer months. They really feel just about as cool as not wearing knee pads at all.
As you can see, the entire knee pad is made from the same material. If the back was made of breathable mesh they might run cooler. If the behind-the-knee part of the fabric was cut out it make them bunch up a little less.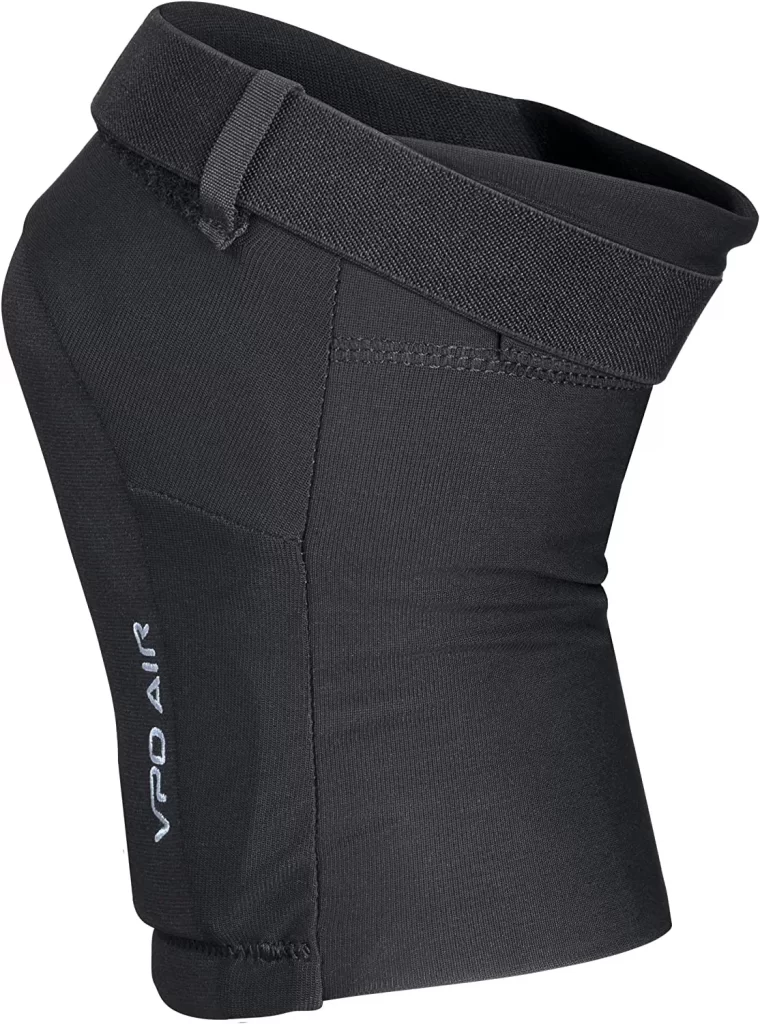 Riding Performance
The POC Joint VPD Air are comfortable to wear for all-day biking sessions, even under jeans. One key is to ensure you measure your legs carefully so they are sized correctly. There is a velcro strap to make them a little tighter if needed, though ideally they fit pretty well before any additional adjustment.
These knee pads are flexible and there is complete freedom of movement and no feeling that the material is holding you back. The back of these knee pads is a lighter material and the backs don't bind even after several hours of riding.
Product Value
The POC VPD Air knee pad is a good value for the level of comfort and protection that they provide. They cost a little more than the budget-level knee pads, but they provide some of the best airflow and comfort in knee pads. The value they provide directly compares to many knee pads that fall in the $100 range. If money is tight, there are many other options that are all excellent knee pads. If the price falls within your budget, these are knee pads that are very well made and have a high reputation in the industry.
These are one of our top recommended knee pads. Combine these with elbow protection for a knee elbow pads set that provides excellent protection for you overall on those exciting trails.
Conclusion
The POC Joint VPD Air knee pads are an excellent knee pad that excels is all of the important features in knee pads. The design, airflow, and protection puts these among the best knee pads for cycling and trail use. They are lightweight, comfortable, and provide certified levels of protection. The price is very fair for this level of knee pad and they are an excellent deal. They have excellent rider reviews online as well.
Overall these are about the best lightweight knee pads that you are going to see. If you're looking for knee protection but without the bulk, these do the job very nicely. They are design to last so you'll have these around long term.
Best deals