Specifications:
Sizes: XS, S, M, L, XL
Adjustment: None
Ventilation: Breathable stretch mesh
Pad Type: Full length
Washable: Hand wash / Machine wash on delicate
Recommended Use: XC / Trail / Enduro
Pros
Lightweight, flexible, and breathable
CE certified knee protection
Cons
No velcro strap, just elasticated cuffs and silicone grippers to hold them in place
Best deals
Our Verdict
The Alpinestars Paragon Plus knee pads are a very capable lightweight knee pad. They are comfortable to wear and they have a good amount of air movement to help keep your legs cool. These pads are lightweight but provide certified level of protection. They are a little heavier are a little more clunky than the EVA foam-based lightweight pads, but provide more protection.
These knee pads have a budget-level price for knee protection and features that are decidedly above average.
They are a good option for XC or trail riders looking for lightweight knee protection at a reasonably price with a good amount of protection.
Product Evaluation
Lightweight knee pads are characterized by giving you a good amount of protection while still allowing plenty of movement. Let's look at how the Paragon Plus are built and how they compare to other lightweight knee pads.
Design
The Paragon Plus knee protector is a full-length knee pad that protects both your knees and your shins. They may not be quite strong enough if you are on more extreme downhill runs, but for typical riding they are more than enough.
They are a slip-on knee pad sleeve that has elastic cuffs and silicone grippers to keep them in place. It's fairly common among knee pads that go on like a sleeve, but I really prefer a velcro strap above the knee.
These knee pads also have rip-stop fabric reinforcements which strengthen the fabric and help with long-term durability.
The Alpinestars Paragon knee pads come in 5 different sizes, and most common protector color is in black. They are for both adult and youth, and youth may want to opt for small or extra-small sizes.
Protection
The Alpinestars are lightweight knee pads, but they are not light in the protection department. They provide serious protection and the company put their money what their mouth is.
These knee pads are CE certified to EN 1621-1 level 1 protection, which means it is a very solid knee guard suitable for most trails. This level of protection means that these are durable and can within a crash and can be vital to protect your knees.
For comparison, motorcycle equipment that passes this standard is worn to the track for casual racing. So it's plenty for trail riding.
Fit and Use
The Paragon Plus are comfortable to wear, more comfortable than many knee pads. They are extremely lightweight, have decent airflow, and you're not anxiously awaiting the time to rip them off.
However, they feel a little clunky at times. The only non-fabric thing is in these is the armor plating that provides protection. Other than that, they are purely fabric.
The clunkyness comes about because the plate is a set size and set shape, which is almost never going to perfectly match your leg and your motion. The D30 material in some knee pads, for instance, is flexible and only becomes stiff in a crash. The plating in these is stiff all the time which is fine for protection but at times it feels a bit less refined.
From that perspective, EVA foam covers from the knee cap to shin but the foam is more flexible. These knee pads are close and with some refinement could be really something. Still, I consider them a comfortable fit and light to wear.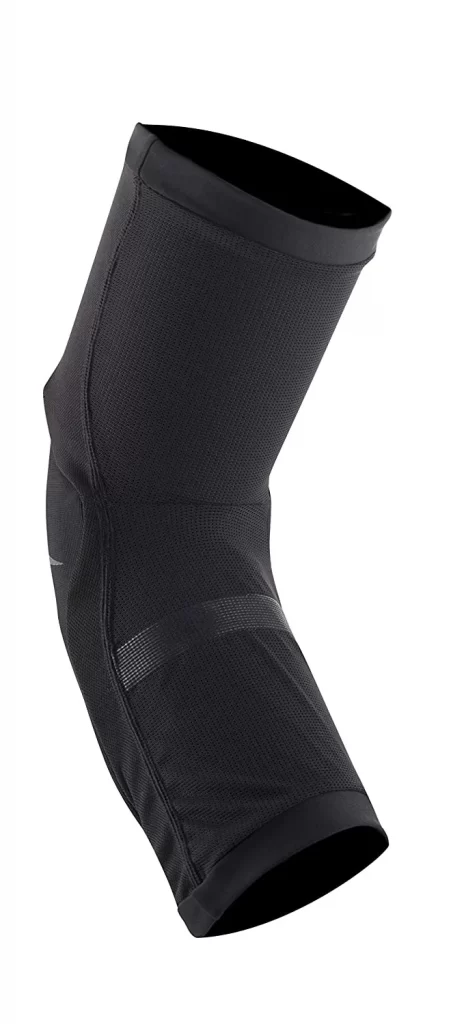 Ventilation
The Alpinestars Paragon knee pads are made with a breathable stretch mesh that helps air flow freely through them. The air flow helps keep the pads from getting overly warm, but the air doesn't reach your skin to directly cool down your legs.
These fall in the upper third of knee pads for leg temperature. They don't let air move quite as freely through as the Leatt Airflex Pro, but they don't retain is nearly as much aso the POC Joint VPD 2.0 which is meant for more extreme riding.
These are really fine for riding in just about any temperature or season since in the winter you'd have pants over them.
Riding Performance
This knee shin protector is always where all the variables come together to see how the final product is when you're out riding.
The Paragon Plus is a lightweight knee pad and as such it has plenty freedom of motion. The fabric is stretchable and breathable and as such there is no pinching or feeling like they are restricting movement.
The airflow is nice through these and works well to keep the legs from getting overheated.
The plate is a little clunky and gives a little bit of an ill-fitting feel to the knee pads. Not enough to negate all of the many positives, but not quite as refined as some other manufacturers.
Product Value
The Paragon Plus are a good overall deal for a lightweight and arguably budget pair of knee pads. They still have some work to refine them but they have many things going well for them. They are light, easy to move with them on, and they stay cool. All of that at a price level well below other knee pads in this functional range makes these a good buy.
They also have many reviews online from riders that use them daily and they have a positive feedback and are recommended.
Conclusion
These Alpinestars Paragon Plus knee protectors are very functional and capable lightweight knee pads. The fabric is comfortable, and they generally feel comfortable to ride in. They are a little less refined in some areas but no worse than other budget knee pads. A majority of the features are top notch in these such as they stay in place. While I expect these to get even better in future, these are still impressive knee pads that I think are just right for many people.
Best deals