Specifications:
Sizes: S, M, L, XL
Adjustment: Silicone grippers on both ends
Ventilation: Amazingly breathable fabric
Pad Type: Full length
Washable: Hand wash or Machine wash on delicate
Recommended Use: All types of trails
Pros
Front and side padding
These breathe well, you can feel the air moving through them
Hook and loop straps
Cons
Best deals
Our Verdict
The Leatt Brace Airflex Pro are very capable knee pads that work well in virtually all biking environments. They are lightweight so it's easy to pedal with them on. Knee protection is via 3D gel in the molded structure that hardens upon impact.
In addition to the padding on the front knee and shin areas, it also has impact protection on the sides. These fit pretty close to Leatt's sizing chart, and with the high amounts of airflow they are comfortable to wear for long biking sessions without overheating your legs.
As they are a lightweight mtb knee pad, they are great for XC, enduro, and trail riding. For more extreme riding such as thrilling downhill a more heavy duty knee pad would be recommended.
Product Evaluation
The Leatt Brace Airflex knee pads overall are very functional and are very capable of knee protection. Let's look a little closer now at the various aspects of the design.
Design
First off, having both the front and side padding is really nice. I've banged the inside of my knees enough times that I welcome any extra padding to help out with it.
Airflow is another thing really great with these knee pads. The air really flows enough you can feel it on your legs which really goes a long way to keep your legs from getting overheated. It definitely helps make them more comfortable for extended riding sessions.
Impacts and falls are mitigated by 3D impact gel within the knee pad and sides. The gel is a little closer to EVA foam than D30, so I would consider these more like trail or XC riding knee pads and switch to something more heavy duty for downhill riding.
They are CE certified knee pads as well which means they've been through the tests and have proven protection to the EN1621-1 standard.
The downside is that these are available in only large and extra large. It does appear that many people go with the XL but the Leatt's sizing guide will help you to measure your legs to see which one fits best to you. While these come in many colors, the vast majority of places stock the black ones as they are a popular color for biking gear.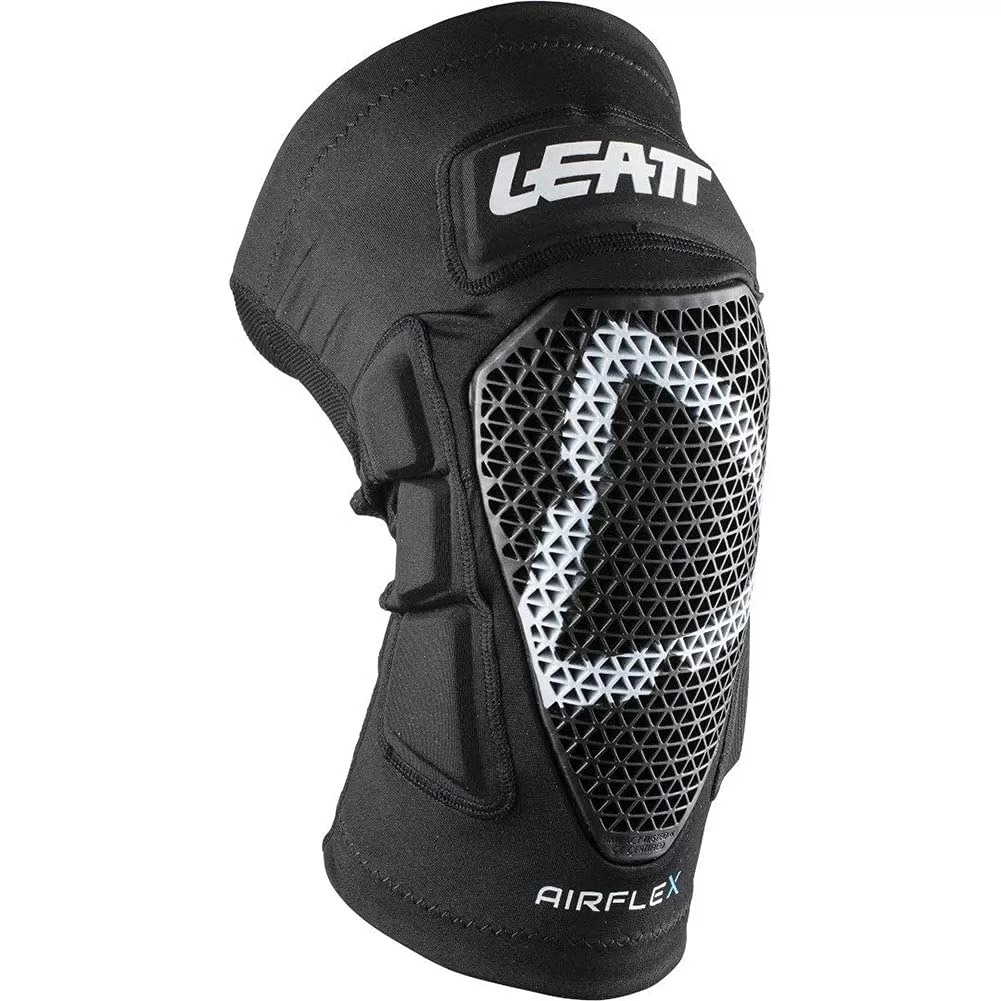 Protection
The Leatt Airflex Pro knee guards have a high-level of protection. They are certified to the EN1621-1 standard which is applied to knee pads that include motorcycle usage to give you an idea. That means these are tested certified to the standard and are proven to be very effective.
So these have a proven level of protection.
The 3d impact gel that in both the front and sides of these knee pads will stiffen upon impact to absorb and dissipate the impact to lessen the effects on your knees and shins. The non newtonian gel is soft and pliable and molds to the shape of your knee and shin under normal usage. When there is a crash, the material stiffens up to absorb the impact.
These Airflex knee pads extend a couple of inches above the patella (upper knee) to several inches below the knee so there is some shin protection beyond the main knee protection.
Fit and Use
Sized correctly, the Leatt knee guard stays in place very well. I would have preferred a velcro strap to tighten it a little more if necessary, but if the correct size is picked using the sizing chart, then they'll stay in place for long riding sessions just fine.
These are easy enough to wash after a ride. You can either hand wash them, or wash them in cold water in the washer on the delicate cycle. It might even be a good idea to put them into a laundry washing bag to protect them from getting banged up and affecting the stitching.
Ventilation
These Airflow Pro knee pads are well known for how well the air flows through them. I have no idea how they feel as open as they do, but they do. Couple that with how lightweight they are and it makes for a set of knee pads that you'll actually look forward to using.
Riding Performance
Even though they look bulky, these Leatt Brace knee pads are actually very flexible when riding. They are plenty comfortable with no noticeable abrasion.
Regardless of pedaling speed, they don't seem to rub or irritate the skin at all.
The airflow through these rivals some of the best, and it makes a big difference in keeping your legs from getting drenched in sweat. Legs stay cool, and you really don't even think about the fact that you are wearing these knee pads.
Product Value
The Leatt Brace Airflow Pro knee pads provide very high protection for a good price. The airflow is amazing and goes a long way to making these very comfortable to wear and look forward to using. They cost more than your more average pads, but these provide some serious protection for your knees for a reasonable price.
Looking at what other riders are saying about the Leatt Pro knee pads, there are tons of mountain bike reviews from people using these everyday and the reviews are overwhelmingly positive. The specs on these and the protection they cover is proven and the community popularity backs it.
Conclusion
Leatt did a great job with the Brace Airflex Pro knee guards.
These are excellent knee pads that are best suited to XC, enduro, or trail riding. They are flexible and easy to move your knees without feeling restricted.The impact gel in these is capable, and should be plenty for trail riding and even fairly normal downhill runs. But for a more extreme downhill run with lots of big jumps and drops, I would reach for higher level of protection since you only have one pair of knees.
For just about any rider these are excellent knee pads to most riding situations. They are comfortable and a pleasure to wear.
Best deals