Specifications:
Sizes: S, M, L, XL
Adjustment: None
Ventilation: Breathable stretch mesh
Pad Type: Full length
Washable: Hand wash / Machine wash on delicate
Recommended Use: XC / Trail / Enduro
Pros
Lightweight, flexible, and breathable
CE certified to CE EN 1621-1:2012 Level 2
Cons
No velcro strap at the top
Best deals
Our Verdict
The 7iDP Sam Hill knee pads are very capable knee protection and one of the best lightweight knee sleeves you can buy. They are comfortable to wear when riding and with so much breathable mesh they stay cool while riding.
They are certified to Level 2 CE standards and are lightweight. In fact, the large size weighs only 340 grams which is barely noticeable. The knee and shin protection are handle by an armor pad in the knee sleeve that is labeled SAS Tec by 7iDP.
These provide very strong protection but at the price of a little flexibility. These are pretty much a strong plate on a mesh sleeve.
If you are looking for above-average protection in a fairly low-profile knee sleeve, then this is the one for you. I would use these where you need more protection with a little more bulk, so for things like downhill I'd favor these, but for light trail riding I might go with something like TLD speed sleeves. There might be even one on my list of mtb knee pads that are a good value.
These are meant for sports such as mountain biking and cycling but it may be possible to use them for other sports.
Product Evaluation
These 7iDP knee pads are well-engineered and provide high-levels of protection. Let's look a little closer at this knee pad review and compare these knee sleeves and the features.
Design
The 7iDP Sam Hill knee pads are full-length knee pads that protect all aspects of your knees and most of your shins. These are well above average in protection and have lots of coverage.
These are slip-on knee sleeves with elastic cuffs and silicone grippers to keep them from moving. Sized properly, they won't move. However, I prefer a velcro adjustment strap above the knee to help in case it's an in-between size and a little more tightness is needed. These do appear to stay in place pretty well however.
The mesh is well-made and the stitches are done right. I expect the fabric will hold up well under normal usage. Through a few crashes mesh fabric can rip which is fairly to be expected.
These knee pads I've reviewed are in basic black which is common for knee pads. As far as I know they only offer it in that color.
Protection
The protection Sam Hill knee pad gives you is stronger protection than most. They are lightweight due to them not being bulky and they can fit under jeans and such easily.
These knee pads are CE certified to CE EN 1621-1 Level 2 protection, which means these are very suitable for virtually all trails and riding. They are durable and can within a crash and minimize damage to your knees and shins.
Fit and Use
These Sam Hill knee sleeves are very comfortable to wear thanks to the mesh fabric that breathes very well. They are lightweight so they don't weight down your legs.
They are long compared to many other knee pads. It is a positive in that it protects and covers more of your legs. However, due to their length they are also a little tougher to get on. It's a fair trade-off, but if you prefer knee sleeves on the shorter side, the Fox Racing Enduro knee sleeves might be a better fit.
The protection plate/pad in these are a little stiff as they are molded and pre-bent. It's not enough that you don't want to wear them, but they don't seem to mold to fit in the same way that the D30 and such sort of slowly mold to fit your knee.
Sized properly, these do stay in place well. I always prefer an adjustment strap when possible, but these are made well and they don't walk down or bunch up behind the knee after a long ride. Normally when there is lots of mountain biking action you see where sleeves don't stay in position, but these stay in place through it all.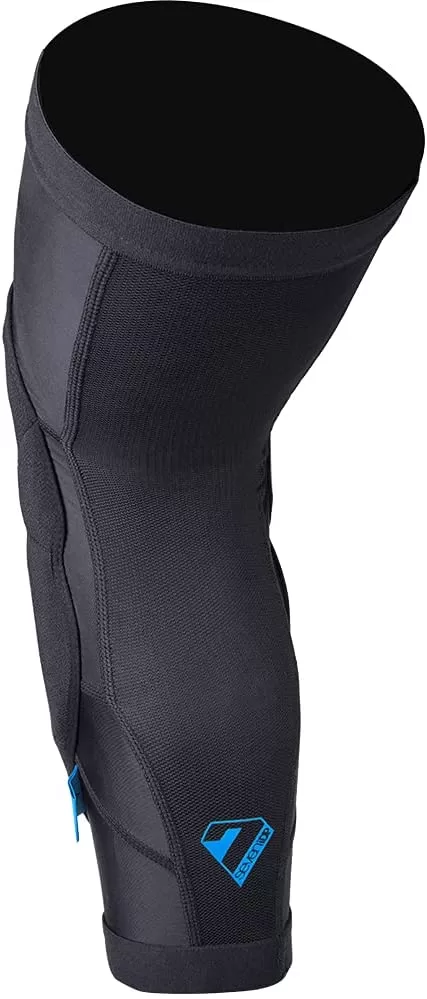 Ventilation
These 7iDP Sam Hill knee pads really shine in the ventilation department. Everything but the pad itself is made of breathable mesh that does an outstanding job of letting the air flow through and cooling down your legs.
They work great in cold or especially hot weather. They also fit under most pants and jeans so these are among the best ventilated knee sleeves we've reviewed.
Riding Performance
The trail is always where you see how well knee pads truly work out.
These Sam Hill knee pads perform within the top I'd say 15 I've reviewed. Not only the light feel, but they are able to provide high levels of protection during a crash.
These are comfortable to wear for all-day riding. The mesh breathes really well and lets the sweat evaporate off of your legs as good as if you'd didn't have on knee pads at all.
The fabric is also a stretch fabric. It naturally has some tension on it so it contracts back on its own. This is a big deal when you look at the back of the knee. When you bend your leg, the fabric on the back behind the knee will contract back down instead of bunching up behind the knee. That helps not only to feel more comfortable, but it helps airflow behind the knee as well.
Like with other knee sleeves, make sure to measure properly to get the right size.  If you're between sizes, go for the smaller size so that they stay in place while you are riding. Sized properly, they stay in place for hours of riding.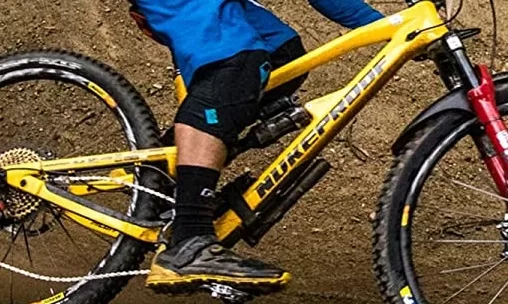 Product Value
Now, the big question: are they a good deal. It always comes down to this.
Without a doubt, the 7iDP Sam Hill Knee Pads provide very good knee and shin protection. They are long so they provide more shin protection than most competitors as well. They on the more expensive side but if you are looking for the slim fit of a knee sleeve with high levels of protection, then there aren't many other choices that can fit the bill other than these.
The Fox racing knee sleeves are half the price, but are far lighter protection. The TLD speed sleeves are also around half the price, but far lighter protection.
So if you don't need this high of protection and you are doing mild trail riding, I might choose either the TLD or Fox Racing sleeves.
If you are pushing the edges more and riding more dangerous trails , these will work nicely. If your fit slips off the pedals, the longer length will help protect your shins from the pedals.
These would also be a good fit for on-road cycling where you want your whole leg protected for many of the same reasons. It can protect your knees and shins from the pedals, rocks flying up, and more.
So if these fit your needs and budget, then they are highly regarded both here and in the industry by riders with excellent customer reviews.
Conclusion
The 7iDP Sam Hill knee pads are very effective full-length knee pads that provide proven protection that is more than enough for most riding. The longer length helps provide protection during crashes, and the material breathes very well so they are comfortable to wear in all weather.
They provide a bit more protection than the standard knee sleeves and are also a little more expensive than the average knee sleeve. If your needs and riding means that you need knee pads with strong protection, than these might just be the ones for you.
I hope this knee pads review has helped you to determine if these are the ones for you. I have many other reviews on this site so feel free to check the site and see if you find the right one for you.
Best deals