Specifications:
Sizes: XS, S, M, L, XL
CE Certified: Yes, certified to CE EN 13688:2013 certified
Adjustment: NO, silicone grippers
Ventilation: Breathable fabric
Pad Type: Full length
Washable: Hand wash
Recommended Use: XC/Trail Riding
Pros
4mm D30 foam padding for lightweight but strong knee pads
Has certified impact protection
Well ventilated for warm weather riding
Lightweight and breathable for comfort and freedom of movement
Cons
Best deals
Our Verdict
The Troy Lee Designs knee guards are one of the most popular knee pads in the mountain bike industry. They are comfortable, they stay in place, and they protect well. If you are looking for one of the best lightweight knee pads, these are ones you should strongly consider.
It is easy to pedal with these knee pads on, and they are seamless so there is nothing to rub against your skin. These TLDs have D30 foam for impact protection which is flexible until there is an impact at which point they stiffen up and protect you. They are CE certified for impact protection.
It really doesn't get any better than these for lightweight protection, and these are reasonably priced on top of it. For just about anyone these are excellent, and for newer riders you can get one of the best knee guards at what is pretty much a budget price.
The Troy Lee Designs speed knee sleeves are the perfect balance of functionality, comfort, and price. They work in just about any situation and are an excellent choice for knee pads.
Product Evaluation
These TLD knee pads are very capable within their intended application, which is mostly enduro, XC, and trail riding. So let's look closer at the design and performance of these knee pads to compare to other ones.
Design
The Troy Lee Designs Speed Knee Sleeves are a lightweight option when you don't need the heavy and bulky knee protection that you might get with the TLD Raid knee guards for instance. These are designed more for XC or enduro riding.
The Speed Sleeves are mostly fabric with the D30 foam impact material cover just the front of the pad. The sides are the back are just the flexible material, so it's obvious these are meant as lightweight protection and shouldn't be your first choice for downhill trails or more dangerous riding than trails.
These are designed for comfort with some basic protection and they excel in that aspect.
These mountain biking sleeves offer solid black protection in 5 sizes: XS, S, M, L, and XL. It is very important to measure your legs and pick the proper size so they stay in place as they should.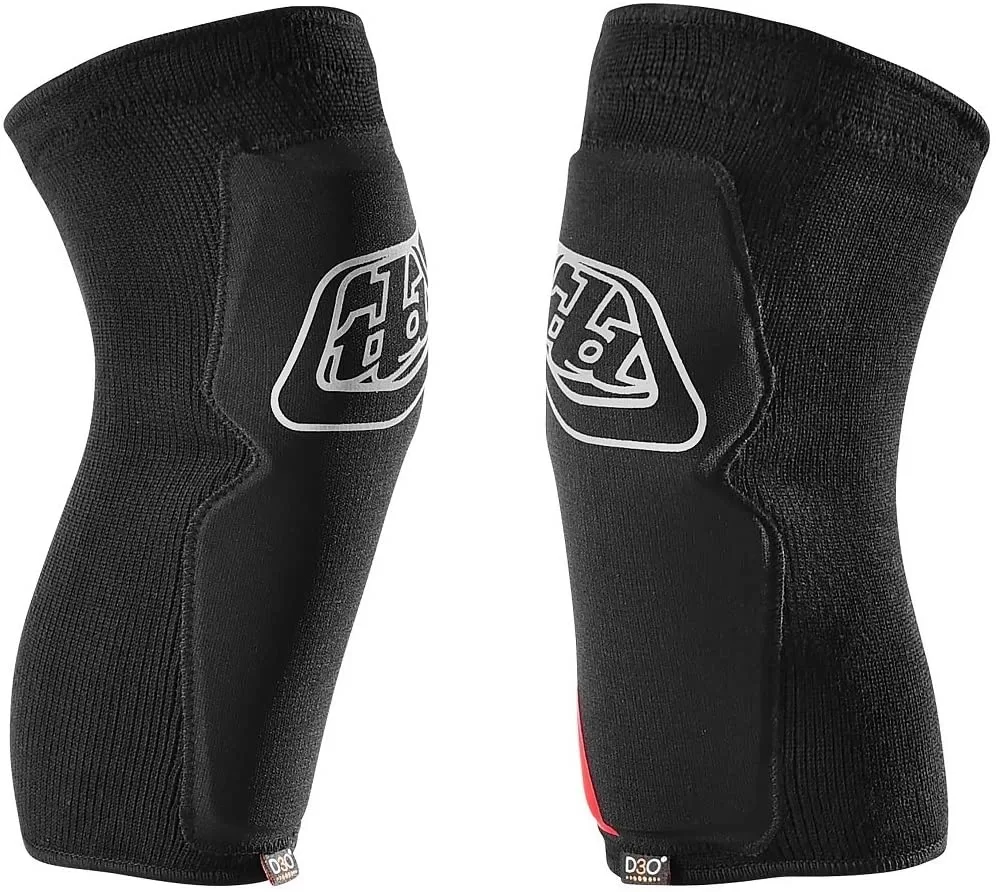 Protection
The Troy Lee Designs knee pad has D30 impact pad covers the front of the knee and the shin. The rest of the knee sleeves are a breathable material meant to help with airflow to keep them comfortable.
D30 foam is interesting in that it stays flexible and conforms to the shape of your knees and legs. When there is an impact, they stiffen and distribute the impact among the entire armor pad so that you take just some pressure vs a sharp damaging impact. The 4mm thick D3o foam cushioning works exceptionally well and all of the best lightweight knee pads use it.
These knee guards are CE certified to the EN 13688:2013 standard so they have been tested and passed the safety impact protection test that is normally for motorcycle leg pads to give you an idea of how well these work.
That being said, the fronts have certified protection, but the sides do not. These are meant to be comfortable with minimal protection, so they are great for enduro and trail rides, but for more dangerous riding I would opt for knee guards that have more protection on both the front and sides.
These are just right for when you really don't want to wear knee pads but you know that it's a smart idea to wear something. They are comfortable and all. However, in the event of a nasty crash these will provide limited protection.
Fit and Use
The TLD Speed Knee Sleeves slip right on easily and are impressively comfortable. They have silicone grippers at the top and bottom that help it stay in position, and it does stay in position very easily. They fit snug but without restricting your movements. The flexible sleeve feels kind of like a big pair of socks when you're riding.
These mountain bike knee pads are light enough and stay cool enough that it's easy to forget you even have them on when riding. They even provide a little support to the knees when riding. The D30 pad conforms to knee and shin shape and has a comfortable feel overall. It offers a good feel and is one reason these are going to be your go-to knee sleeves quite often.
Ventilation
The TLD knee pads breathe very well and are ideal for riding in warm weather. These vent as well as any pads I've seen.
They breath easily due to the minimalist design and let air flow through freely. Many knee pads have thicker padding which increases crash protection at the expense of airflow. The Speed Sleeves have a more minimal and narrow protection pad, and coupled with the fabric breathes very well and keeps them nice and cool.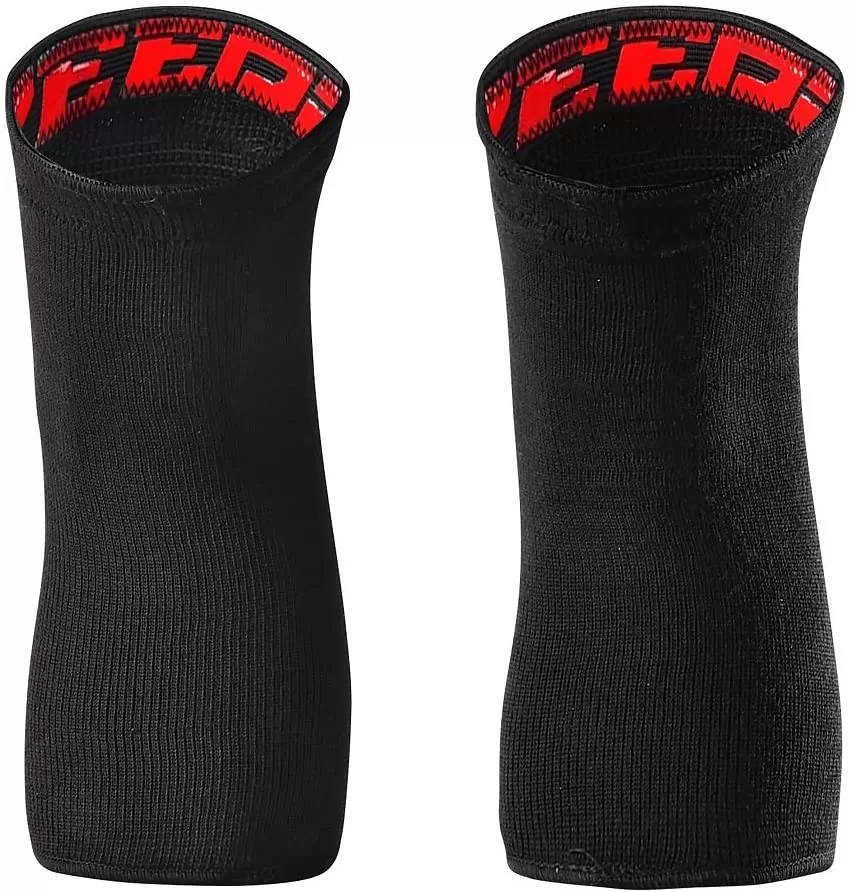 Riding Performance
The Troy Lee Designs Speed Sleeve builds its strong reputation in the riding performance department. Everything about the design of the TLDs helps to give them a natural fit that feels right when pedaling along. The D30 pad is flexible to mold to the shape of the legs, and there is no restriction or feeling like these knee pads are holding you back.
While the mtb knee sleeves are built with quality, they are a bit thin and perhaps even a bit minimalist. They are very lightweight and as such aren't rugged and thick by design. The durability may make it so these can only take so many crashes before they get tattered. However, I should note how many riders have a set for years so they are built to handle normal usage just fine.
Product Value
The Speed Knee Sleeve is a good value overall. They have a price that falls into the budget range, yet they a rather well-engineered lightweight knee pad. They perform well for trail and enduro riding, and they are very comfortable to wear. If you are pushing the borders a bit, you may want to upgrade to a knee pad with higher protection.
Many people have these for several years of usage and they have an excellent reputation and very positive customer reviews among mountain bikers.
There are several reasons why these are popular:
The silicone bands really work well to keep the TLD knee pads in place.
The knee sleeve has no seams to rub against your legs and irriate your skin.
They are lightweight and breathable
4mm D30 foam for impact protection
Oh yea, did I mention they just work and are dependable
Conclusion
These Troy Lee Designs speed sleeves are one of the favorites among mountain bikers for years and these have a reputation for lasting for years and just working well.
While these are really well made and offer amazing protection, I would only use these on normal riding, and switch to something really heavy duty if I was hitting big jumps and such. However, that doesn't happen that often so these are the order of the day for a vast majority of riding.
These just work with no muss and no fuss and are very dependable. Highly recommended.
Best deals