Specifications:
Sizes: S, M, L, XL
Adjustment: Two hook and loop closures
Ventilation: Breathable fabric
Pad Type: Full length, heavy duty
Washable: Hand wash
Recommended Use: All types of trails
Pros
Certified to the highest protection level
Stretch fabric with an adjustment strap
Low profile under clothing
Certified to EN 1621-1, Level 2 standards
Cons
A little more on the expensive side
Best deals
Our Verdict
The POC Joint VPD 2.0 knee pads are the most protective pads POC puts out. They are a little heavy and run a little warm, but they provide high levels of knee and shin protection.
They are comfortable to wear, but a little bulky and you can feel them weighing you down a little when riding, but not uncomfortably so. The VPD padding conforms to your leg and shin shape so they are flexible in that way. These knee pads can easily handle whatever riding you may be doing, whether it's energetic downhill courses or just enduro riding. These will ensure that your knees still work well after a crash.
They are a little more expensive than the average knee pads, but they also provide high levels of protection. If you are doing more dangerous riding or you need to make sure your knees are amply protected, then these knee pads are good for you. If you are just doing enduro riding or something less dangerous than downhill jumps and drops, then the POC Joint VPD Air knee pads on my list of the best lightweight mtb knee pads may work better for you. They are lighter and have better airflox, but still plenty of protection for normal trail riding.
Product Evaluation
The POC Joint VPD 2.0 knee pads provide heavy-duty protection that is good enough for most types of mountain biking. Let's look closer at the different aspects of these knee pads.
Design
The POC Joint VPD 2.0 knee pads provide high levels of protection that is good enough for most types of riding, including downhill courses. They have good amounts of both front and side knee protection.
These knee pads have VPD protection which is a flexible plate that moves with your knee but upon impact stiffens up to provide high levels of protection. In fact, these are certified to the highest level of protection they give knee pads.
They provide lots of protection, but they are more bulky and can feel warmer than many of the lightweight knee pads since they are more dense. So in the summer these might be too hot and might be overboard if you are doing lighter trail riding. If you are hitting the more dangerous jumps and drops and such, then you'll want these to ensure your knees have the most protection possible.
These knee and shin guards are available in many sizes and all feature the black knee pad sleeves with the POC logo on it. POC is known for their durability and these are a great example of that.
Protection
The main features of the Joint VPD 2.0 knee pads are to provide maximum protection, and they do it very well. In fact, these are certified to EN 1621-1 standards which is a standard established for motorcycle pads to give you an idea. So these are great for rides where a crash is fairly likely and you are putting safety over comfort.
That is actually one of the strong points of the 2.0 version. It is knee protection taken to a new level. It covers from above the patella, the knee cap, and the long knee protection covers the shin area as well.
These have the VPD (Visco-elastic Polymer Dough) layer which is soft and will adapt to your leg shape, but will stiffen to absorb the impact on a fall, much the way the D30 Fox Racing layers do. The joint vpd system is a type of material makes the knee pad lighter, but it can aborb quite a large hit, so the strongest knee pads have this type of material.
If you are pushing the borders on your bike, then you'll want knee pads like these to give you the best protection possible.
Fit and Use
When you're talking heavy duty knee pads like the POC VPD 2.0, the discussion quickly goes to fit and comfort out on the trail.
These knee pads slide on as virtually all knee pads do. There are two velcro straps, one on the top and one on the back, to help tighten these to stay in place while riding.
Properly size and using the velcro straps, these stay in place well. They do fit snug and they don't move or restrict movement, but you'll know you have knee pads on due to heavy-duty nature of these. There is not pinching so they are stretching some to accomodate movement.
The plus side is that if you need a knee support, these may be able to cover both bases. Just be sure to measure carefully and choose the right size so that they fit and protect properly.
The one quirk with these pads is that the way the back strap is below the knee, the fabric tends to bunch up above it behind your knee when you are riding which isn't the most comfortable. If there was an opening in that area it might have not hit this issue, but it's not a deal-breaker either.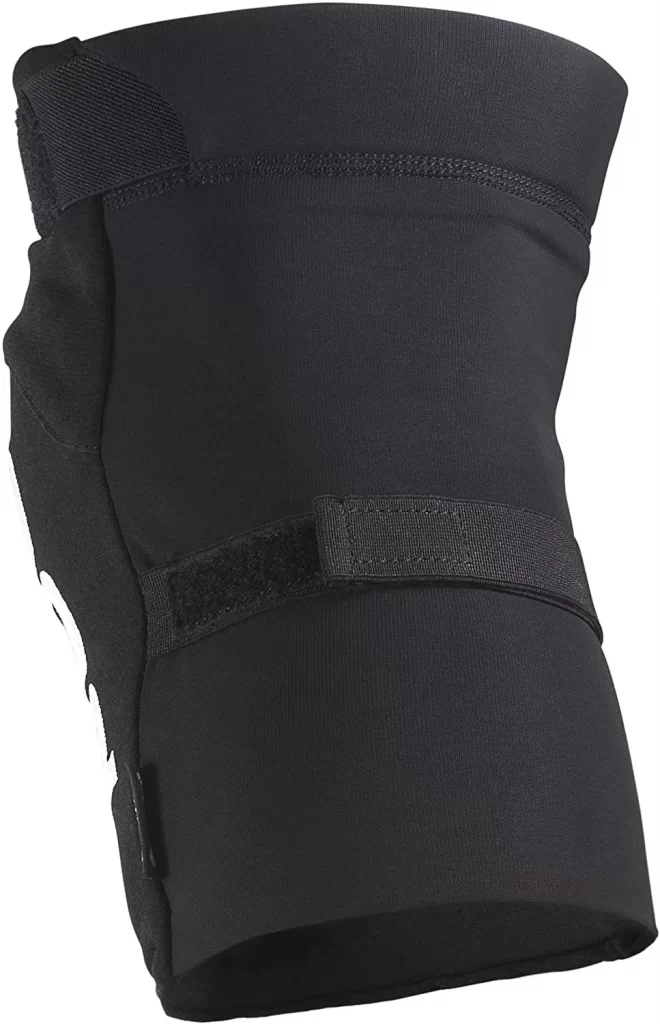 Ventilation
Like many knee pads with higher levels of protection, these POC knee pads sacrifice airflow for density and protection. That is, after all, their main goal.
The fabric does have perforations to to help with air flow and comfort. Like I said above, these will still run warm due to the density and design of these knee pads.
The POC Joint VPD 2.0 is the highest-level of protection the POC offers. It looks much like the POC Air, but this one is more dense so it offers more protection but less air flow. That means that these can run a little warm during the summer months, but in winter they're awesome.
As you can see from the picture above, the fabric on the back does have some air flow, but the large knee guard on the front doesn't allow as much airflow past it. So your legs are going to get a little sweat but no more so than other knee pads of this protection level.
Riding Performance
The POC Joint VPD 2.0 is a well-made knee pad that is comfortable to wear for hours. When sized correctly, they'll stay in position while riding any trails.
The back of the knee pads do tend to bunch up above the middle strap, so it's right behind the knees. Most times it's not a big deal and the knee pad stays in place at the top and bottom just fine.
There is no pinching or restricting of movement while pedaling, and no particular hot spots that occur. For the level of protection they give, they are pretty trouble-free.
Product Value
The Joint VPD 2.0 are a solid set of knee pads that fit well, are fairly slim, and provide high levels of protection. They are a little pricey but they bring a polished design as part of that price.
They fit well either with shorts or under pants so they work with just about anyone who rides, and they are comparable to other knee pads in this range.
They are a good deal and the popularity of these knee pads gives you an idea of how well they are received in the biking industry when you see so many excellent customer reviews.
Conclusion
The POC Joint VPD 2.0 knee pads are some of the best knee pads you can get in this level of protection, quality, and comfort. Overall these are very strong mtb knee pads that are made to absorb the most impact possible as a goal. They do that quite well, so if you are riding big downhill trails or pushing the boundaries and a fall is reasonably expected, these will do a great job of protecting your knees and shins.
If you are looking for new knee pads that cover most riding and give you plenty of protection, definitely include these in your list of knee pads to check out.
Best deals