Specifications:
Sizes: S, M, L, XL
CE Certified: Yes
Adjustment: Hook and loop adjuster
Ventilation: Breathable, moisture-wicking fabric
Pad Type: Full length
Washable: Hand wash
Pros
SmartFlex – Flexible but hardens on impact
High level of impact protection
Well ventilated
Compression-fit
Moisture wicking
Cons
While compression fits without chaffing, straps would have better adjustment
Best deals
Our Verdict
Fox Racing is a leading name in bike safety equipment, and the D30 Knee Guards are a great example of what they are all about. It's well known in the industry as one of the mountain biking knee pads that performs very well.
These Foxing Racing Launch D30 mtb knee pads are meant for enduro, XC, and trail riding. Heck, even most of downhill should be no problem with the level of protection these have.
As you would expect from Fox, these knee pads are comfortable and stay comfortable for hours of riding. The knee protection extends well beyond the knees and it's easy to pedal even with this level of protection.
They're a little more expensive than some of the competition, however these knee pads have better side protection so if you can afford an extra $10 this are worth it if you doing some very active riding.
Product Evaluation
These Fox Racing Launch D30 mtb knee pads have a solid design and when you first look at them they exude quality. Let's look a little deeper at each aspect of these knee pads.
Design
These Fox Racing Launch D30 knee pads are D30 impact material over top of a moisture-wicking mesh sleeve.
The Launch D30 is a comfortable full-length knee pad and the knee protection is among the best we've seen. The protection extends beyond the knee in every direction, along with generous extra side protection.
Even with advanced protection, there is unrestricted freedom of movement and the material does not hinder the normal movement and flex while pedaling. The airflow seems on par with the best mtb knee pads and goes a long way to helping to keep legs cool.
These are a high-quality build and will last you for a few years.
These knee pads are comfortable for all-day riding even in hot weather, and it doesn't get much better than these knee pads.
Protection
The impact protection in the Fox Launch D30 mountain bike knee pads is far beyond the average pads and among the best we've seen. Not only the level of protection, but the placement of the protection and how it protects the knee and shin from nearly every angle.
The D30 inserts that go into the leg sleeve are CE certified which means they have been tested and proven to provide the highest standard of protection.
The D30 insert is lightweight and molds to your leg shape helping it fit like it was custom made for you. It is flexible under normal usage, but stiffens quickly during an impact to absorb the hit and dissipates it with very little being transmitted to your legs or knees. It's very similar to the SmartFlex protection in the G-Form Pro X2 knee pads or the  VPD compound in the POC Joint VPD Air knee pads.
The D30 impact protection covers the knee from virtually every angle. The main pad covers beyond the knee in all directions, and then there are smaller supplemental padding that come around the side so these have far more padding than most of the other knee pads.
This mountain bike knee shin guard go a long way to ensure that if your fit slips off the pedal it won't cause any permanent damage. All knee shin guards should provide that level of protection and these do it with style.
This level of knee protection is suitable for road cycling, XC, enduro, trail riding, and more. This are even suitable for most downhill courses.
Fit and Use
The Fox Racing Launch knee shin guards are a slip-on sleeve that should be sized to match your leg dimensions. Getting the right size is very important to having a knee pad that stays in place while riding. The knee sleeve should fit snug and it has grippers to help keep them in place.
There are also two straps, one at the top and one at the bottom, for adjustment. There are hook and loop straps that allow you to tighten them for a comfortable fit.
One of the really important features you can see in the picture below. The back of the knee is cutout so that there is tons of air flow, and the material won't bunch up during normal pedaling. This is an excellent feature and many of the best knee pads have something similar. That is just one of the features that contributes to these knee pads keeping your legs cool from the high levels of airflow. They are definitely comfortable to wear for extended mountain biking sessions.
The D30 insert is removable, and the rest of the knee guard is washable. The one downside is that the recommendation is to wash these by hand when they need it. It's a little more hassle than throwing them in the washing machine, but at the same time they don't get beat up like they would in the washer.
Just a side note, they make washing bags that are great for throwing gear in before putting them in the washer to help them from getting damaged.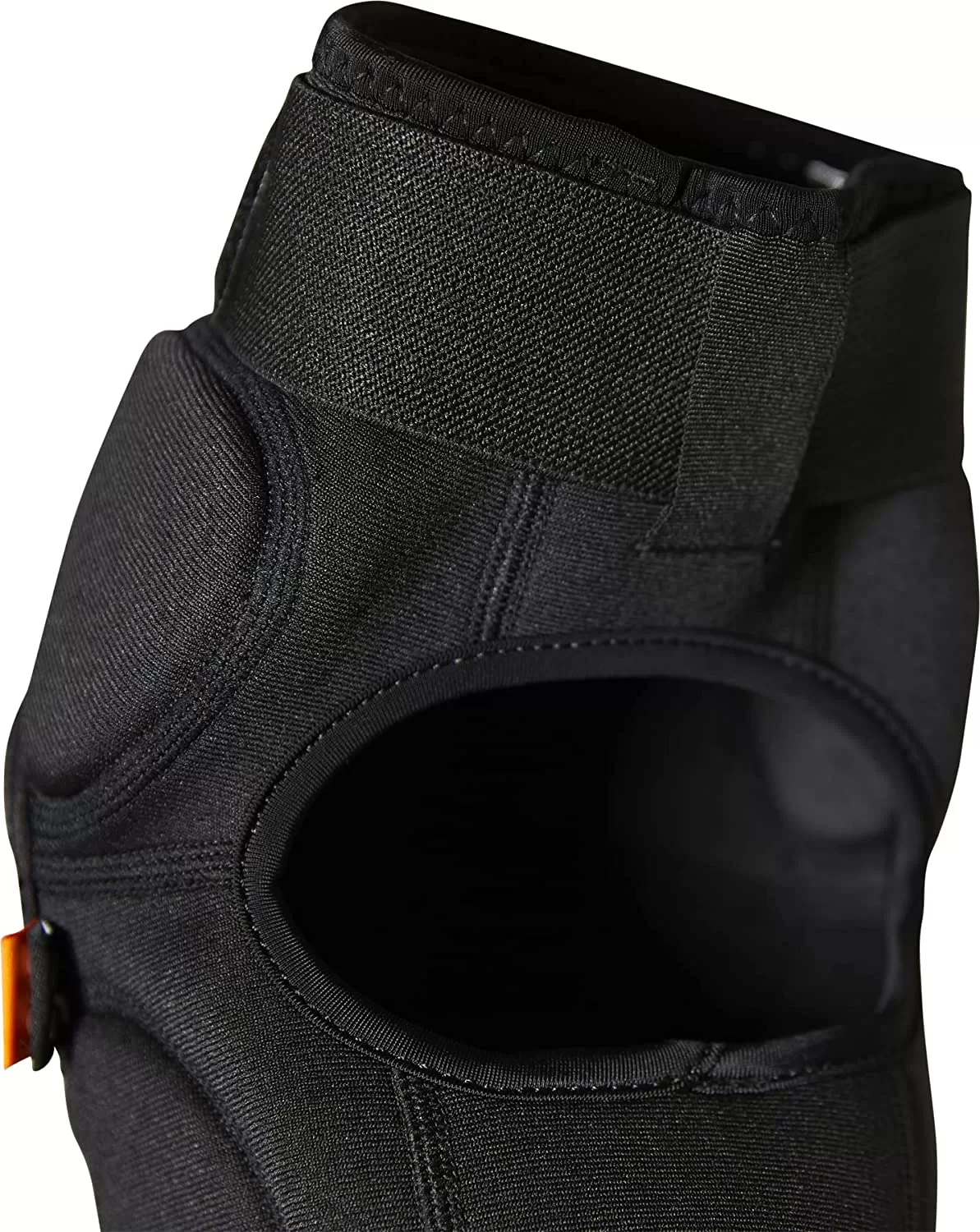 Ventilation
These Fox enduro knee sleeves excel in the ventilation department. They are designed to offer lots of airflow while providing protective knee guards.
The entire knee pad breathes very well and is even moisture-wicking. Legs get sweaty when you're out riding, and these do as good a job as I've ever seen to help airflow and keep your legs cooler.
The sleeve is listed as a moisture-wicking, open mesh design to the perforated neoprene knee sleeve. It results in good airflow and a comfortable ride.
This design is fine for those hot summer rides.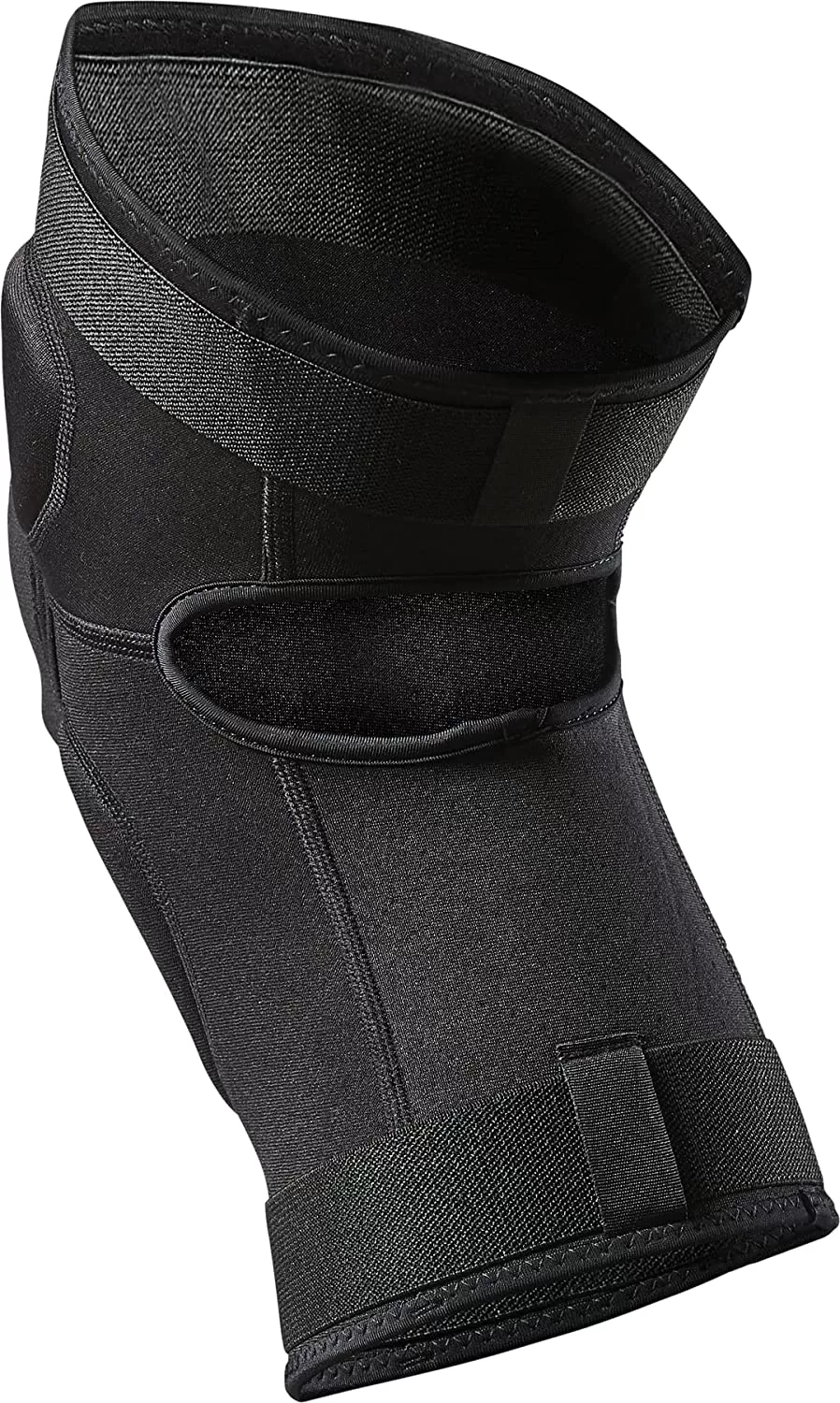 Riding Performance
The Fox Racing Launch Pro knee pads are very comfortable and it's very evident the years of making quality products have lent to making these one of the best mtb knee pads we've seen.
They stay in place well as long as you measure properly per Fox's specs so that the correct size is chosen. Having the right size is very important to a strong performing knee pad. There are additional velcro staps so it's still possible to dial them in a little more to keep them in place.
The knee pad fabric is flexible, and the D30 material is flexible once it warms up a little and actually molds to the shape of your knee. Because of all that, there is plenty of movement inside of these while you are pedaling and no feeling like they are holding you back in any way. These fit well and give you the confidence to tackle the trails head on.
Product Value
These Launch D30 knee pads are an excellent deal. The level of protection is among the best there is, and they are still lightweight and easy to pedal with them on. These are pretty comparable to the G-Form Pro X2 knee pads that are about $10 less but have similar knee protection material. However, I think these Fox Racing knee pads are worth the little bit extra if you can afford it as they come with extra side protection outside of the main knee protection that most knee pads have. In my opinion, it's worth those few extra dollars to get these.
Conclusion
These Fox Racing Launch D30 Knee Guards are one of the best mtb knee pads you can buy and they are well made and durable. They are comfortable to wear in warm weather with their ample airflow, and the knee pad protection is well beyond most other knee pads. They have been CE certified for proven protection and are suitable for use in cycling, enduro, cross country, trail, and even downhill riding. They are also slim and fit well under most pants. They are comfortable to wear and not think about and ensure your knees are protected at all times. It's easy to see why these knee guards have such high customer reviews and are highly popular.
Best deals