Specifications:
Sizes: Small / Medium, Large
Adjustment: None
Ventilation: Breathable polyester-based fabric
Pad Type: Half length
Washable: Hand wash
Recommended Use: XC/Trail Riding
Pros
Under $15
More than 25,000 positive reviews
Flexible high-density foam
Lightweight and doesn't restrict movement
Cons
No velcro adjustment straps
Only fit under pants by design
Best deals
Our Verdict
The Bodyprox Protective knee pads are an excellent choice for knee pads are work well on trails and XC riding. I consider them to among the best knee pads for mtb that are on the market.
These protective knee pads thick sponge goes a long way to absorbing impacts and are one of the best collision avoidance knee sleeve sets I have seen. They are anti slip so they stay in place very well which is a big reason why these have such positive customer reviews.
These knee pads are lightweight and comfortable to wear for hours. It's easy to go riding and forget you even have them on.
The knee protection is provided using Ethylene Vinyl Acetate (EVA) Foam over a polyester sleeve. The sleeve breathes well  to keep your legs cool, and the fabric has enough elasticity to allow plenty freedom of movement without restriction. This is a great budget alternative to the more expensive gel pads on the market.
On top of that, these are some of the lowest priced protective knee pads that are good lightweight knee pads that are enough for trail type riding. If this is the type of riding you do, then these are some very budget-priced knee pads that will work nicely.
As a bonus, these also double as either skateboarding or volleyball knee pads if you are active in more than one sport. In addition to protective padding, these double as a very safe knee brace and effective stabilizers if you've had knee problems in the past.
Product Evaluation
The BodyProx knee pads work very well for their intended application. They are lightweight and comfortable to wear which is about all you can ask of any knee pad. Now let's talk about the details of the different features to really evaluate these knee pads.
Design
One of the things that make these Bodyprox knee pads effective and light goes to the construction materials. They are made of polyester, rubber, and EVA foam. Most of the EVA foam appears to be concentrated in the padding that protect the knees.
The knee sleeve itself is made out of polyester and it allows for ample airflow to help keep legs cool.
Due to their design, these Bodyprox knee pads allow a full range of motion and plenty of freedom in movement. Yet, they still provide a good level of protection.
These knee pads are good for far more than mountain biking.  They are good for virtually all outdoors sports such as skateboarding or dirt bike riding much like the JBM BMX knee pads are. In fact, if you have a child that are into sports such as these, the Mongoose Youth knee pads are amazing.
The Bodyprox pads are unisex design so they are neutral in appearance and are good for both men and women to wear.
Protection
These Bodyprox knee pads have EVA foam as the impact protection material.  EVA foam is very common to use in protective pads such as these knee pads and it has a long history of providing excellent protection while still allowing for plenty of flexibility.
Not even considering how low the price of these are, these knee pads have an ample amount of the EVA foam padding which is plenty for riding enduro, cross country, or trails. The foam padding covers the knee cap and a few inches below the knee cap as these are half length knee pads that are meant to protect the knees only and not the shins. The foam padding extends partially around the sides as well to provide some side impact protection. The knee pads extend up above the patella to provide upper knee protection.
I would likely choose something by Fox Racing or G-Form for big downhill racing because those stumps and stones can really damage a knee if you go down. But for normal riding that you would see in XC or enduro, these are plenty.
Fit and Use
Many times I'm out for a light ride and I'm looking to take a nice comfortable ride. Not any big jumps or drops. However, it's a smart idea to have at least some knee protection so if I fall at least I'll be able to walk around normal the next day.
Those light rides need lightweight knee pads. And these are nice and light. They aren't too thick so they'll fit under a pair of jeans or workout pants with ease.
These knee pads don't have hook and loop (velcro) straps to adjust but they do stay in place well all the same when they're sized correctly. All you have to do is measure the circumference of your thigh 4 inches above your knee. Under 17.5″ get the small/medium. Over it get the large.
One really nice bonus is that you can also use these as a knee compression for knee support.
These really are some of the lightest knee pads so if you don't like wearing new pads, these are light enough to not notice and may be ideal for you. They stay in place fine while riding trails and the air flow through the polyester fabric lets your legs breathe and the sweat to evaporate.
So they are comfortable to wear for all-day riding.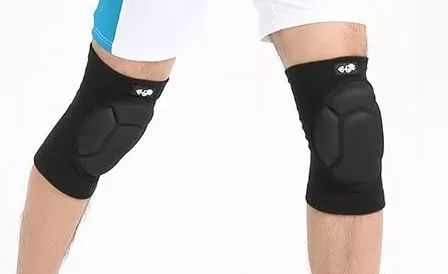 Ventilation
The knee sleeves of these Bodyprox are made out of polyester fabric with the protection padding being made of EVA foam with a rubber backer.
The polyester itself is very lightweight and allows for air to flow through freely. Even on a hot day, legs are no hotter than they would be without knee pads on which is saying something about these. Even after a long run, legs don't feel clammy or overheated.
Riding Performance
The Bodyprox knee pads are comfortable to wear even for hours, likely partially due to the fact that they are so lightweight that you barely even notice them on. They stay cool which also plays into the effortless wearing of them.
The key is to ensure that you size them correctly so that they stay on. There are no velcro straps for extra adjustment, so you'll want them to fit a little snug so that they stay in place while riding around.
The material is flexible, even around the knee cap, so there is no pinching or feeling like there is any restriction on movement. You feel that they're on much like wearing pants, but you still have plenty freedom of movement.
The EVA foam is thick to provide impact protection, and when riding the foam doesn't exactly bend with your legs like some of the newer impact materials, but at this price these are better than I expected.
The material can bunch up just a little on the back of the knee but not overly so. If they had a cutout of material on the back of the knee it would make these a little better, but again at this price it's hard to complain.
Product Value
These are an excellent deal if you are looking for either budget or beginner knee pads. They have EVA foam which is a common impact protection material, and the polyester sleeves is comfortable and breathes well.
Not only that, they are exceptionally low priced for such quality.
When you compare them against other lightweight knee pads or even anything else close to this price range, the Bodyprox are by far a better deal.
Conclusion
The Bodyprox Protective knee pads are excellent budget lightweight knee pads that are perfect when you want support and protection but not bulk restricting your leg movement. They have a proven safety design of using EVA foam for impact protection, and the sleeves breathe well and allow good airflow. They are perfect for trail riding and are good for riders looking for good trail safety gear to start out. Couple that with one of the lowest prices I've seen on good quality knee pads and you have a sure winner.
Best deals