Specifications:
Sizes: Kids
Adjustment: Full adjustment with dual velcro straps on each piece
Ventilation: Breathable polyester-based fabric
Pad Type: Half length
Washable: Hand wash
Recommended Use: Light kids trails
Recommended Ages: 8-14
Pros
Best youth pad set for ages 8-14
Designed by Mongoose
Superior protect for kids
Adjustable straps for the perfect fit
Multi sport protective gear
Cons
None, these are the ideal knee and elbow pads for kids
Best deals
Our Verdict
The Mongoose Youth BMX Knee and Elbow Pad Set is an excellent choice if you have a child getting into mountain biking. This set by Mongoose is the best mtb knee pads for youth you can buy.
Mongoose has been among the very top brands for decades in both bikes and safety equipment. Mongoose put their name behind these youth safety pads and they really are well done. They have gel inserts to absorb the impact much like you see with the better adult pads. They are flexible and allow freedom of movement but the gel will stiffen and absorb much of the impact on a crash. There is a cap made of polypropylene over the gel to provide a hard cover, and the pads are form-fitting with velcro straps to ensure they stay in the proper position for riding.
These knee and elbow pads are ideal protective gear for kids 8 to 14 according to Mongoose, and they are good for more than biking. So if you child also skateboards, uses inline skates, or even rides a scooter, you'll get multiple uses out of these. These really are the best youth-sized knee and elbow pads out there.
Product Evaluation
Picking out knee and elbow pads for kids can be tough. They need to be made well but they definitely need to be the right size to be useful.
The Mongoose BMX knee pad set is one of the best youth safety pad sets we've reviewed. Let's look a little closer at the various aspects of them.
Design
These Mongoose Youth pads are a set that includes knee pads and elbow pads that is sized for youth ages 8 to 14 years old. They are intended to be used on both trails and nice roads, and are great lightweight mtb knee pads to get started with.
Both the knee pads and elbow pads slip on, and they have both have two velcro fasteners to tighten the pads as necessary so they stay in place while riding.
The impact protection is provided by impact gel knee caps over a breathable neoprene sleeve, and that impact gel is covered by a polypropylene knee cap and elbow cap. The cap absorbs the first part of the impact and the gel absorbs the rest.
The durable neoprene fabric in the sleeve is comfortable and breathes well so they are comfortable any time of the year.
Protection
These Mongoose knee pads use an impact gel under a hard shell cap to absorb the impact from a crash. In the picture you can see the impact bike gel which is the orange you can see through the shell. The bike gel is both under the cap, but also comes through it so that it provides protection around the knee cap for side protection. The padding is well designed to provide best protection for kids.
These pads are designed to be used in normal youth activities. For bikes that would be trail riding, riding on dirt roads, things like that. Not so much the big jumps and such which would need more advanced pads than these. For the normal youth riding though these are perfect and protect both knees and elbows well.
They only come in one size (they adjust to fit) and one color (they come in black). That combination should work for just about everyone.
These are also good for other activities children do such as skateboarding and roller skating. So these will work for riding on paved roads, parking lots, and trails, among other things. These are similar to the JBM BMX Bike knee pads in that way.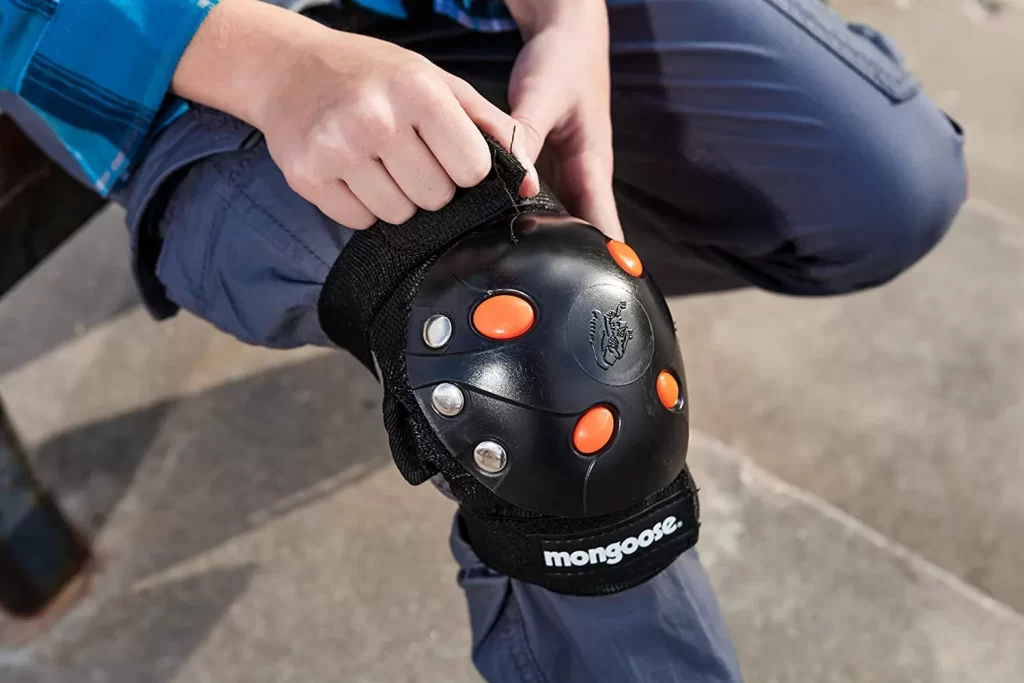 Fit and Use
The Mongoose Youth Bike Knee and Elbow Pads slide right on the legs. They work fine with shorts, and they will slide right over jeans.
They tighten down by using the two velcro straps that are at the top and bottom of the pads. Being that they are one set size when you purchase them, the straps should be tightened to be snug but not overly tight. When they are at the right tightness, they will not move when riding around but they will still allow total freedom of movement. They are designed to be form fitting but still allow movement.
The neoprene fabric sleeves are soft and comfortable and everything you would expect of the Mongoose name.
Ventilation
The base material of these Mongoose bicycle knee elbow pad set is a neoprene fabric that is breathable and allows a fair amount of air to pass through them. The knee cap is made of a type of plastic so the air mainly flows through the sides and the back which is common among knee pads in general. They flow enough air that they are comfortable to wear in all seasons, especially in summer when a child would want to use these outside the most.
Riding Performance
These Mongoose pads are made of a comfortable and soft material and are perfect for kids riding around all day with them on. There is one size, and the velcro straps are there to tighten it so if fits your child perfectly. When they are comfortably snug, they will stay in place for riding while still allowing plenty freedom of movement for those energetic days.
These pads are meant to be used on other sports equipment besides bikes so they are meant to handle scrapes against pavement, getting dirty, and more while still holding up strong. These are very well made and from one of the top names in the industry and they are an excellent choice.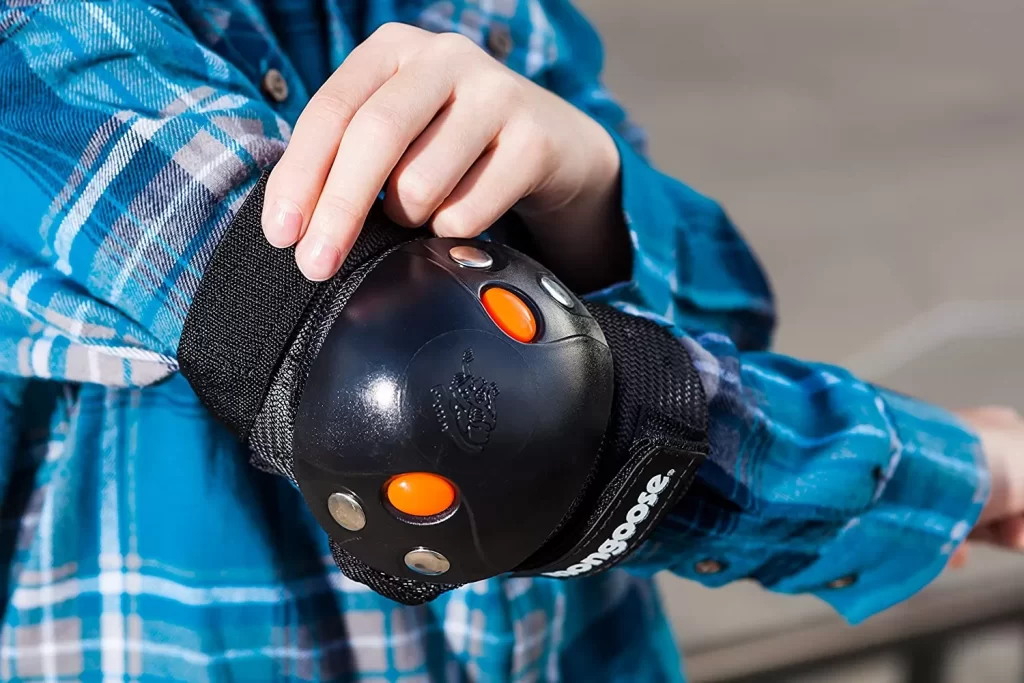 Product Value
If you're like me, when you're buying safety equipment for your kid, you're looking for the best possible. That's these. This set by Mongoose is the best biccyle knee pads for youth you can buy.
They are made for children ages 8 to 14 years old. They are great for biking, but they can work just as well for using while riding a scooter, skateboarding, or roller skating.
Not only are these the best knee pads for youth, but they cheap to buy as well, so they are an excellent deal and highly recommended both by me but also the tons of positive online reviews.
When you need to step up to more protection for more exciting sports, the Kali Protective Strike knee pads are an excellent option.
Conclusion
Mongoose decided to make their own knee and elbow pad set. Mongoose has been making some of the best bike-related products for more than 50 years so they have the experience and the household name to make it happen. So they did.
So if you need to get a set of knee pads, elbow pads, or both for you children so they can play and learn safely, these are perfect and they're from a well-known brand, Mongoose, so you know they are of the highest quality.
These Mongoose Youth BMX pads are an excellent deal and a superb set of safety pads so your child can play safely. They are multi sport usable so they work for biking, skateboarding, scooters, and more.
Best deals