Specifications:
Sizes: Adult, Child, Youth
Adjustment: Hook and loop strap
Ventilation: Breathable fabric
Pad Type: Half length
Washable: Hand wash
Recommended Use: XC/Trail Riding
Pros
Comes with knee pads, elbow pads, and wrist guards
Economical beginner purchase
Lightweight
Cons
Different sizes (at least small and large) would be useful
Best deals
Our Verdict
The JBM BMX bike knee pads set is a great starter set that includes lightweight knee pads, elbow pads, and wrist guards. They are made for more casual trail riding and provide good protection for basic safety equipment. The impact protection is PE (polyethylene) materials which is basically foam padding.
These knee pads and set are a great economical set of pads that provide basic protection and are a great option for those looking to get a budget set of lightweight knee and elbow pads, or those who do light riding and just want basic protection.
With this package, you are getting knee pads, elbow pads, and even wrist guards. All for under $40. This is a great deal whether they are adult or kids knee pads
Not only are these on my recommended list for XC knee pads, these also made my list of the best mtb knee pads which are hand-picked by us after evaluating their price, protective ability, and overall quality.
Product Evaluation
Lightweight knee pads are perfect when you are going for a nice trail ride and it's not likely to fall, then the lightweight safety equipment is perfect. let's look at how the JBM BMX knee pads are built and how well they perform for your ride.
Design
The JBM BMX knee pads are a half length pad so it covers just your knees or elbows. The padding is a medium-weight polyethylene (PE) material that is very similar to Ethylene Vinyl Acetate (EVA) foam used in many knee pads. PE material is cheaper than EVA material so it's a little more common on budget knee pads. Both are plenty for knee pads used for fairly normal trail riding.
The JBM's have a knee cap over the PE foam that is made of Polyproplene (PP) that is common for knee and elbow pads. PP is pretty common for the outer cap on lightweight knee pads and it does a great job of taking the blunt hit in a crash.
These knee pads are a slide-on sleeve that has adjustable straps at the top and bottom so that they can be tightened as necessary to keep them in place. They are one size fits all so it's likely you'll have to use the velcro strap to dial it in, but at the same time they're easy to slip on.
This is a package set so you get the knee pads, elbow pads, and even wrist guards all within that same price for an adult. It's even cheaper for the child version of the safety pads.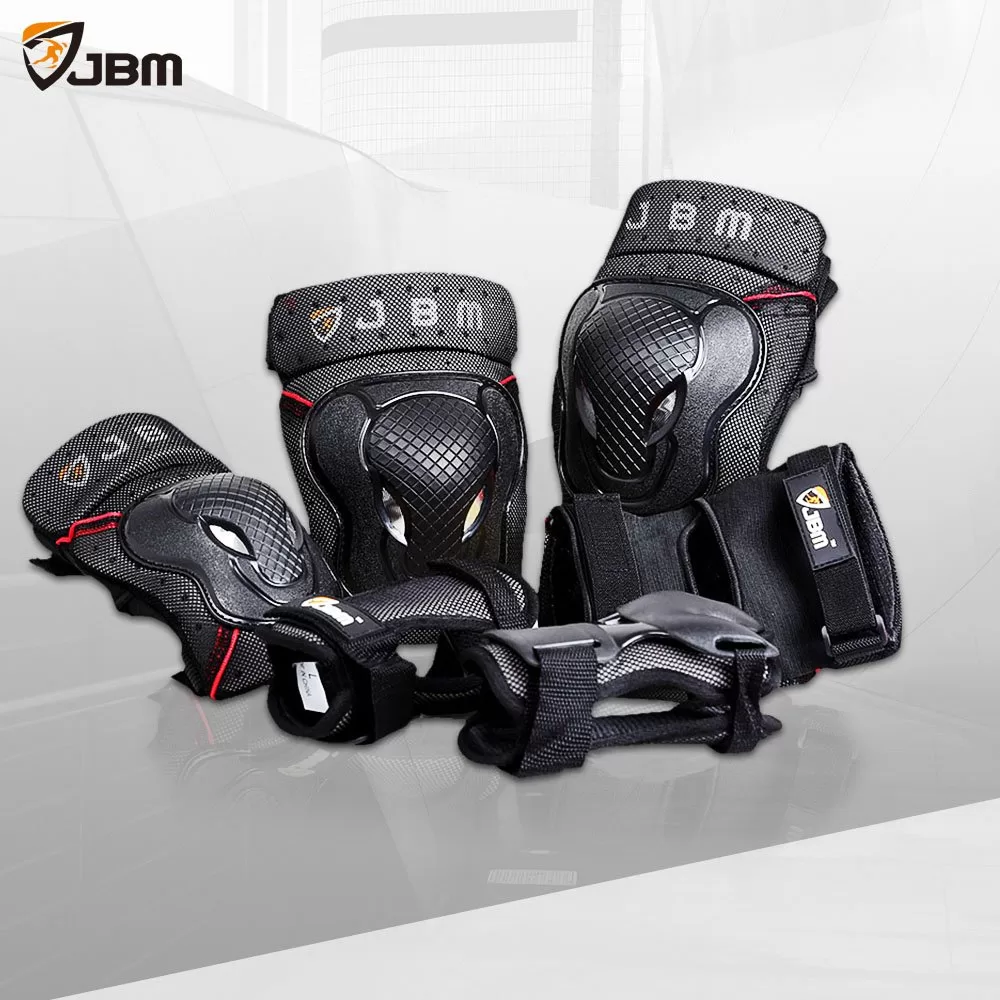 Protection
The JBM bike knee and elbow pads are impact resistant, made of durable PP over top of PE foam to form a strong but lightweight knee protection. They provide plenty of protection for your normal trail riding and especially for people new to the sport and looking to get reasonably-priced safety gear that works well.
Protection of this level would not be recommended for more extreme riding like downhill, but the average rider should be sufficient. They are protective gear designed for newer riders.
When you're ready to take on those big jump and drops, there are knee pads like the Fox Racing Launch D30 knee pads or POC Joint VPD Air knee pads are an excellent upgrade.
Fit and Use
The JBM BMX biking knee elbow pad set are comfortable to wear and they are lightweight. They are designed to be used for many sports such as rollerblading and skateboarding to give you an idea of what these are.
The backs of the knee pads are open to allow easier leg movement as well as allowing more ventilation.
The knee pads are flexible and allow plenty freedom of movement. The PP caps on the pads forces the pads to be slightly bent so that there is some pressure if you are just standing straight up but not enough to sway my opinion on these either way.
Ventilation
These JBM knee elbow pads set is made of a breathable polyester sleeve that lets plenty of air through the back, sides, and the front where there isn't the knee cap.
The back of the knee an elbow pads are open in the middle where the material would bunch if you squatted all the way down. By having them open, more air flows, but it also allows easier movement.
Riding Performance
These knee pads are lightweight and really allow you move freely without restriction. There is no feeling of bunching up or restriction. They don't feel at all like they are weighing things down.
They also keep relatively cool with the airflow and I would say fall into the upper third of knee pads as far as air flow. You can wear them in warm weather and be just fine.
The PE foam is flexible and allows for easy movement. They are about as comfortable as you are going to get when you are wearing knee pads.
Product Value
The JBM BMX knee pads are a good overall deal for a set of lightweight pads and for the price are one of the best deals. They stay cool and help your legs to not overheat while you are sweating up a storm. They appear to be well made and I expect they will be durable over time as long as they are washed carefully and not damaged in the washing machine. Either use the delicate cycle or a laundry bag to wash them, or even just hand wash them as necessary.
Overall these are a great deal for a pair of budget knee pads and elbow pads and they are highly rated by others as well looking at customer reviews online.
Conclusion
These JBM pads are well-made to protect your knees and elbows. They are light, they stay cool, and they are comfortable to wear. These are fine for light riding and for beginners. These are great to get for kids when they are learning to ride a bike. They are on the beginner / budget side of things but they are great for getting started.
So if you're looking to save a few bucks getting started after spending a bit on the bike, or you have a child learning to ride, these are a great way to get started with a solid set of safety gear for a cheap price. But best of all they do have great padding so they are an excellent starter set.
Best deals