Specifications:
Sizes: S, L, XL
Adjustment: None, compression fit with silicone grippers
Ventilation: Ventilated Neoprene
Pad Type: Full length
Washable: Hand wash
Recommended Use: XC/Trail Riding/Downhill
Pros
Fit under any pants if desired
Breathable
Kevlar-reinforced knee cap covers
Ultralight
Cons
No velcro adjustment straps
Only fit under pants by design
Best deals
Our Verdict
The Demon Enduro MTB Knee Pads are a serious knee pad for serious riders. These knee pads are enough for even the most active trail with its thick layers of padding and easily compares to the best knee pads out there for sale.
These knee pads are comfortable to wear on long rides and work well for most types of riding. They are geared towards enduro and trail riding mostly since they fall into the lightweight mtb knee pad category.
The Demon Enduro knee sleeves are made from ventilated neoprene that has silicone grippers to keep them in place which works very well. Impact protection is done using Ethylene Vinyl Acetate (EVA) Foam over a kevlar knee cap covering. This two layer impact protection works well yet is still lightweight.
These are great for enduro and trail riders out there and the budget price puts this well within everyone's budget.
Product Evaluation
These knee pads from Demon United work very well for their intended application, which is for enduro, XC, and trail riding mostly. They are comfortable and light to wear and overall are a good quality knee pad. Now for the details on the different aspects of these knee pads.
Design
The Demon Enduro knee pads are lightweight and comfortable. They are great knee pads have plenty of flexibility for trail riding.
The fabric is a type of ventilated neoprene that has silicone bands at both the top and bottom. They slide on and then the bands keep them from sliding while you are pedaling. They allow about as much airflow as many others made from similar neoprene. However, some have a material on the back that is a little more mesh like or even partially open that breathe even better.
These are full length knee pads that provide both knee and shin protection with EVA foam padding with a kevlar cap for specific knee protection. They have a slim fit so they will fit beneath most pants with ease. They are flexible enough that they allow total freedom of movement.
Protection
The padding itself on the new Demon Enduro MTB knee shin pads is a 10MM EVA foam cushion with a kevlar knee cap. Something like this can take a pretty good impact and protect your legs well. EVA foam is a proven form of impact protection on pads traditionally and it does an excellent job.
The foam padding covers from just above the knee to just below it and some of the shin. Because the padding is wide, it wraps around to cover the sides of the knee to give additional side protection. If needed, these can handle protecting your knees in just about any riding from XC to downhill trails. They provide what I might even classify as hyper protection.
EVA foam is sturdy and gives reliable protection that is suitable for most enduro and trail riding. It can work for downhill as well, although if you are doing more extreme downhill with large jumps and drops, I'd consider a move heavy-duty knee pad like the Fox Launch D30 knee pads or G-Form Pro X2 knee pads that has even more padding or even D30 or VPD padding that is flexible but stiffens to allow even higher levels of protection.
Looking at the protection-to-weight comparisons, EVA foam like these are very cost-effective protection and if money is a consideration, these will do the job very nicely for less money.
Fit and Use
The Demon Enduro pads slide on like typical knee sleeves. They should be fairly snug, so it's very important to measure carefully to order the correct size. The silicone bands at the top and bottom are the only beyond a snug fit that holds them in place. The Demon knee pads run a little small so you'll likely go slightly larger if it's close to the top end of the measurement using their chart.
Sized correctly, the knee pads stay in place well for the duration of multi-hour rides. They are comfortable to wear with no noticeable seams irritating skin, and the neoprene is comfortable enough to wear and not really think about it.
The neoprene sleeves are ventilated so the knee pads stay cool for those long rides.
These are designed to fit under pants or shorts so they are fairly slim for lightweight knee pads. They fall about middle of the average, with some like the POC Joint VPD Air knee pads coming in a little thinner.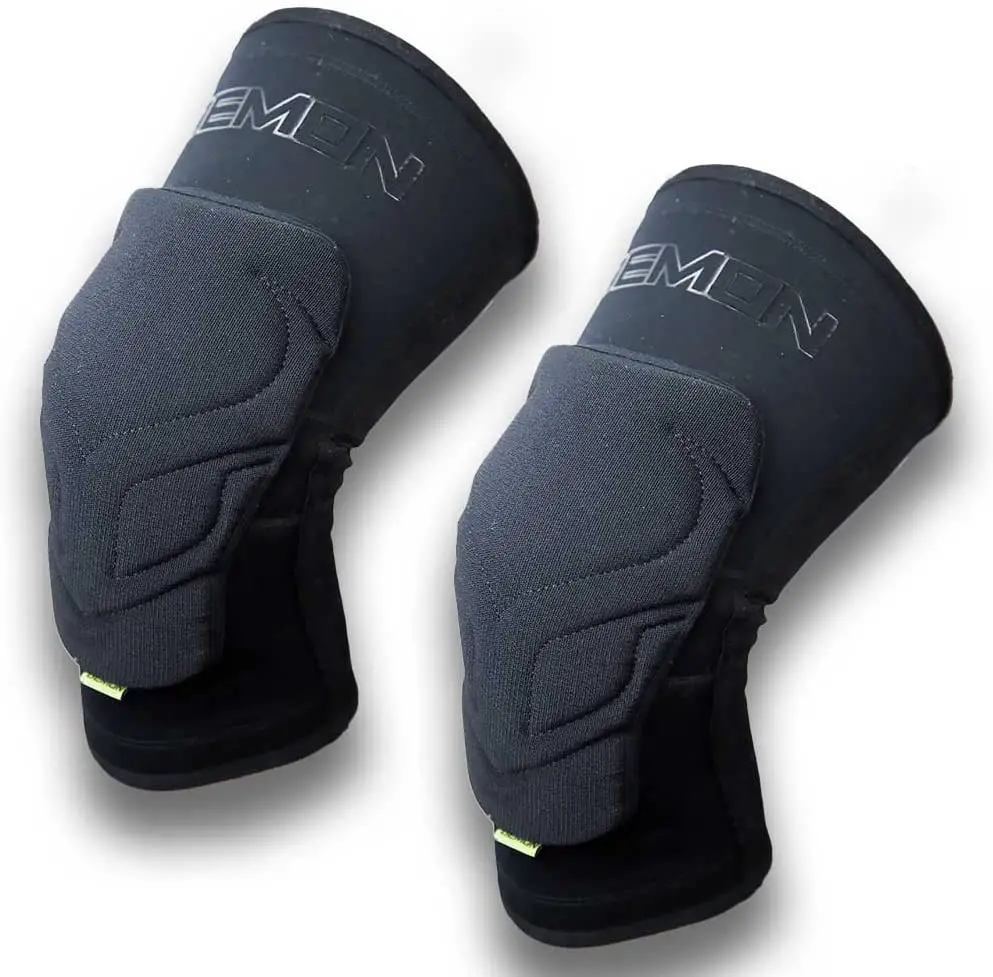 Ventilation
The knee sleeves of the Demon Enduro mountain bike pads are made of ventilated neoprene that is light and allows air to move through freely. The airflow is enough that these are good for any time of year, whether it's cold out or in the sweltering heat.
The only part that won't flow air quite as much is under the EVA foam as the padding is nearly 1/2 inch thick. However, air flows enough through the rest that it is hardly noticeable and is actually quite common among knee pads.
Riding Performance
The Demon Enduro mountain bike knee pads are very comfortable to wear for long riding sessions or for all-day riding. The sleeve fabric breathes well and helps keep knee temperature at a good level.
They stay in place well through the ride, though it should be noted that it is very important to get the correct sizing on these so that they fit snug and stay in place. There are no velcro staps but they seem to work and stay put regardless.
The biking knee pads are flexible and there is no pinching on pulling and there is plenty freedom of movement. The sleeve material is flexible and stretches and overall gives the feeling of a good snug knee sleeve that you forget you are wearing after a few minutes of riding.
Product Value
The Demon Enduro MTB knee pads are an excellent deal for mountain biking knee pads. Whether newer or a seasoned expert, the EVA foam-based protection complete with a kevlar cap provide more protection than many of the lighter knee pads and far more than most in this price range.
These mountain bike knee pads are very popular and have high ratings online in customer reviews. The specs on the 10mm protection is impressive and these are meant for some serious protection.
These are a recommended knee pad if you doing enduro, cross-country, or trail riding and want to be sure your knees stay protected. I consider these among the best mountain bike knee pads on the market.
Conclusion
Overall, the Demon Enduro MTB Knee Pads are an excellent knee pad, one of the best we've reviewed in fact. They are a simple yet effective design using tradition EVA foam as the main form of impact protection. They go on easy, and they are comfortable to wear for long rides. The kevlar knee cap cover is a real bonus as it provides a very high level of direct protection against things such as rocks.
These are perfect for sports such as enduro, XC, and trail rides as well as on-road riding. The price is well within the budget realm although the bike knee pads themselves are comparable to knee pads far above their price level.
Best deals