Why Wear Cycling Glasses?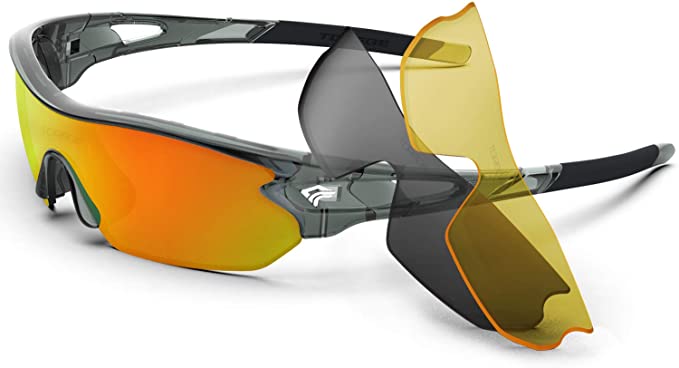 Cycling glasses protect your eyes from UV rays that can cause cataracts or harm the retina. They also provide eye protection against dust and debris.
Cycling glasses come in many different styles and colors to suit your taste. You should wear cycling glasses if you are cycling to protect yourself from the sun, wind, rain or snow as well as other elements that may affect your vision while cycling.
Plain and simple, sunglasses protect eyes. You should wear cycling glasses to protect your eyes from damage from UV, wind, dust, debris, bugs, and much more.
What Is The Purpose Of Cycling Glasses?
Reading this, you might wonder why do you need cycling glasses instead of wearing your regular sunglasses. Fair question.
Cycling glasses are usually thicker and have a wider frame than regular glasses. The lenses of cycling glasses also protect your eyes from the wind and debris that you might encounter while cycling because they tend to follow the contours of your face more closely.
These glasses are used for both safety and style purposes. They are designed to be durable, which is why they are made to withstand the constant movement on a bike and stay in place. Cycling glasses also provide protection from UV rays, dust, dirt, and other debris that could get in your eyes.
Last but certainly not least, polarized cycling sunglasses are very effective against that sudden sun glare you get off of windshields and puddles.
As you can see, getting a pair of cycling glasses is a great idea and heavily recommended.
Are cycling glasses necessary? No, but it is highly recommended because glasses protect eyes and protecting your eyes is a smart idea.
Can You Wear Cycling Glasses In The Winter?
Cycling eyewear is not just for the summer. In fact, they work great in the winter. The same protection from wind, dust, debris and bugs that you need in the summer is necessary in the winter too.
Even during cold days, the UV is still high so you need the same protection regardless of the temperature.
Can You Wear Cycling Glasses At Night?
Yes, you can and should wear cycling glasses when riding at night. The lenses on these glasses are clear or yellow, which help to protect your eyes from the glare of headlights on the road and allow you to see better in the dark.
While most people think of cycling glasses as being used during the day, they are just as important for riding at night.
At night you have the same wind, dust, debris, and bugs that you do during the day. In fact, at night you are less likely to see a branch before it hits you.
Polarized lenses are also great at night because they help with the sharp glare from headlights if you are cycling near the road.
What Types Of Cycling Glasses Are There?
There are three main types of cycling glasses:
Half-rim glasses that protect just the eyes
Full-rim glasses that cover the nose and eyes
Cycling goggles that cover the eyes, nose, and mouth
Half-rim glasses offer the least protection because they only protect your eye area. This is why it is important to wear a helmet when cycling.
Full-rim glasses offer more protection because they protect both your eye area and your nose and mouth area.
Cycling goggles offer even more protection because they also protect your ears, forehead, cheeks, chin, and neck areas.
If you wear a prescription or contact lens, you can even get prescription cycling glasses. Most manufacturers like Oakley can make you lenses for the sunglasses that match your prescription and look like the other lenses.
While most glasses are unisex, there are some cycling glasses women or men can wear that are more tailored. However, there is not often the need for function but more for style.
How To Choose The Best Cycling Glasses For Your Needs
Choosing the right cycling glasses is not an easy task, but protecting eyes is one of the most important reasons why cyclists wear safety gear. There are so many options to choose from, and it's hard to know which one is best for you.
Fortunately, we have compiled a list of great deals on cycling glasses to help out. We have also given you some information about how to choose the right pair for your needs.
If you're on a budget, we have some great recommendations for buying cheap cycling glasses that are low on price and high on features.