A Complete Buyer's Guide to the Best Fat Bikes Under $1000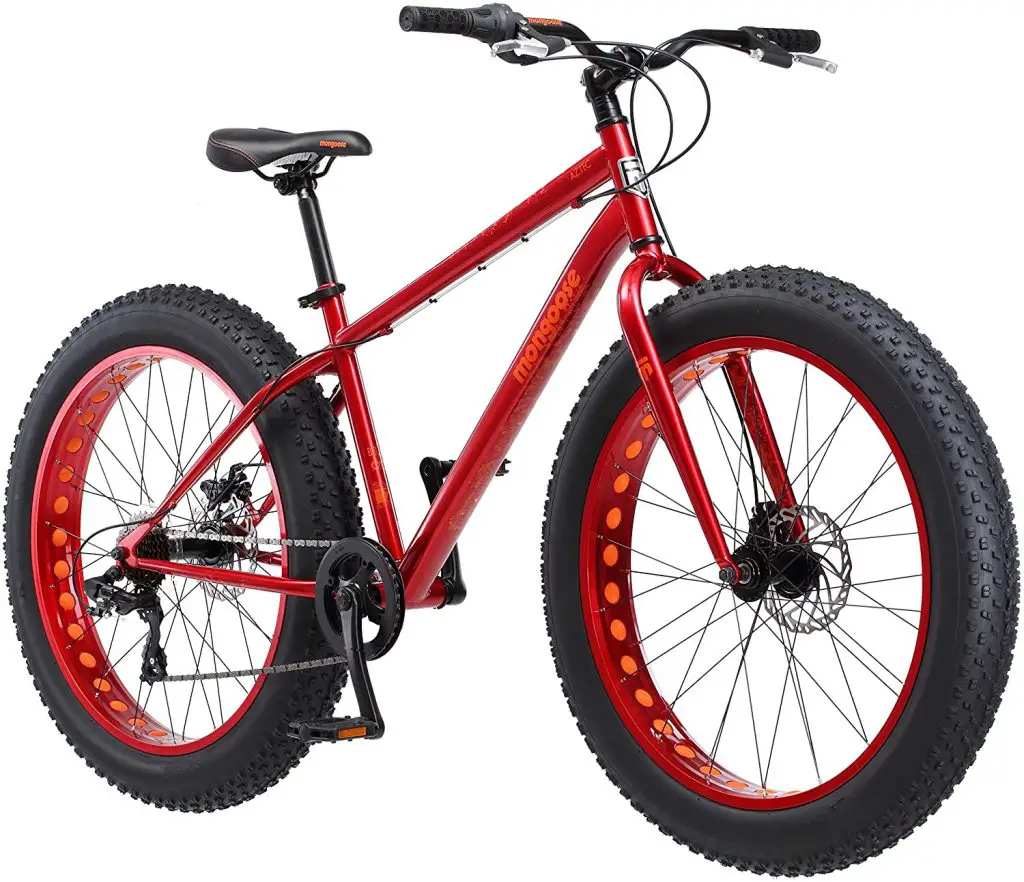 When you're looking to buy a fat bike for under $1000, there are 3 main qualities that you want to look at – price, function, and durability.  There are a lot of bikes that fit these in varying levels, but the whole idea is to get the best cheap fat bike while staying under a price of $1000.
Getting a good deal on these bikes can be tough, so I put together a list of the best fat bikes for under $1000 so you can get the most for your money.  These bikes provide you with amazing function and durability and give you the best budget deals.
I've compared more bikes than I can count and I've checked inventory, and these bikes are in stock ready to ship right now.  My favorite is the Mongoose Aztec because it is the most advanced bike of the bunch and still a bit under $1000.
For those in a hurry, here's my top list of fat tire bikes that you can buy right now.
There are many reasons to buy a fat bike, and I put together an article with the 12 top reasons to buy a fat bike for your reading. If you're looking to limit your budget to fat bikes under $500, I have an article there as well.
The Best Fat Bikes Under $1000
Without further ado, here are my top 5 fat tire bike picks under $1000.
Mongoose is a name that has been synonymous with bikes for nearly 45 years.  Growing up, you were special if you could afford a Mongoose.  So it's no surprise that I consider them a superior manufacturer of fat bikes.  What's better is they give you a fair price for a very well-engineered bike.
The Mongoose Aztec is my absolute top pick for fat bikes.  This fat bike is manufactured with high-quality components and is built to last.
Frame
This bike comes with a state-of-the-art all-steel frame that is extremely durable and will last as long as you own the bike.
Drivetrain
One of the strongest features of this bike are the twist shifters that let you change between the 7 gears smooth as silk.
It also has SRAM X4 trigger shifters that are well-known for their durability.  Expect any quality bike you buy to have SRAM shifters.  It also has a Shimano front derailleur and a SRAM  X4 rear derailleur.  Both of these have a reputation for working smoothly and being very durable.
This is the quality drivetrain that I have come to expect from Mongoose and this bike is a shining example of what they can achieve.
Braking System
The brake system has dual mechanical disc brakes that bring the bike to a quick stop.  These disc brakes are in the hub of the wheels which means they are far less affected by mud and snow than the old-style rim brakes.  Disc brakes are standard on high-quality bikes.
Wheels and Tires
This model comes with 4 inch wide tires.  90% of the fat bikes have 4-inch tires so this is pretty standard.  The tires have a good knob layout so they'll get traction easy.
Who is this Best Best For?
This bike is recommended for riders anywhere between 4.5 feet and 6 feet 2 inches tall.  Many people 5 foot high had no issue with it, and many taller people it worked well for.  It is meant for either men or women.
Summary
So as you can see, the Mongoose Aztec is a superior bike.  The great thing is that it's a unisex bike so it works for everybody.
With the rigid front forks, the one I might consider after purchase is buying a comfortable seat cover for a few bucks to make the ride even smoother.  Many of these are memory foam or gel which works wonders for making the ride smoother and more enjoyable.  If you pick one of the bikes that has a full suspension fork in the front, then it's going to be an extra smooth ride.
The Mongoose Malus is a venerable mountain bike that can is heavy duty and can handle anything you come across.  The Malus is equipped with a lot of features that make this among the best mountain bikes you can buy and it is one of Mongoose's latest fat bike designs.
Frame
The Malus comes with a 17″ inch steel frame that is as strong as they come.  It is a few pounds heavier than the aluminum frames, however the tires are a little lighter than most steel frame fat bikes so it helps to offset the weight.  This bike is easier to pedal than most other steel-framed bikes.
Drivetrain
This bike has 7 speeds to handle mountain trails with ease.  What's really nice is that it has twist shifters which make it easy to shift gears without taking your hands off the handlebars.  It has a high-quality Shimano rear derailleur and is decked out with the top equipment like all Mongoose bikes.
Braking System
With both front and rear disc brakes, this is a fat bike meant to stop on a dime.  Disc brakes are what you put on a well-made bike because they are very dependable and unaffected by the mud and terrain you ride through.
Wheels and Tires
This bike has the standard 4-inch wide mountain bike tires and 26-inch wheels.
Who is this Best Best For?
This bike fits riders 5'6″ – 6'0″ optimally but it can fit outside of that range without issues.  If you're more like 5 foot tall the Vinson above may work a little better.  While it can be used by anybody, it is usually favored by male riders due to the appearance.
Summary
The Mongoose Malus is truly a great balance of an easy-to-use steel-frame bike that can handle virtually all riders of all sizes.  It comes completely assembled which is a bit of a bonus fora bike that is shipped in.
The Mongoose Dolomite is a steel-frame fat bike very similar to the Mongoose Malus.  The Malus was actually built off of the Dolomite which is why it's so similar.
Frame
The Dolomite has a high-tensile steel frame that is very rugged and durable.  These frames can last for years and withstand virtually any rider.
Drivetrain
This fat bike comes with 7 speeds so it is adjustable to match most riding you'll do.  The twist shifters make it easy and smooth to shift gears while tackling terrain which is worth its weight in gold.  It has the standard SRAM and Shimano equipment that is well proven.
Braking System
This bike has disc brakes on both the front and rear wheels.  Disc brakes are the best option because you can ride through mud, snow, and more and the disc brakes are unaffected as they're on the hub.  This makes these brakes very dependable.
Wheels and Tires
The tires on this bike are second to none.  It has 4-inch wide fat tires that can get traction on most surfaces mounted onto sturdy 26 inch wheels.
Who is this Best Best For?
The suggested rider height of 5'6″ to 6'0″ is fairly standard for most fat bikes.  It can actually accommodate heights outside of the range and with the steel bike rider weight isn't a big factor.
Summary
So if the Dolomite is very much like the Malus, why do I suggest it?  For one, both of them have a great design which is just that good.  For two, sometimes you can get a good deal on either the Malus or the Dolomite, and if one is notably cheaper get that one.  If they're the same, I'd go with the Malus first.
This Nakto fat bike is really unique as it's an electric fat bike.  Comparatively, electric fat bikes are newer than the standard mountain bike, and this one is cutting edge.
Why do you want an electric fat bike?  Electric bikes can either propel the bike entirely on its own, or it can act to add extra power to your biking.  It's this second feature that is amazing.
When you're biking through terrain such as snow or sand, having the fat bike tires make it easier to pedal and stay above the terrain and not sink down.  So the fat tires make it easier to bike.  Now add in an electric motor and battery and it adds an extra 10-15% of power to your pedaling, making it even easier to pedal through unstable terrain.
Frame
The Nakto has a high-strength carbon steel frame for both strength and a much lighter bike.  This is especially important with an electric fat bike.  The front fork is made of carbon steel and is a full suspension fork (many fat bikes have a rigid front fork with no suspension).  Just an added bonus of this manufacturer.
Drivetrain
This bike has a Shimano 6-speed rear derailleur so it's made with the right parts.
Braking System
Wheels and Tires
The Nakto comes with huge 4-inch wide fat tires that power through terrain like all other fat bikes.
Who is this Best Best For?
The bike works best for riders in the 5-foot to 6-foot range like most other bikes.
What Makes this Electric bike better than many other fat bikes?
What makes this bike different is that it's a well-made electric fat bike onto top of a capable normal bike.  It means you have lots of options open to you as a rider.
On the battery, this bike can reach 35-40 miles.  In assistance mode, the electric motor can reach 40-50 miles.  That's a pretty powerful 300-watt electric mower.  What's even better is it only takes 3 to 4 hours to fully charge the battery.  The icing on the cake is it has a built-in headlight that projects over 5 meters.
It has a 36V10ah battery which is a 36-volt battery that can provide 10ah of current to power the motor.  It is also a lithium battery which means once you charge it, it will hold the charge until you use and not naturally deplete that quickly.  This is a strong battery that will take many recharges.
Because it's electric, it has to have electrical certifications as well.  It passes all of the usual certifications: CE, EN15194, TUV, EMC, RoHS, and EPAC certifications.
Being that this is an electric bike, it has 3 different modes:
Full electric mode for speed without pedaling
Electric pedal assist mode where it adds to the power you already are putting to the ground
Pure pedal mode where the electric motor is turned off
Summary
As you can see, the Nakto electric fat bike is very capable as both a regular fat bike and as an electric bike.  One of the key features to look at on an electric bike is how long does the battery hold up, how much does it help, and how long does it take to recharge.  On all of those, the Nakto comes out on top which is why it made it into my top 5 recommendations.
The Homlpope fat bike is a really underrated bike.  When you dig deeper, this bike has quite a lot of value and the equivalent bike in a Mongoose could easily be double the price or more.  Look at the features of this bike:
Frame
The Homlpope comes with an all-aluminum frame which comes in at more than 10 pounds lighter than most steel frames.  A nice little premium option.
Drivetrain
This monster bike comes with 21 speeds to adjust to any riding style and terrain.  It has name-brand components such as Shimano which have been proven on the trails for years.
Braking System
The bike has powerful front and rear disc brakes that are hub-mounted so they are unaffected by terrain such as mud and snow.
Wheels and Tires
This bike comes with capable 4 inch wide tires that can rip through any terrain mounted on tall 26 inch wheels.  With tires like this, getting through snow, sand, and mud is a breeze.
Who is this Best Best For?
It has a 17-inch frame so it's for riders 5'6″ to 6'0″.  A vast majority of fat bikes are 17-inch frames for this reason as this bike will fit a majority of riders with no issues.
Summary
The Homlpope is a well-made bike with all of the name brand parts of the brand-name bikes.  The downside is it just takes a little longer to arrive.  The upside is it's a fraction of the price of the other fat tire mountain bikes, especially right now when prices are up there a little bit.
What is a Fat Bike?
Fat bikes are off-road bikes that have very wide tires to help ride over unstable terrain such as sand and snow.  These bikes were created to help explore these unstable environments and now they are used by mountain bikers and touring bikers regularly.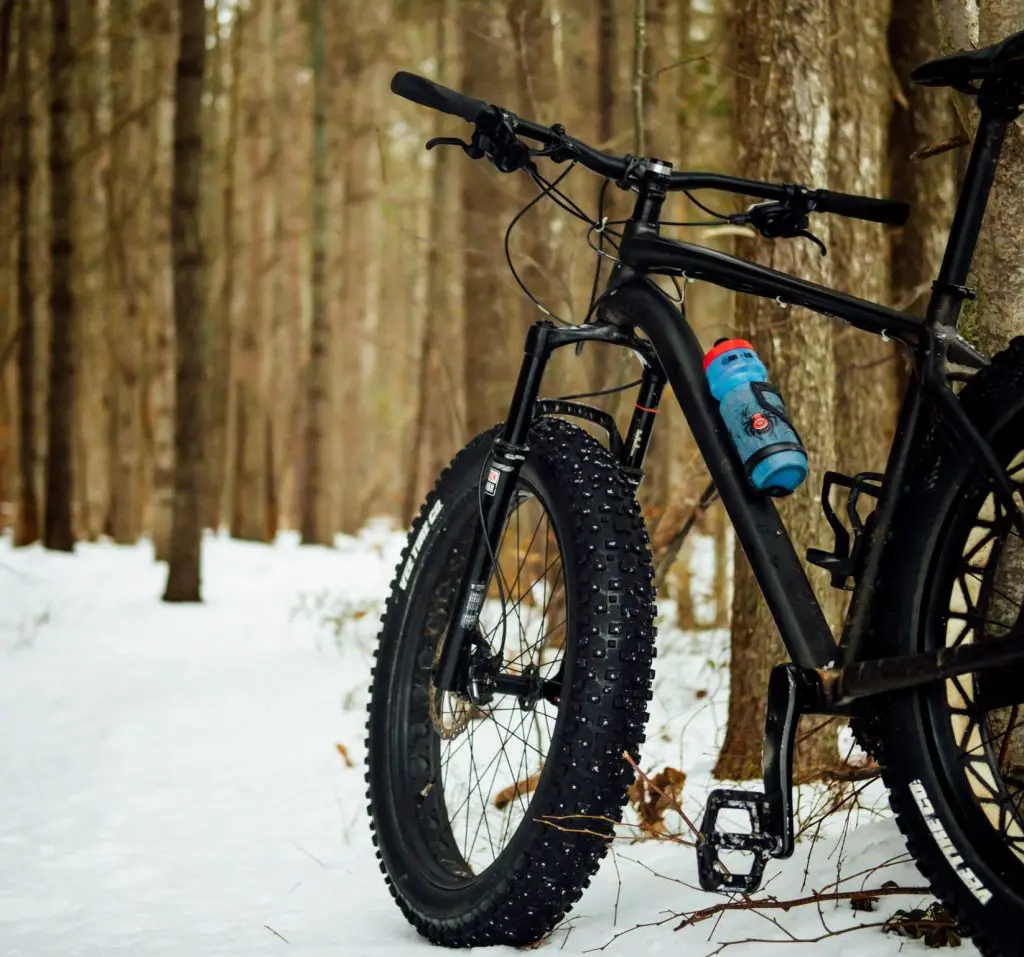 In the summer these bikes can handle muddy, boggy areas without much hassle.  In the winter, they can handle trails with lots of snow.  These tires are wide enough at 4 inches or wider that they can even bike in sand without sinking.
What to Look For When Buying a Fat Bike?
Fat bikes have become much more common lately and there are quite a lot of choices.  These bikes can be fairly expensive so it pays to know what you are looking for to choose correctly for your need and budget.
Tires
Standard fat tires are available with tire sizes anywhere from 26 inches up to 27.5 inches and between 4.0 and 5.0 inches wide.  That's a wide range, but what are the advantages of having a wider tire?
Taller tires on your bike will help you overcome obstacles easier. Unless the trailers you're gonna take this on our very well groomed, you're going to want taller tire like 27.5 inch to make it easier to get through the trails without getting stuck.
At the same time the wider the tire, the less likely it is to sink into terrain like snow and sand. For the tires that are 4 inches wide, you'll generally want between 75 and 100 mm wide rims. This would give the tire the right shape so that a lower pressures it will get good traction.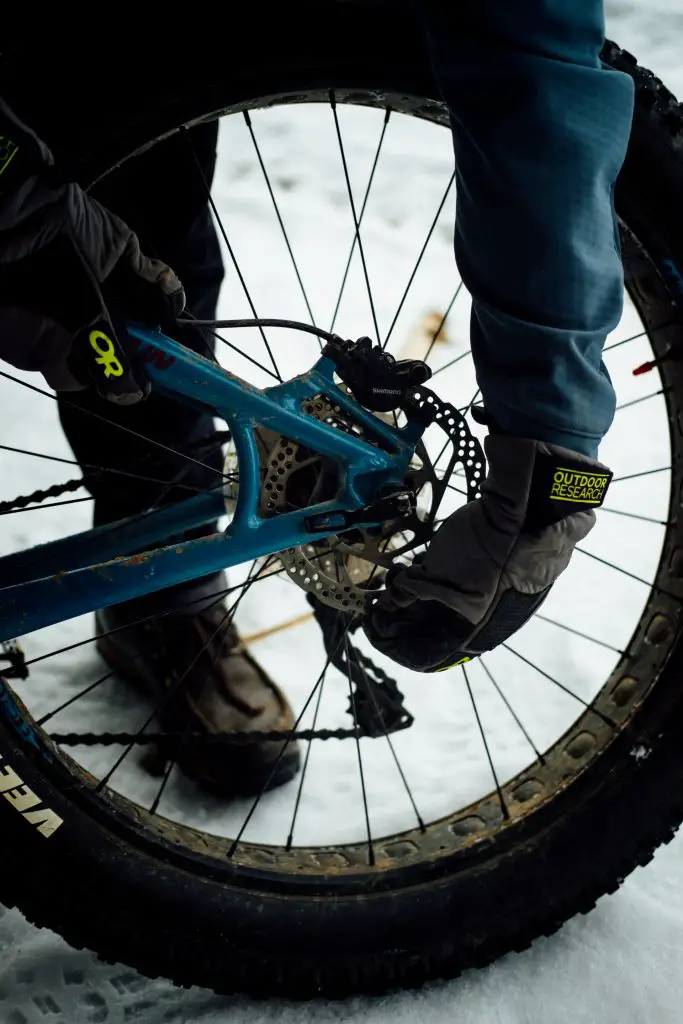 Frame
Most frames that accomodate the fat tires at this price for each other $1000 or generally either have aluminum or steel frames. Aluminum frames are usually come in at around 40 pounds of weight, where the steel frames tend to come in closer to 50 pounds.
I recommend the aluminum frames as they are just a little heavier than the carbon fiber frames, but they're still lightweight and strong enough to not affect bike performance through unstable terrain.
Suspension
Pretty much all the fat bikes at this price level are going to have a rigid suspension. However, I believe this is actually a positive thing. All of these modern fat bikes are actually now made to accept an aftermarket full suspension later on. It's just that now you don't have to pay for it upfront and save yourself a little bit of initial cost.
Looking towards a full suspension is definitely something I would recommend in the future because if you're riding on snow for instance, many times will be spots that are actually very rough ice and a full suspension will take out that bumpiness.  The bigger fat tires absorb quite a bit of it and for a vast majority the ride is still very smooth compared to many other bikes.
Use
Knowing what type of terrain you ride on may make a difference in what type of at bike you choose.  Some fat bikes have 7 speeds, some have 24 speeds.  Some have 26 inch tires, others have 27.5 inch tires.  Tall tires are great for overcoming say more muddy log-type terrain, where with just snowy trails it may not matter as much.
There are also beach cruisers like the Mongoose beast above that has less gearing options but wider tires so a no-hassle ride down the beach which another terrain that can be incredible.
So having an idea what type of riding you like to do is good to think about.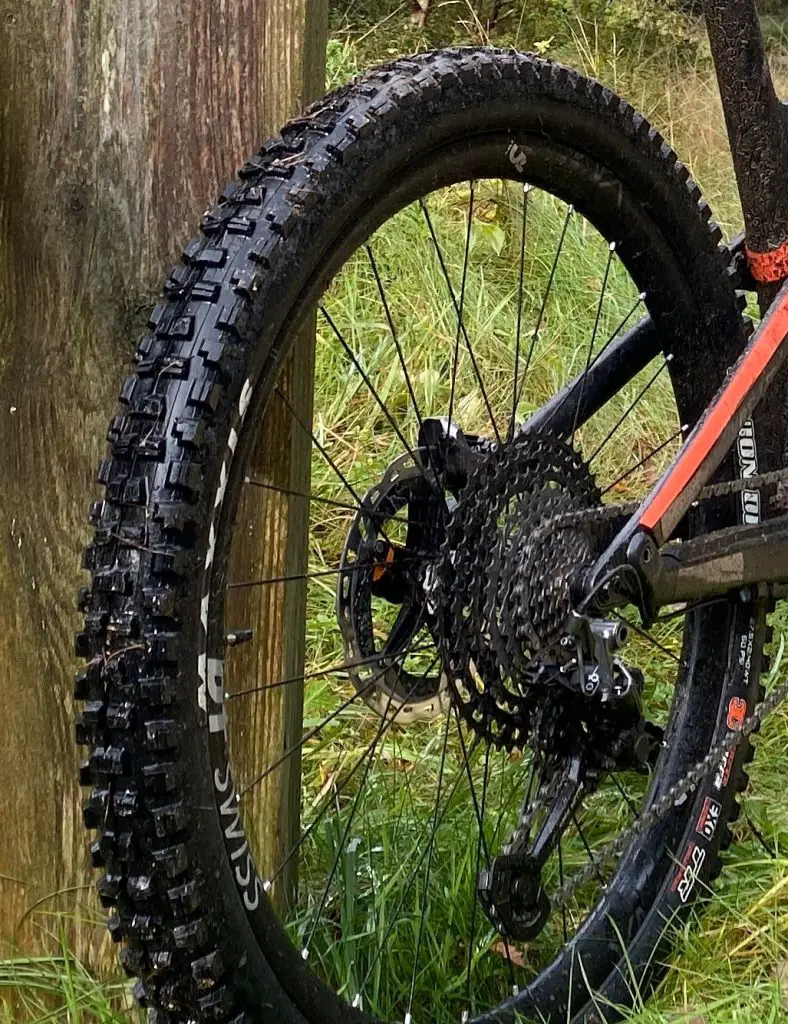 Q Factor
Q Factor is another term that sounds like a coolness factor or something (and btw fat tires are cool).
What Q Factor refers to is actually how wide apart the pedals are. It's sometimes known as the stance width, and really it's the distance between the crank arms or the distance between the pedals.  This is roughly how far apart your feet are going to be while you're paddling.
Because of the way the tires are wider on fat bikes, your feet will actually be further apart width-wise than they are on most other bikes, which can be a little uncomfortable if you've had any knee issues or if you're prone to aching in the knees. If that is the case, I would suggest visiting the local bike shop and trying out a fat bike out for a little ride to see if it's something you can handle before purchasing one.
Conclusion
Fat bikes are getting more popular by the day, and for good reason.  They easily ride over any terrain, and they do it in style.  Fat bikes also are able to cushion the rider against many trail bumps with the fat tires.
Fat bikes take more engineering and materials, so they usually cost a bit more than a regular mountain bike.  However, I have found many fat bikes under $1000 and that is my list above.  All of these bikes are in stock today and available for purchase. If you're not sure if $1000 is right for your budget, take a look at my guide on how much you should spend on a fat bike.
While the Mongoose Vinson is my favorite by far, the NAKTO electric fat bike is pretty amazing in its own right and is worth considering.
If you're just starting out with these bikes, you may want to look at my list of must have mountain bike accessories for my recommendations for helmest, biking gloves, and much more.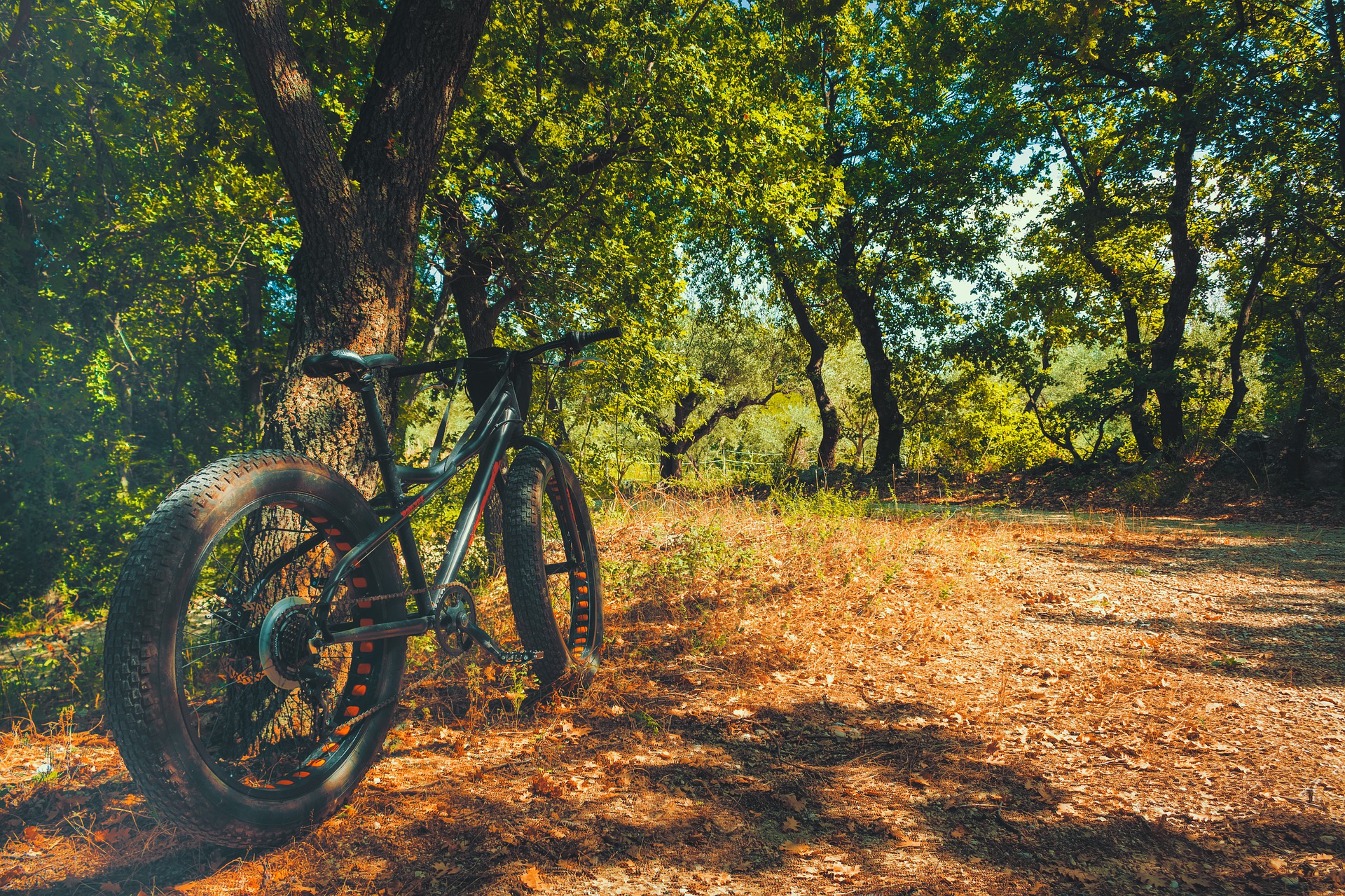 If you want a little more info around fat bikes, here is a video from someone who has been riding them since they were invented: