Are Cycling Glasses Necessary?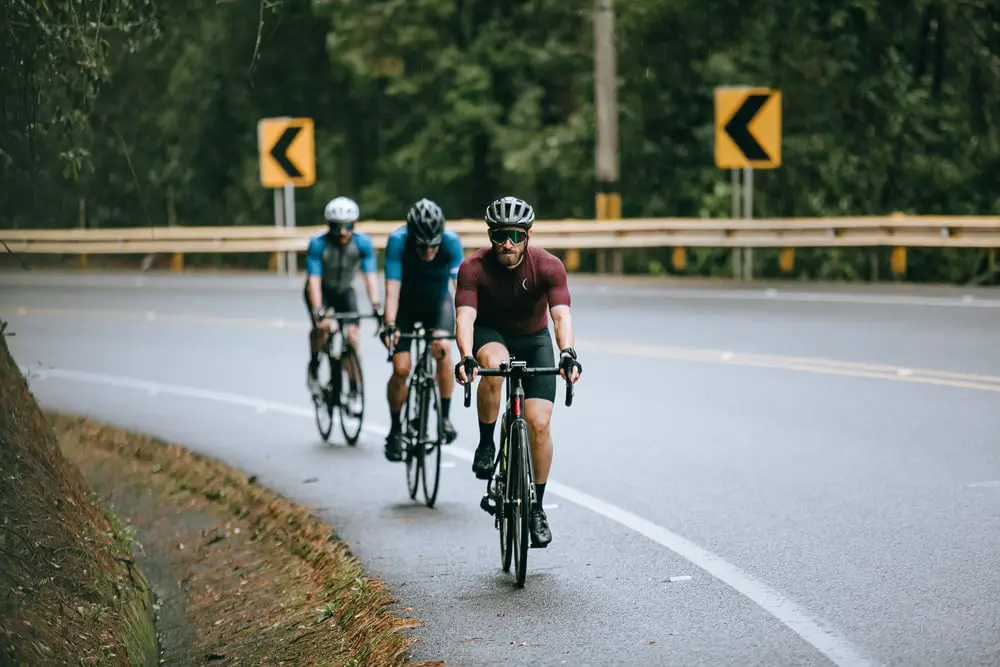 Athletes, cyclists, and everyone who spends a lot of time outdoors should wear cycling glasses to protect their eyes.
Wearing cycling glasses with appropriate lenses can protect your eyes from dust, wind, rain or snow. They are also effective in preventing the sun's harmful ultraviolet rays from entering your eyes.
Cycling glasses are not just about protecting your eyes. They also come in handy if you need to keep your hair pulled back when biking or running.
Do You Really Need Cycling Glasses?
Eye protection is extremely important for everyone, but it's especially important for cyclists. But do you really need cycling glasses to protect your eyes? Will regular sunglasses work? There are many differences between cycling and regular sunglasses and the small cost for even a good start set of biking glasses is well worth it.
Glasses protect eyes from UV rays and debris is just the beginning of what cycling glasses provide. They also keep you from feeling wind and dust in your face and keep light out of your eyes when riding at night. And most importantly, they protect the skin around your eyes from sunburn and wrinkles that come with age.
To ensure the best protection for your eyes, pay attention to these factors when looking for a pair of cycling glasses: frame color, lens color, and lens shape.
So to wear glasses cycling is a very smart idea. Protecting eyes should be one of your first concerns. That is, besides a biking helmet and then gloves.
Different Types Of Cycling Sunglasses And Why They Matter
Cycling sunglasses are a type of eyewear that is specifically designed for bikers and cyclists. They come with a variety of functions and features that make their use convenient and enjoyable.
Different Types of Cycling Sunglasses:
Why They Matter:
Cycling sunglasses help you see better while biking outdoors
Goggles can protect your eyes better than sunglasses but they can fog up at times.
Things are getting advanced, and cycling glasses are not exception.  Now there are smart glasses that can give you real-time feedback on your performance such as speed, etc. They are very cool.
How To Choose The Right Pair Of Cycling Glasses For Your Needs
Cycling glasses are a necessity for cyclists to wear when biking. They protect the wearer's eyes from UV rays and debris that could easily cause harm to them. When purchasing cycling glasses, there are many different factors to consider: style, eye shape, lens type and safety features such as safety lenses and interchangeable lenses.
It is critical that you get the right pair of safety glasses for you, and we know it can be difficult to choose.
We've compiled some helpful guidelines to help you make your decision:
– Your eyesight: If you have an eye condition such as nearsightedness or farsightedness, you will require corrective lenses. Glasses can interfere with the fit of certain safety glasses. Sometimes goggles actually work better if you have to wear glasses and you can't get lenses that fit your cycling glasses.
– Face shape: It is important to find a pair of glasses that will be comfortable and not too tight or too loose on your face.
– The environment in which they will be used: Some environments may require specific lenses such as photochromic lenses which darken in sunlight while some environments may require more specialized protection such as anti-fog lenses which will lessen the
I put together a list over here of the best glasses for cycling to get you started. The list has both well-known brands as well as bargain budget brands that are amazing. If you really need to keep the price under $40, you can look at my list of cheap cycling sunglasses online.
If you're planning on biking at night, you'll want to look at my list of the best clear cycling glasses for riding at night or low-light conditions.
Are Normal Sunglasses Ok For Cycling?
Cycling is not only a sport but also a mode of transportation. Make sure you are safe by wearing the right gear. The best cycling glasses can make all the different to protect your eyes.
Do you need special cycling glasses? Cycling glasses are specially designed for bike riding to protect your eyes from flying debris, bugs, and other things while you're biking. However, they're not always necessary. If your eyewear is good quality and doesn't have any scratches or faults that could affect vision then your regular sunglasses should work just fine.
Just make sure that the normal sunglasses you wear are safety rated so they won't break with pieces going into your eyes.
What Is Special About Cycling Glasses?
Cycling glasses are different than other sunglasses because they need to be comfortable and lightweight for cycling. Cycling glasses also need to block out all the dust and dirt as well as provide protection from the sun.
They are also safety rated to ensure they won't shatter and send pieces of the lenses flying. In some instances like the Tifosi cycling glasses, the nose pieces are made of special hydrophilic rubber that won't slip when covered in sweat.  This makes cycling glasses more expensive but if you need them, then you need them.
So normal sunglasses can work, cycling glasses can work very well as they are purpose-built for cycling.
Why Are There Different Tints For Sunglasses?
Choosing the right tint for your sunglasses is not always easy. It depends on what you need them for and what you are wearing. The different colors of glasses are designed to help reduce the sun's glare when you are in certain environments, so take a look at your environment before buying.
The most common colors of glasses are clear, yellow, and brown. Clear glasses will do nothing to protect your eyes when in direct sunlight or in bright environments like snow or water from a lot of incoming light, but they will reduce the sun's glare in shaded areas and provide eye protection among the many benefits. Yellow sunglasses can also help block some glare when in direct sunlight but they won't be as effective as brown shades because they don't filter out blue light. Brown glasses, on the other hand, filter out all light aside from brown to give protection from both blue and ultraviolet rays.
Things You Need To Know About Cycling Glasses
Cycling glasses should be prescription cycling goggles and not just regular sunglasses. This is because cycling glasses should provide maximum protection against the wind and should also have a lens that blocks UV rays.
You can wear prescription cycling glasses with or without your helmet for maximum eye protection.
How Can I Protect My Eyes While Cycling?
Cycling is a wonderful sport that will help you stay fit and save a lot of money on gas. But it can also put a lot of strain on your eyes.
Cycling has been hailed as the most efficient way to get from point A to point B, but that doesn't mean it's not without its hazards. In fact, cycling is risky for your eyes as well as your body, which is why you should take some precautions before hopping on the saddle.
It's important to wear sunglasses because the wind and sun can have a negative effect on your eyesight if you don't protect them with adequate shades. You may also want to invest in eye drops or artificial tears since the wind and sun can dry out eyes over time causing irritation and infection. And make sure you stay hydrated while biking even if it's in the winter. A hydration backpack does wonders for this as well as being convenient.