"What's the best MTB elbow pad?" you might ask, scratching your head while scouring through the sea of options online. We've all been there: eager to tackle the rugged trails, but the thought of those gnarly spills makes the palms sweaty.
I remember my first mountain biking tumble all too vividly. A rookie mistake, a sharp turn, and bam! Down I went, sliding down the hill. My elbows took the brunt of it, resulting in scrapes and bruises that lasted weeks as a reminder that protection for this exists.
Had I been sporting a decent pair of elbow pads, I could've shrugged off that fall with just a chuckle. The importance of elbow pads is undeniable—they're the unsung heroes, guarding you against both the unpredictable terrain and your own audacious spirit.
In this guide we show you the features of the best mtb elbow pads as well as our top recommendations for every type of mountain biking.
Ready to dive into the crème de la crème of elbow protection? Buckle up, adventure-seeker, because we're about to roll down the list of the best in the game.
Best MTB Elbow Pads : Feature-by-Feature Comparison
Best MTB Elbow Pads

| | |
| --- | --- |
| Padding Type | D30® |
| Certification | EN1621-1 Level 1 |
| Weight | 8.6 oz. |
| Sizes | S-XL |
| Material | Cordura® |
What We Liked
D3O® technology's adaptability, ultra-lightweight design, effective moisture-wicking, durable Cordura® fabric, machine washable
What We Didn't Like
Extended sleeve length for some arms, not enough padding for hardcore downhill riders
Overall Review
I've worn a lot of MTB elbow pads over the years, and the Fox Enduro D30 stands out as one of the best I've used. The magic lies in its D3O® technology – it's soft and flexible when you're maneuvering, but it turns into your personal shield upon impact. It's clear Fox has done their homework; they've seamlessly blended protection with comfort.
The breathable Cordura® fabric is another feature that highlights how in touch Fox is with riders' needs. I've had my share of sweaty rides, but these pads? They help keep things airy and fresh. It's evident they've prioritized not just safety but also the overall riding experience.
Fox Racing has consistently delivered top-tier gear for riders, and these elbow pads are a testament to their dedication. They're not just about aesthetics or marketing jargon – these are designed for the real-world rider.
From the local trails to the intense downhill circuits, these pads have got you covered. Just a heads-up, if you're diving deep into downhill adventures, you might find yourself wishing for a touch more padding. But for most of us trail lovers? They strike the right balance.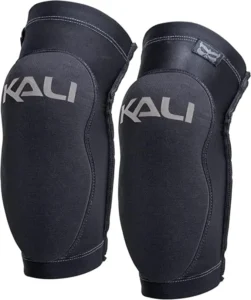 | | |
| --- | --- |
| Padding Type | Polyurethane |
| Certification | EN1621-1 Level 1 |
| Weight | 6.4 oz. |
| Sizes | S-XL |
| Material | Polyurethane and Mesh |
What we liked
Superior protection, easy pull-on design, full arm coverage, non-slip bands, breathable back panels.
What we didn't like
Potential for too much coverage for some riders, lack of specific mention about material durability against abrasions.
Overall Review
Over the years, I've worn many elbow pads, and the Mission series from Kali Protectives has genuinely caught my attention. The first thing you'll notice is how easily they slip on. We all know that constant battle with gear, trying to wrestle them on while mentally preparing for the ride. With these? It's like sliding into your favorite pair of gloves.
The full arm coverage is both a blessing and a curse. For those technical rides where you're threading the needle between trees and rocks, that extra protection can be a lifesaver. However, it might feel a tad excessive for the casual cruiser. The non-slip bands? Oh man, what a game-changer! No more mid-ride shimmying or shifting. It stays put, letting you focus on nailing that perfect line or pushing for that personal best.
Now, Kali Protectives have always been known to craft gear that's not just functional but also top-tier in quality. And these pads are no different. The breathable back panels are a subtle yet vital feature, ensuring you're not sweating buckets.
But here's where I scratch my head a bit: with such meticulous design, I'd have loved to see some emphasis on abrasion-resistant material. Don't get me wrong, the protection is stellar, but I'm curious how these babies would hold up with a bit of 'road rash'.
All in all, the Mission Elbow Pads prove why Kali Protectives has become a trusted name in the MTB world. They've managed to blend protection, comfort, and usability into one sleek package. If you're serious about your rides and want gear that can keep pace, these should be on your radar.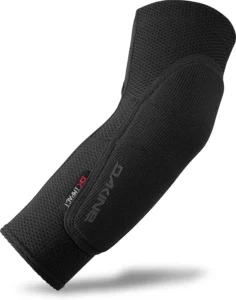 | | |
| --- | --- |
| Padding Type | Polyurethane |
| Certification | EN1621-1 Level 1 |
| Weight | 9.4 oz. |
| Sizes | XXS-XL |
| Material | Cordura® |
What we liked
Lightweight and breathable design, CE-certified protection, durable Cordura® outer, anti-odor Polygiene® tech.
What we didn't like
Might feel too low-profile for aggressive downhill runs, open-back design may not be for everyone.
Overall Review
Over the years, I've strapped on more than a few elbow pads, but the Dakine Slayer truly feels like a breath of fresh air. With its CE-certified protection, it's evident that Dakine isn't just about looks; they've packed some serious tech into these pads. The dual-density DK Impact foam strikes that rare balance – robust protection without feeling like you've got a couple of bricks on your arms.
Now, let's chat about that Cordura® material. It's the kind of material that's ready to take on anything the trail throws your way. Scrapes, bumps, and brushes with the wild – the Slayer can handle it. And the best part? It manages this toughness without compromising on breathability, which, trust me, is an absolute godsend on those scorching summer rides.
A standout feature has to be the Polygiene® Odor Control technology. No one likes to admit it, but we all get a bit… fragrant after a hard ride. Dakine's got our backs (well, elbows) here, helping us stay socially acceptable post-ride.
I genuinely appreciate the ergonomic design, which ensures the pads fit like they were custom-made for you. But a heads-up – the open-back design, while great for breathability, might not be everyone's cup of tea. It's unusual and feels a little odd, but at the same time the cooling aspect is pretty sweet.
Dakine has made a clear statement with the Slayer: mountain biking protection doesn't have to be bulky, uncomfortable, or, well, smelly. But, if you're the kind that's barreling down mountainsides at breakneck speeds, you might wish for a bit more beefiness in the padding. For the rest of us trail enthusiasts? The Slayer hits that sweet spot between protection and comfort.
| | |
| --- | --- |
| Padding Type | D30® |
| Certification | EN1621-1 Level 1 |
| Weight | 9.8 oz. |
| Sizes | XS-XL |
| Material | Cordura® |
What we liked
D3O®'s adaptable LP1 viscoelastic pads, lightweight and durable Cordura® material, arm warmer-inspired design ensuring snug fit.
What we didn't like
Potential bunching behind the knee, washing restrictions.
Overall Review
Through my mountain biking escapades, I've tested a myriad of gear, and the Pearl Izumi Elevate Elbow Guard is a true standout. What grabs my attention first is the brilliant incorporation of D3O®'s LP1 viscoelastic pads. It's a game-changer, balancing CE level 1 protection with a lightweight feel. As with any trail, fluidity is essential – and these pads provide just that.
The four-way stretch Cordura® is nothing short of a masterstroke. We're talking real durability without any nagging weight, ensuring that I can pivot, jump, and glide without any hiccups. I adore the arm warmer-inspired design; it's like a gentle hug for my arms, thanks to those wide elastic grippers complemented by a silicone interior print. No more mid-ride adjustments, these bad boys stay in place!
However, it wasn't all rosy. The back leg's mesh fabric, intended for breathability, sometimes results in some bunching behind the knee, which can be slightly irksome on longer rides. And, as much as I love these guards, I do wish they were a tad more washing-friendly. Those detergent rules mean an extra few minutes sorting out the laundry, but hey, a small price for keeping them in peak condition.
In a nutshell, the Elevate Elbow Guard by Pearl Izumi doesn't just elevate your protection level; it elevates your entire riding experience. It's evident these aren't just churned out of a production line but are crafted with the rider in mind – real comfortable, real protection.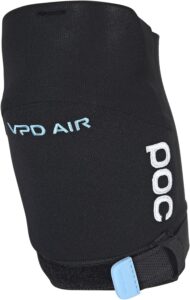 | | |
| --- | --- |
| Padding Type | VPD (Visco-Elastic Polymer Dough) Compound |
| Certification | EN1621-1 Level 1 |
| Weight | 7.1 oz. |
| Sizes | XS-XL |
| Material | Neoprene |
What we liked
Lightweight design, high flexibility, innovative VPD Air protection, superior ventilation, and snug crash retention strap.
What we didn't like
Might be too minimalistic for aggressive downhill rides, the low-profile design could compromise on thicker padding.
Overall Review
Over the span of my MTB adventures, I've strapped on more elbow pads than I can count. Enter the POC Joint VPD Air Elbow Pads – it's like they were crafted by someone who truly understood the ride. First off, the weight (or lack thereof) is immediately noticeable. These pads are so light, you'd be forgiven for doing a double-take to check if you actually have them on.
Now, let's talk tech. The VPD Air protection is nothing short of revolutionary. It's the kind of tech that makes you wonder, "Why didn't anyone think of this sooner?" It's breathable and flexible, making those long, demanding rides a breeze. And when you hit an unexpected bump? It stiffens up to cushion that impact, like your very own protective reflex.
The level of ventilation these pads offer is unparalleled. It's like having a personal AC unit for each elbow, keeping the sweltering heat at bay, especially on those sun-drenched trails. The low-profile design is another highlight; you get the freedom to maneuver without feeling like you've strapped on armor. And that crash retention strap? It's the reassurance we all need. It's like the pad giving you a reassuring hug, letting you know it's got your back (well, elbow).
But, and there's always a 'but', if you're the kind who dives headfirst into the most treacherous of downhill terrains, you might find yourself wishing for a tad more padding. These are minimalistic, which is great for many, but perhaps a little lean for the hardcore downhill enthusiast.
Overall, POC has truly showcased their innovative streak with the Joint VPD Air Elbow Pads. They've catered to a rider's need for comfort, flexibility, and protection, all wrapped up in a sleek design. Whether it's a leisurely trail ride or a more intense mountain descent, these pads are up for the task. Just remember, if you're pushing the extreme, they might feel a touch too minimal. For the rest? They're a dream come true.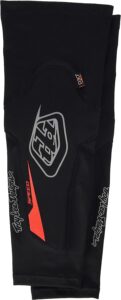 | | |
| --- | --- |
| Padding Type | D30® |
| Certification | EN1621-1 Level 1 |
| Weight | 7.1 oz. |
| Sizes | XS-XXL |
| Material | Mesh |
What we liked
4mm D3O® for lightweight flexibility, full-length sleeve with effective silicone grippers, breathable mesh for all-day comfort.
What we didn't like
Abrasion-resistant cover could be tougher, might lack adequate padding for extreme terrains.
Overall Review
I've been on countless rides, decked out in a myriad of protective gear, and I've got to say, the Troy Lee Designs Elbow Speed Sleeve is right up there with the best. The 4mm D3O® padding hits the sweet spot – it's lightweight and flexible, making those climbs a breeze, but don't let its svelte design fool you. When the chips are down (or rather, when you are!), it provides reliable protection, ensuring that everyday trail escapades remain just that – fun rides without the bruises.
What truly stands out is the full-length sleeve. No more mid-ride adjustments, no more fidgeting, just slap these babies on, and they stay put, thanks to those nifty silicone grippers. And if you're planning an all-day affair on the trails, the breathable mesh panel ensures that things don't get swampy. Your elbows will thank you.
Troy Lee Designs have always had a pulse on riders' needs, and this sleeve is evidence of that. While the abrasion-resistant cover does its job, I wouldn't mind a bit more ruggedness there. And just a word of caution for the daredevils diving into rock gardens and gnarly descents – while these are fabulous for standard trail rides, you might find yourself craving a tad more padding for those extreme endeavors.
In conclusion? For the average Joe hitting the trails or even the somewhat adventurous Alice, these sleeves are golden. Perfect balance of comfort and protection. Hats off to Troy Lee Designs!

| | |
| --- | --- |
| Padding Type | AirFlex |
| Certification | EN1621-1 Level 1 |
| Weight | 8.5 oz. |
| Sizes | S-XL |
| Material | MoistureCool and AirMesh |
What we liked
Ultra-slim design, AirFlex gel for impact protection, MoistureCool fabric to keep arms cool
What we didn't like
May be too slim for those seeking maximum protection, no extended sleeve coverage
Overall Review
Over my many rides, I've come to value comfort almost as much as protection. With the Leatt Airflex Elbow Guard, it's evident that you don't have to sacrifice one for the other. Their ultra-slim design is surprisingly effective, with the AirFlex gel stepping up to provide that essential impact shield. It's this kind of innovation that separates the ordinary from the extraordinary.
Riding with these guards, it felt like Leatt really got into the head of a rider. The MoistureCool fabric is a clear nod to those long, sweaty trails. It's not just about wicking away sweat; it's about creating an environment where you feel fresh, ride after ride. Add to that the AirMesh for an extra dose of breathability, and it's evident that these pads are in a league of their own.
What also caught my attention was the silicone-printed grips. It's a minor feature, but a crucial one. Nothing more annoying than constantly adjusting your gear, and with these grips, the pads stay put, allowing you to focus on the ride.
Now, their minimalist design might not be everyone's cup of tea. If you're someone looking for heavy-duty protection, especially for some extreme downhill sessions, you might feel the need for something bulkier. But for those who crave a balance between protection and ease of movement, the Leatt Airflex Elbow Guard is a solid bet.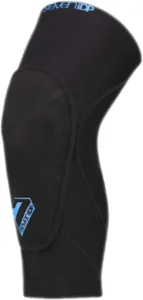 | | |
| --- | --- |
| Padding Type | Impact Foam |
| Certification | EN1621-1 Level 1 |
| Weight | 7.2 oz. |
| Sizes | S-XL |
| Material | Synthetic |
What we liked
Ultra-light design without skimping on protection, durable Ripstop Spandex fabric, long bicep fit ensuring zero slippage
What we didn't like
Might feel too long for riders preferring shorter pads, potential overemphasis on lightness at the expense of more extensive protection
Overall Review
Having cycled through (pun intended) countless elbow pads over the years, the 7iDP Sam Hill Lite Elbow Pads have genuinely made an impression. First off, they're super light, and I mean featherweight. But what's truly captivating is how they've managed to trim down without compromising on the safety bit. I've had some close calls on the trails, and these pads, they've held their own.
The compression fit, particularly its higher placement on the bicep, is a stroke of genius. It stays right where you want it to, courtesy of that sneaky internal silicone strip. And let's talk about that Ripstop Spandex fabric – it's the stuff dreams are made of. Durable, lightweight, and offers the kind of breathability that makes you forget you've got them on. That added length on the bicep ensures it snugly wraps around your arm, making slippages a thing of the past.
Now, it's evident that the design has had the input of a real rider. Knowing it's developed with EWS champion Sam Hill tells you it's been through the rigors. The full-length breathable 4-way stretch mesh is another game-changer. On scorching rides, that airflow can be the difference between a good ride and a miserable one. And the rollable and stowable feature? A masterstroke, especially when you're looking to travel light.
However, I'd advise potential buyers to be aware of the pad's length. If you're someone who prefers a shorter pad, this might not be up your alley. And while I appreciate the emphasis on keeping it light and nimble, some riders might crave a tad more padding. Especially if you're plunging into more treacherous terrains. But for most trail enthusiasts, these pads strike a near-perfect chord between comfort and protection.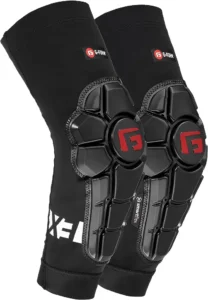 | | |
| --- | --- |
| Padding Type | SmartFlex |
| Certification | EN1621-1 Level 1 |
| Weight | 5.28 oz. |
| Sizes | XS-XXL |
| Material | Synthetic Blend |
What we liked
SmartFlex™ technology's adaptability, lightweight design, UPF 50+ moisture-wicking fabric, secure fit with silicone grippers
What we didn't like
Tends to run small, may require sizing up
Overall Review
Throughout my MTB adventures, I've encountered numerous elbow guards, and G-Form Pro X3 truly piqued my interest. Right off the bat, it's evident these aren't your ordinary elbow pads. The SmartFlex™ technology stands out, offering that rare blend of flexibility during rides and hardening upon impact – it's like having the best of both worlds.
It's impressive how G-Form managed to make the Pro X3 so lightweight, sometimes making me forget I even have them on. And yet, when the trail gets rough and tumble, they've got my back (or rather, my elbows). The UPF 50+ moisture-wicking fabric is a notable feature; no one likes the discomfort of sweaty elbows, and these guards ensure you stay cool and dry, no matter how intense the trail gets.
The silicone grippers are an underrated MVP. They ensure a snug fit, keeping the pads right where you need them. Gone are the days of constantly adjusting mid-ride.
However, a word of caution: they do tend to run a tad small. So, before you hit that 'order' button, double-check those measurements. Perhaps consider sizing up to play it safe.
In the vast world of MTB protective gear, G-Form has carved out a niche with the Pro X3 Elbow Guards. They're not just about protection but also about enhancing the rider's overall experience. It's clear that these are designed by riders, for riders, whether you're into mountain biking, BMX, or even skateboarding. They cater to a broad audience, both men and women, ensuring everyone gets to experience the sheer brilliance of SmartFlex™ technology.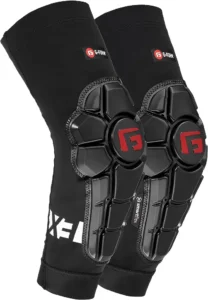 | | |
| --- | --- |
| Padding Type | Polyurethane |
| Certification | EN1621-1 Level 1 |
| Weight | 8.6 oz. |
| Sizes | XXS-XXL |
| Material | Mesh |
What we liked
Extremely lightweight and flexible, breathable design, snug fit with silicone grips, strategic abrasion-resistant fabric placement
What we didn't like
Might fit a little too snug for those that prefer a little looser of a fit
Overall Review
Throughout my MTB journey, I've tried on a myriad of elbow protectors, but the Alpinestars Paragon Pro truly takes the cake in terms of design and functionality. Right off the bat, it's evident that Alpinestars understands the essence of mountain biking – the need for a lightweight, yet sturdy protective gear. This protector is so flexible and lightweight that you'll almost forget you're wearing it. Yet, make no mistake, it does its job and does it well.
The breathable stretch mesh is a savior, especially during those long, strenuous rides. No more feeling like you've wrapped your elbows in plastic wrap. And speaking of wrapping, the silicone printing ensures that once these babies are on, they're not going anywhere, no matter how wild the ride gets. It's all about that snug, 'second skin' feel, making it harmonize with every twist and turn of your ride.
One standout feature has to be the strategic placement of the rip-stop fabric reinforcements. Anyone who's taken a tumble knows that abrasions are part and parcel of the experience. These reinforcements act like a shield, taking the brunt of the impact and keeping your skin safe.
While I'm a fan of the snug fit, I reckon some folks might crave a bit more room to breathe.
All in all, the Alpinestars Paragon Pro Elbow Protector proves itself as a top-tier choice for mountain bikers. It's clear that every inch, every seam, and every feature has been crafted with the rider in mind. Whether you're tackling gentle trails or diving into adrenaline-pumping downhill escapades, these protectors have got your back. Or should I say, your elbows?
How We Researched and Tested Elbow Pads
Embarking on the quest to find the best MTB elbow pads wasn't just a surface skim of top picks on search engines. We delved deep, ensuring that our recommendations stand the test of trails, time, and tumbles. Here's an insight into our meticulous process:
Comprehensive Research
Our initial phase revolved around researching and collating a list of the most recommended elbow pads across various platforms, from biking forums to enthusiast blogs. By comparing features, specs, and initial reviews, we ensured that we captured a diverse set of products that are acclaimed for their performance and reliability.
Real-world Feedback
What's better than understanding the experience of actual users? We reached out to real customers and avid mountain bikers, gathering their reviews, insights, and feedback about each of the shortlisted elbow pads. This helped us gain a more nuanced understanding of the products, from the perspective of those who've truly put them to the test.
Hands-on Testing
But we didn't just stop at gathering information. We got our hands (or rather, elbows) dirty. Each pad was subjected to rigorous testing in diverse conditions. On the trail, they were tested for comfort, fit, breathability, and stay-put ability across different terrains and weather conditions. Additionally, we conducted simulated crash scenarios, assessing the protective capabilities of the pads during unexpected falls, smashes, and skids.
Continuous Evaluation
The products weren't just tried and tested once. They underwent continuous evaluation, checking for durability, wear and tear, and protective consistency over extended periods.
Why You Need MTB Elbow Pads
Mountain biking is an exhilarating sport that combines the thrills of speed, the beauty of nature, and the challenge of navigating rugged terrains. But with such thrills come risks. Here's why investing in a pair of quality elbow pads is not just smart, but essential:
Protection from Impact: The unpredictable nature of trails means that even the most experienced riders can take a tumble. Falling onto a rocky or rough surface can cause severe injuries to the elbows, an area that once injured, can impact a rider's capability for a long time. Elbow pads absorb the shock, ensuring that most of the impact is taken by the pad and not your skin and bones.
Guard Against Abrasions: Skidding across a trail after a fall isn't uncommon. Elbow pads provide a protective layer against scrapes, cuts, and nasty abrasions. They keep your skin safe, allowing you to brush off minor falls and get back on your bike quickly.
Boost in Confidence: Knowing you're protected allows you to push your limits. With elbow pads on, you'll be more willing to try that challenging trail or make that daring jump. It's not about being reckless; it's about progressing without the constant fear of injury.
Comfort and Reduced Fatigue: Modern elbow pads aren't just about protection; they offer comfort too. Many come with moisture-wicking materials and breathable designs, ensuring you remain cool and comfortable during long rides. Plus, by absorbing shocks from the trail, they can help reduce the fatigue experienced in your arms.
They're a Sign of a Prepared Rider: Just as you wouldn't go skiing without a helmet or rock climbing without a harness, you shouldn't hit a MTB trail without elbow pads. It's a sign that you respect the sport, its challenges, and your well-being.
In essence, elbow pads are a small investment in comparison to the potential medical bills, pain, and time off the bike due to an injury. They're your trusty guardians, allowing you to enjoy every twist, turn, and jump on your mountain biking adventures. So, gear up, stay protected, and ride with confidence!
Types of MTB Elbow Pads
Mountain biking is a diverse sport with various disciplines, each having its unique set of challenges and requirements. To cater to these differences, there are distinct types of elbow pads designed for the unique terrains and demands of each riding style.
Downhill Elbow Pads:
Downhill (DH) mountain biking is all about navigating steep, rough descents at exhilarating speeds. The heightened thrill comes with elevated risks, making robust protection essential. Downhill elbow pads are typically the beefiest of the bunch.
They are designed to be thicker and cover a more extensive portion of the arm, often extending additional protection to the forearm. These pads frequently feature hard shell exteriors or dense foam, primed to absorb the most significant impacts and safeguard riders from the challenges of aggressive terrains.
Enduro and Trail Elbow Pads:
Striking a balance between downhill's thrills and cross country's endurance, enduro and trail riding demand versatility in protection. These elbow pads are crafted keeping this versatility in mind. They offer substantial protection but are designed to be lightweight and breathable, ensuring riders can handle uphill sections without feeling weighed down.
Common materials for these pads include innovative ones like D3O® that remain flexible during rides but instantly harden upon impact, offering the best of both worlds.
Cross Country (XC) Elbow Pads:
Cross country mountain biking emphasizes endurance, where riders cover vast distances, including both ascents and descents. Protection remains essential, but with an added emphasis on weight and breathability. XC elbow pads are designed for this, being the lightest in the category. They offer a streamlined fit with minimal bulk, ensuring riders remain comfortable during extended periods on the saddle.
The construction typically involves breathable mesh combined with light foam padding, focusing on comfort while still safeguarding against minor bumps and knocks.
Buying Advice
When it comes to mountain biking, safety is paramount. Selecting the right elbow pads can make a world of difference, not just in protection but also in comfort and performance. Here are a few vital aspects to consider when you're on the hunt for the ideal MTB elbow pads:
Protection
At its core, the primary purpose of an elbow pad is to provide protection. Consider the type of riding you'll be doing and the terrains you'll frequent. Downhill riders, for instance, need maximum shock absorption due to the rigorous nature of their descents, while cross country riders might prioritize weight and flexibility. Look for pads that have CE certifications, as they meet specific safety standards.
Fit
A well-fitting elbow pad is crucial. If it's too tight, it can restrict movement and become uncomfortable over extended periods. Conversely, a loose pad might shift during a ride, rendering it ineffective during a fall. Always try them on, and if shopping online, ensure you measure your arm and compare with the manufacturer's size guide. Remember, a snug fit that doesn't restrict your movement is what you're aiming for.
Materials
The construction material can influence several aspects of the pad, from its protective capabilities to its comfort and weight. Hard shells offer the most protection but can be less comfortable, especially during longer rides. On the other hand, innovative materials like D3O® provide a good balance, being flexible during rides but hardening upon impact.
Breathability
Mountain biking can be an intense, sweaty affair. Elbow pads that feature breathable materials or mesh designs can make a significant difference in comfort. Proper ventilation ensures that you remain cool, reducing the chances of rashes or discomfort, especially during those long summer rides.
Washability
Let's face it; mountain biking can get messy. From muddy trails to sweaty ascents, your elbow pads will see their fair share of dirt. Pads that are easy to wash, or better yet, have removable liners or padding, make maintenance a breeze. Always check the care instructions, and if possible, opt for pads that are machine-washable for added convenience.
Impact Certifications
One of the most recognized certifications in the biking community is EN1621-1. This European standard specifically focuses on limb joint protectors, evaluating their performance in terms of impact energy absorption and force distribution.
When an elbow pad boasts the EN1621-1 certification, it means it's undergone rigorous testing and has proven to effectively safeguard the joints against impacts. The certification also includes various levels, indicating the range of temperatures in which the protector retains its protective capabilities.
Essentially, a pad that meets the EN1621-1 standard is a reliable choice, ensuring a consistent level of protection across different conditions.
Maintenance and Care
Keeping your MTB elbow pads in optimal condition is essential not just for their longevity, but also to ensure they provide consistent protection during every ride. Proper maintenance and care can extend the life of your pads and keep them performing at their best. Here are some key pointers:
Regular Cleaning
After a muddy or sweaty ride, it's a good idea to give your elbow pads a good clean. This not only keeps them looking fresh but also prevents any build-up of bacteria. Most elbow pads can be hand washed with mild detergent. If they're machine washable, always use a gentle cycle and avoid using harsh chemicals or bleach.
Drying
Never wring out your elbow pads as this can damage their structure. Instead, gently squeeze out any excess water and lay them flat to dry. Avoid direct sunlight and never use a tumble dryer, as extreme heat can compromise the protective materials.
Regular Inspection
Over time, the protective material can degrade or get damaged, especially after a severe crash. Regularly inspect your pads for any signs of wear and tear, such as cracks in the protective layer, fraying straps, or stretched out elastic. If you notice any damage, it might be time to consider a replacement.
Storage
When not in use, store your elbow pads in a cool, dry place. Avoid leaving them in damp environments or packed away in a wet backpack. This will prevent the growth of mold or mildew and help maintain the integrity of the protective materials.
Avoid DIY Repairs
If a strap breaks or the padding becomes loose, it might be tempting to do a quick DIY fix. However, this can compromise the safety of the pads. Always consult the manufacturer or a professional for repairs or replacements.
Conclusion
There are many MTB elbow pads on the market. While there are many excellent choices, the Fox Enduro D30 elbow pads take our Best Overall elbow pad award that will work for most riding. The D30 itself absorbs impacts extremely well and is both light and strong. However, if you take on something like downhill riding you may want to look at elbow pads that excel in that specific type of riding.