Most Comfortable Bike Seats to Ease the Pain

Riding a bike again is a lot of fun but it only takes about 10 minutes to realize that the seats are not quite as comfortable as you remember them.  Thankfully, there are a lot of replacement bike seats out there to solve just this issue.
The most comfortable bike seat depends on your usage of the bike.  The best mountain bike seat depends on your use and whether you're an active or casual biker.  I give my recommendations below to match these usages.
These are my favorite seats and seat covers that will make your bike seat a bit more comfortable on your ride.
1.  Zacro Gel Bike Seat Cover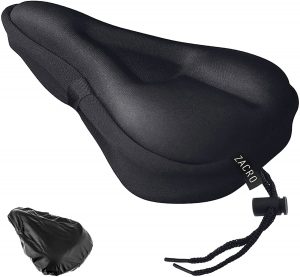 The Zacro gel seat cover is the highest rated gel seat cover and for good reason. It's amazing and it works on both bikes and exercise bikes.
$18.99
I thought I'd start off this list with a bike seat cover since for many it is just what they need.  This Zacro seat cover has a lot of gel inserts in the seat so it will smooth out the ride a ton and it makes a significant distance.  I have a Bell gel seat cover on my bike and it made a huge difference in the ride and how I felt and no longer ached after the ride.
This seat cover is actually quite a bit better than my cover and it'll help quite a bit in making the rider much more comfortable.  You just slide it over the seat and then squeeze the little plastic cylinder and tighten it and release.  Nice and simple.
The Zacro bike seat cover works on mountain bikes, road bikes, xc bikes, fat bikes, and exercise bikes.  Both regular and narrow bike seats.  So it'll pretty much work on any seat and at an amazing price.
I should note that this seat cover on Amazon has over 32,000 ratings which is amazing for any product, but it shows just how well received this seat cover is.
2.  BlueWind Bike Seat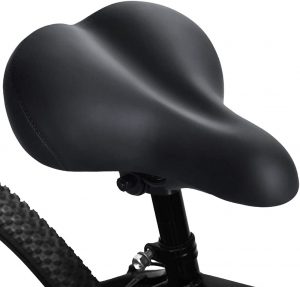 This bike seat is the best replacement bike seat. It has memory foam, dual shock absorbing, and it's waterproof. It's the best replacement there is.
$19.54
BlueWind makes a well-designed bike seat to replace the original.  What makes this one special is it is molded of memory foam so it'll adjust to your curves.  It also has that little divider in the middle so it relieves pressure when you sit on it and you won't have the numbness.
This bike seat is universal so it'll mount right up to any bike whether it's a road bike, mountain bike, or exercise bike.  It's made of high quality materials so this bike saddle will last you for quite awhile.  It works well for road biking or mountain biking and with this design the seat doesn't get in the way of aggressive biking.
It comes with all of the tools to replace your existing seat as well so it's just one low cost to replace your seat with the luxury model.
3.  Giddy Up Bike Seat
If you just want a really padded seat that is as comfy as the couch, then this might be the right seat for you. It even has an integrated tail light!
$39.95
The Giddy Up bike seat is perfect for those that are more concerned with a comfortable seat than bike maneuvers.  This is a complete seat replacement that give you a new saddle that is all memory foam and has a built-in tail light so you are more noticeable when it's dark.
This seat is perfect for the casual biker looking for a bit more comfort and support while biking.
If you're looking to do jumps and stuff like that, then you'll want the BlueWind seat above. If you are just out for casual riding and just want the most amount of padding in a bike seat that's possible, then you'll want this seat.
One thing I do see on this bike seat I don't see on others is the built-in tail light.  It'll really help you to stand out more when it gets dark and with how dangerous roads can be, it's a really great feature!
This seat does have memory foam which is tried and true on bike seats.  Th seat is actually a gel foam layer over top of the memory foam layer. So it's really a double amount of padding compared to many bike seats.  It's waterproof as you'd expect as well.
What makes a bike seat comfortable?
A bike seat can make or break a ride. There are many factors that go into creating a comfortable bike seat including the type of material, shape and design, and the angle of the seat. Memory foam is often used in bike seats because it's soft and conforms to your body's natural shape. Gel-filled seats offer a slight cushion for those who prefer a softer ride.
A bike seat is an essential piece of equipment for any cyclist. Depending on the type of cycling you are planning to do, there are different considerations. For road biking, a narrow saddle with a well-cushioned nose can be ideal because it prevents any friction in the sensitive areas that may occur when you are in the "aero" position. Mountain bikers often prefer wider saddles with more padding.
Are All Bike Seats Universal?
No, bike seats cannot be universal. Each bike seat is designed to fit a specific type of bike.
The most common types of bikes are road bikes, mountain bikes and hybrid bikes. These three types of bikes necessitate different types of seats for use on them. Road bike seats are specially designed to prevent riders from slipping off the back while riding on bumpy terrain while mountain bike seats are designed with extra cushioning in order to make the ride more comfortable for uphill or downhill rides. Hybrid bike seats are built with a combination of features from both the road and mountain seat design which makes for a seat that is versatile across different biking terrains.
Bike seats are not universal, and the size of your bike seat is determined by the size of your bike post.
Be sure to check your seat post diameter and the description of the bike to ensure fit.  The replacement bike seats I put above are adjustable so they will fit nearly all existing bike posts and work as suitable replacements.
Conclusion
So there are lots of bike seats and seat covers that can help to make your bike ride a bit more comfortable.  If it makes the ride more comfortable, it's a great idea for the few bucks that it takes to buy some relief from the aches.
If you are a casual biker and just looking for more comfort, then I'd suggest either the Zacro gel seat cover or the Giddy up bike seat.  Both of these are amazingly comfortable and will make riding 10x more enjoyable.
If you're more of an enthusiast, then I recommend the BlueWind seat.  It's the perfect balance of support and support while not hindering active riding.