Fox Racing Enduro Knee Sleeves Review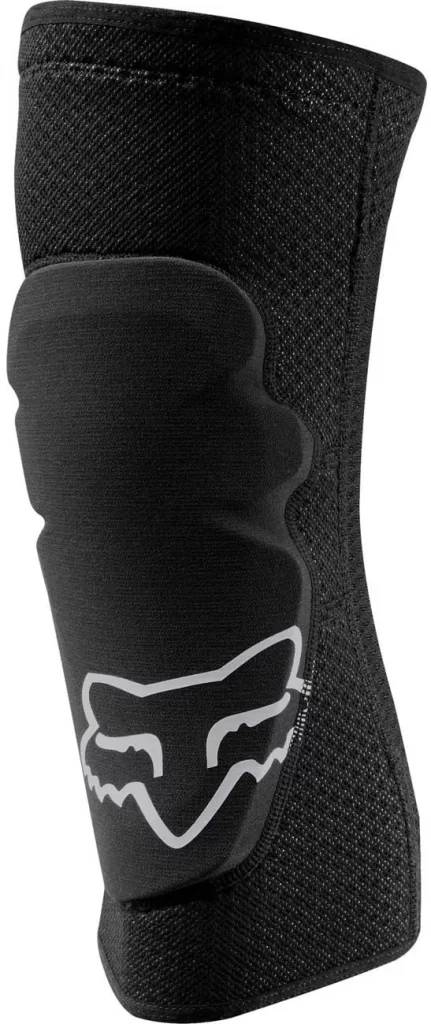 Specifications:
Sizes: S, M, L, XL
Adjustment: None, silicone grippers
Ventilation: Breathable neoprene fabric
Pad Type: Full length
Washable: Hand wash
Recommended Use: All types of trails (maybe not extreme downhill)
Pros
Lightweight and flexible
Breathable material
Thin so they are easily stored if it's too hot out
Neopreme on the front and stretchable back material so they fit well
Really comfortable
Cons
No velcro adjustment straps (few lightweight sleeves do)
Material stretches over time
Best deals
Our Verdict
Fox Racing is one of the best names in bike equipment, and the Fox Racing Enduro knee sleeves hit another home run with these knee pads. These are one of the best lightweight mtb knee pads you can get.
These Enduro Knee Sleeves are comfortable to wear and allow for freedom of movement. It's easy to pedal with them on, and they protect your shins if your foot slips off of the pedal. Protection on these knee pads is provided by PU foam that extends from above the knee cap nearly the length to the bottom of the pads.
These are lightweight knee pads and as such they are great for riding like Cross Country riding (XC) or Trail riding. They're even great for road riding. However, if you are going to down a rigorous downhill course with lots of big drops and jumps, I would go with something heavier than these like the Fox Launch knee guards.
Product Evaluation
The Fox Racing Enduro Knee Sleeves are a quality lightweight knee pad that works well for its intended application. Overall it's one of the better knee pads, and the following sections will look at the different aspects of them.
Design
The Fox Racing Enduro Knee Sleeves is designed to be used on enduro and trail riding. That is normal for lightweight knee pads and it covers a vast majority of mountain bike riders.
The knee sleeves are a PU foam on top of neoprene fabric on the front side, and the back is a stretchable fabric that breathes well and can accomodate leg movement without bunching up. The air flows through these well and they are comfortable to wear.
They are slim and they can fit under jeans no problem.
Protection
Protection on the Enduro Knee Sleeves comes courtesy of Polyurethane (PU) foam. It is very similar to EVA foam that is on some knee pads and is a reliable, standard form of padding that helps to keep down the cost of the knee pads and contributes to what makes these a lightweight knee pad.
PU foam is effective for knee pads for trail usage. I wouldn't mind if the foam padding extended a little farther down for those times your feet slip off the pedal, but it's comparable to most of the knee pads on the market right now.
Fit and Use
These knee sleeves are slip-on knee sleeves so ordering the correct size is very important. Make sure to measure carefully and follow the sizing guide from Fox Racing.
They stay in place well on their own and there is no binding or pinching and they allow plenty of freedom of movement. The foam padding doesn't always match the shape of the leg but it's not enough to be a big deal.
These Fox Racing knee sleeves are fairly thin so that they are not bulky and can go under jeans or pants easily. They don't have velcro adjustment straps, but they do have neoprene cuffs so that they slide on and stay in place pretty well.
Ventilation
These Enduro Knee Sleeves are made of two different materials. The front half of them are a neoprene fabric that is perforated to allow them to be more breathable and allow more airflow. The material on the back of the knee sleeves is a stretch fabric that has even better airflow and is thinner so it doesn't bunch up when you have your knee bent.
Airflow is adequate on these knee pads and falls on the upper end. They are perfectly comfortable to wear and stay cool enough you don't really think about them. Just under the foam padding itself may be a little warmer but not by much.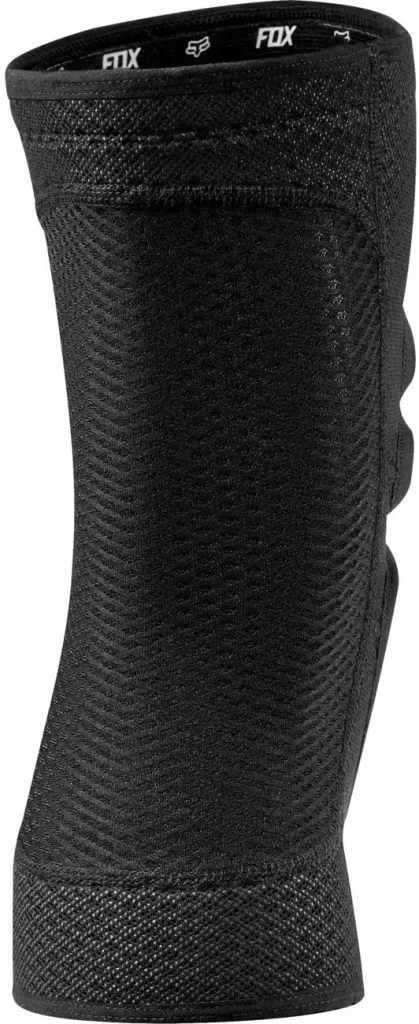 Riding Performance
These Fox Racing Enduro Sleeves are comfortable to wear and just work well. There is no pinching or binding and they work well. The lighter stretch fabric in the back helps them not to bunch up, and they stay in place well.
There is plenty of airflow through the knee pads so leg temperature is good. It is really important to get the right size so they stay in place.
Product Value
This Fox Racing knee sleeve is a really good deal. they are excellent quality sleeves, and the pricing puts them mid-price and borderline into the budget knee pad section. They provide good protection for riding on normal trails, and they stay in place well while riding.
Being able to get Fox Racing equipment on the lower end of the pricing range for lightweight knee pads is an excellent deal and will work for many people.
Conclusion
These Fox Racing Enduro knee sleeves are great for going out for a nice ride where you're not pushing the boundaries. The foam is plenty to avoid those shin scrapes from the pedals if your foot slips, and they work great as a general purpose knee pad. If you need a little more, Fox makes knee pads with D30 in the name such as Launch D30 that can handle the kind of hits you get from downhill courses.
They are impressive knee pads and have been well engineered to be comfortable and just work without you really thinking about it while you're out mountain biking. That and you know if Fox Racing is making it, it's going to be a good product.
Best deals